Limited Partners
Where will limited partners allocate their money in the near future?
July 26, 2019
Global private market strategies are growing and will continue to grow for the foreseeable future. PitchBook heard from 101 institutional limited partners as part of
a new survey report
to see where LPs are allocating their money in the near-term. Two-thirds said they'd be increasing—either significantly or slightly—their allocations to the private markets. That percentage far outpaces other asset classes, most of which will likely stay the same or go down slightly.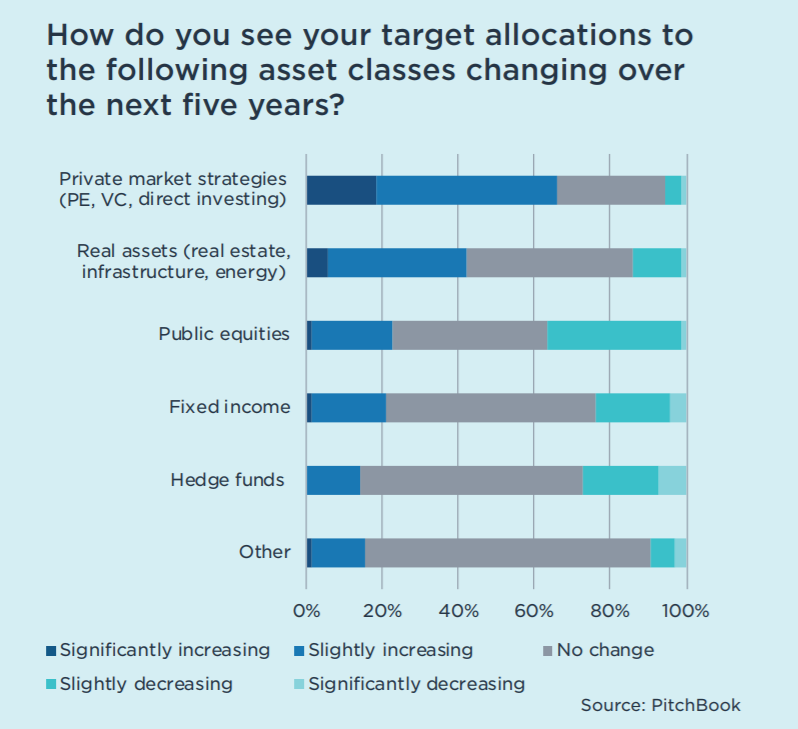 It's worth pausing to note not only how big the private markets have become but also how important they've become. Private equity was something of a curiosity as recently as the 1980s, when many on Wall Street didn't quite get what LBOs were all about. The biggest buyout shops are now mentioned in the same sentence as the biggest banks and asset managers. PE has revitalized thousands of brands and serves as an important feeder into the multitrillion-dollar M&A market.
The same applies to venture capital, which generates so much energy and value that public companies need to keep in front of trends emanating out of Silicon Valley. Venture is both a threat and a resource for corporate America, which snaps up hundreds of startups every year. In a sense, venture capital (and technology in general) has replaced private equity as the real barbarian at the gate.
Public equity investors are increasingly aware of both: Some 42% of our respondents listed private market trends as "very" or "extremely" important to keep track of. Less than 20% said they weren't important at all. Percentage-wise, that's probably a compliment.
Both VC and PE revitalize the public markets: Between 2009 and 2018, VC- and PE-backed IPOs contributed $1.4 trillion in IPO value on a pre-money valuation basis, according to PitchBook data. That's a fraction of the eventual value propelled by the private markets over the years, considering
Facebook
and
Google
's combined market cap this week alone was about $1.4 trillion.
This column originally appeared in The Lead Left.
Read more of what LPs had to say about the private markets in our new survey report.
Join the more than 1.5 million industry professionals who get our daily newsletter!