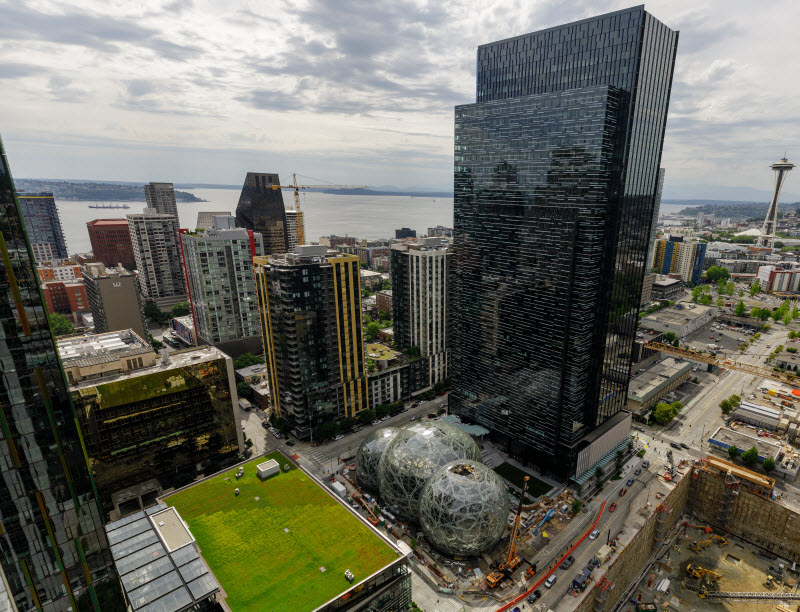 Seattle hasn't been the same since Jeff Bezos set up his internet company there in 1994.
As Amazon grew, the city grew with it, and since 2010, the numbers have skyrocketed: Seattle has added more than 1,000 people per week, due in large part to Amazon's unprecedented expansion. That, plus the maturation of other large corporations in the area. You've probably heard of them: Microsoft, Nordstrom, T-Mobile US, Expedia and so on.
While locals may be quick to point out drawbacks to Amazon's Seattle takeover, such as fast-rising housing prices, there's no question the city's startup ecosystem has benefited. At least that's what a group of area entrepreneurs said Wednesday during a panel titled "Seattle Start-up Sanctuary?" at
Techstars' Seattle Startup Week
.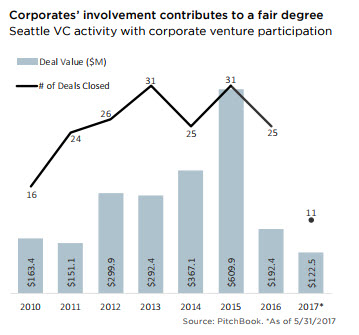 Between the beginning of 2010 and June 2016, venture capitalists, including corporate VCs, invested $8.4 billion in companies based in the Seattle metro area across 1,717 deals, per
PitchBook's Venture Ecosystem Factbook: Seattle.
While that may not seem like much next to San Francisco's $101.4 billion in VC invested, it ranked Seattle the sixth most active VC ecosystem by PitchBook in 2016.
In roughly the same time frame, Amazon's stock price and net operating cash flow shot up, while its ecommerce market share steadily increased, going from 20.8% in 2011 to 33% in 2016, per Recode.
How has Amazon helped startups?
Aside from acquiring them outright, Amazon and other tech giants in the area give local startups access to high-profile clients right in their backyards. They also attract a huge amount of talent that has created a community of techies akin to Silicon Valley's. Most importantly, their presence has generated a seemingly unending pipeline of startup founders.
After long stints in high-level roles at Amazon, both Nadia Shouraboura and Matt Williams founded startups. Shouraboura created the innovative retailer Hointer, and Williams launched Pro.com, a pricing engine for home projects. And that talent doesn't just apply to the startup scene: Brad Silverberg was a co-founding partner at Ignition Venture Partners and Fuel Capital after spending nearly a decade in an executive role at Microsoft.
"We've got 1,000 people coming to Seattle every week, and there are probably hundreds of people every week thinking of leaving their corporate jobs and joining a startup," Pieter De Temmerman said during the Startup Week panel. He originally moved to Seattle to work at Amazon but went on to found his own company, Pacific Data Partners, a B2B sales- and marketing-focused data provider.
De Temmerman added to the list of benefits of having corporate neighbors: When startups like his own bring on former corporate tech workers, they are unintimidated and eager to solve the toughest problems. "That definitely keeps me here in Seattle," he said.
The last several years have seen Google, Facebook, Snap, Salesforce, Apple, Oculus and Airbnb open offices in Seattle, to name a few—further evidence of how the blossoming tech ecosystem has attracted transplants to the Emerald City.
To help illustrate Seattle's startup community as it stands now, here's a look at some of the companies' recent VC financings, per the PitchBook Platform: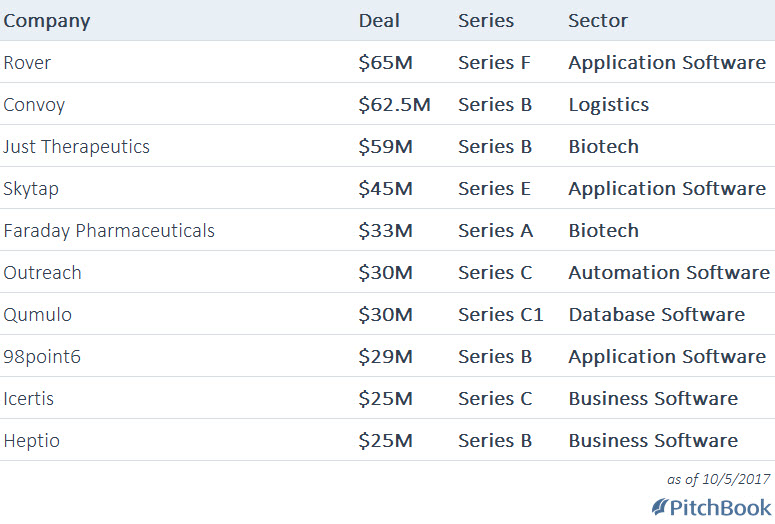 Capital is the next step
The development of Seattle's startup ecosystem and Amazon's growth has been beneficial to both sides, as a booming startup hub also serves as a talent pipeline that the larger companies need to continue thriving.
With that said, should Amazon be providing more capital to the startup environment it has helped develop?
The panel of Seattle entrepreneurs, which also included former Microsoft GM Karen Cone, CTO of Seattle startup DigitalTown Mike Cartwright and Joe Hafner, the founder of Ocho Consulting, say yes: Amazon needs to establish a corporate venture capital fund or an accelerator like Microsoft, which has both Microsoft Ventures and the Microsoft Accelerator.
"I personally would like to see companies like Amazon and T-Mobile actually put some money aside to invest in startups and create their own incubators like other organizations have," said Cartwright, who previously co-founded the travel site Comencia after working as the VP of operations at Expedia. The other panelists agreed.
For its part, Amazon does have the Alexa Fund, a $100 million vehicle intended to back voice technology innovation, and the related Alexa Accelerator in partnership with Techstars; Bezos himself also invests through Bezos Expeditions. And Amazon has
to date been focused on M&A activity
, which has included not only big purchases like Whole Foods but startups as well. So it's not to say Amazon has turned its back on the startup space—it's just without an official corporate venture capital arm.
Seattle's entrepreneurs seem to be clamoring for a different relationship with the tech giant: Seed funding necessary to get their ideas off the ground and build something to fruition. Not unlike the crazy idea to sell books on the internet way back in the early Clinton Administration.
Related content: Bezos is coming: Mapping Amazon's growing reach