M&A Report
10 charts detailing the state of M&A in 2018
April 1, 2019
As 2Q kicks off, M&A activity in Europe and North America is continuing to build on a blockbuster 2018, when a steady flow of mega-deals helped drive transaction value to its second-highest total of the past decade.
Our 2018 Annual M&A Report takes a detailed look at the data behind this trend and several others, including changes in purchase-price multiples and a drop in cross-border transactions. The
full report
is available to download for free. Just want the highlights? Here are 10 key charts from the write-up that help summarize the state of the industry:
2018 records second-highest value on record despite fewer deals
Last year included six transactions worth more than $50 billion apiece, helping drive total deal value to its second-highest level of the decade, a 6.3% YoY increase that came despite a 15.6% drop in deal count. A few of 2018's notable deals include
AT&T
's $85 billion purchase of
WarnerMedia
,
Bayer
's $63 billion acquisition of
Monsanto
and
The Carlyle Group
and GIC's buyout of the
AkzoNobel
special chemicals business for €10.1 billion (about $11.3 billion at today's conversion rate).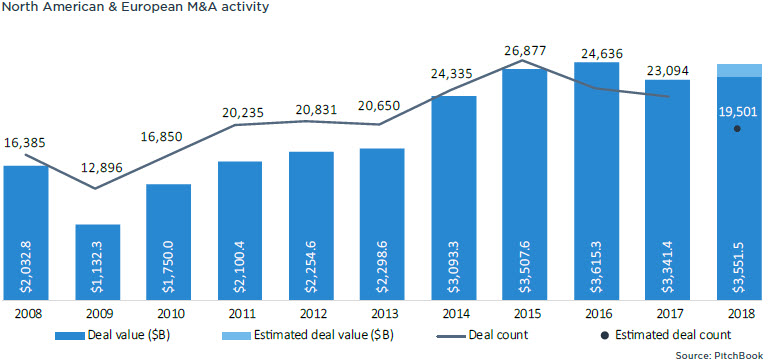 North American M&A value again tops $2T
M&A in North America drove more of the combined value than did transactions in Europe, with four of the $50 billion-plus deals targeting companies based in the US. Total deal value in North America last year rose 6.9% YoY, despite an 11.4% YoY drop in deal count.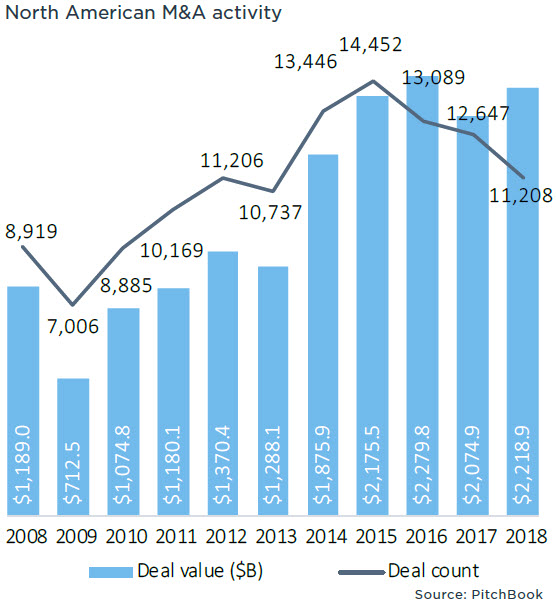 M&A in Europe softens further
2018 marked the sixth straight year that the total value of European M&A activity surpassed $1 trillion, but it was also the third straight year in which total deal count fell—and it did so precipitously. Last year's 7,428 deals marked a 28.9% YoY decline, compared with a 9.5% YoY decline from 2016 to 2017 and a 7.1% YoY drop from 2015 to 2016. However, the median EV/EBITDA multiple on the continent rose to 9.6x, the highest level on record, reflecting the competition for assets.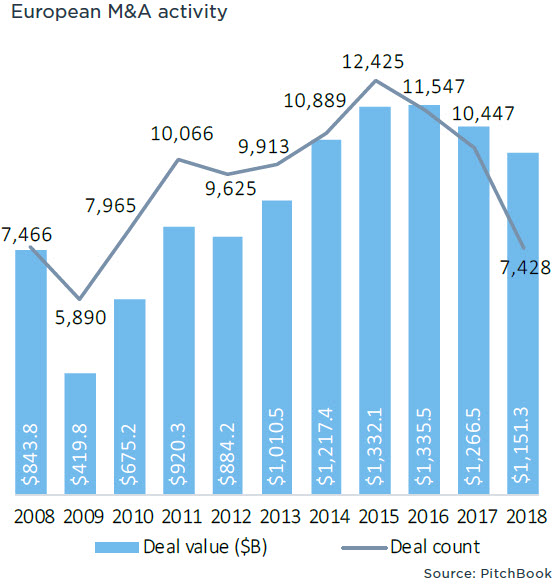 Deal size surges across regions
Median deal size increased sharply in both Europe and North America last year, rising 34.2% and 22.4% YoY, respectively. Median transaction sizes were more than double what they were eight years ago in both regions, though most of that growth has occurred over the past two years. Relative to 2016, the median deal size in 2018 was up 62.2% in North America and 72.7% in Europe.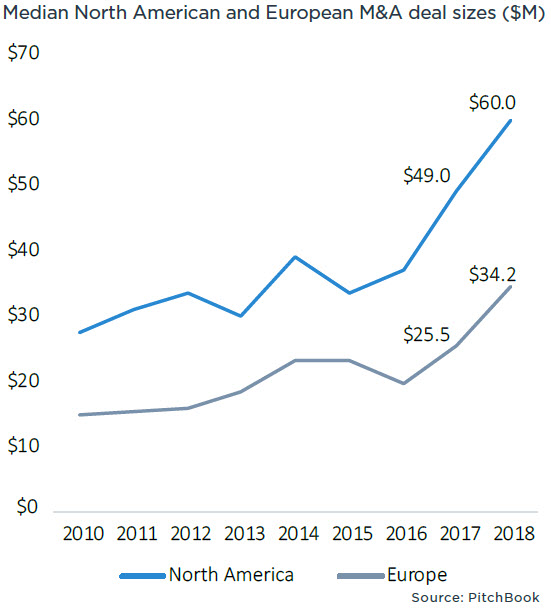 PE firms grow proportion of deal activity
A key reason for rising deal sizes is the increasing role of private equity in M&A. From 2010 to 2015, PE's share of M&A activity hovered between 25% and 26%, before beginning a steady rise; by 2018, PE firms were responsible for more than a third of all takeovers. By the end of last year, the median LBO size had risen to $140 million, nearly three times the median size for all M&A deals.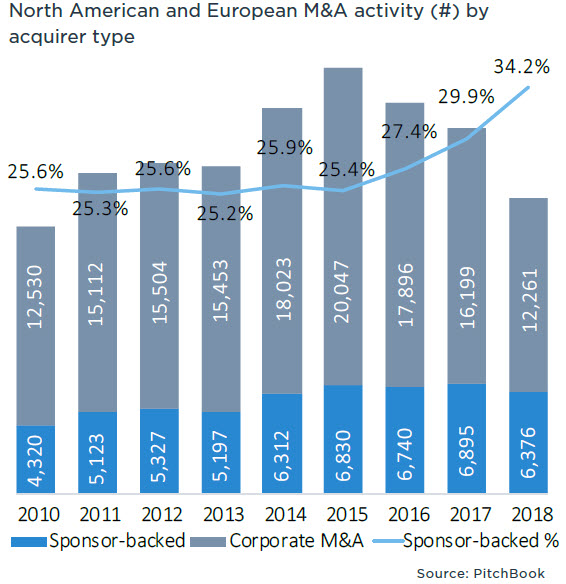 $100M+ deals account for highest proportion on record
Last year, transactions worth $100 million or more accounted for 33.4% of total deal count in North America and Europe, their highest share on record. That marked both the second consecutive year and the second time this decade that the rate surpassed 30%, as $100 million-plus deals reached a 30.1% share in 2017. Prior to that, the previous decade high was 28.4% in 2014.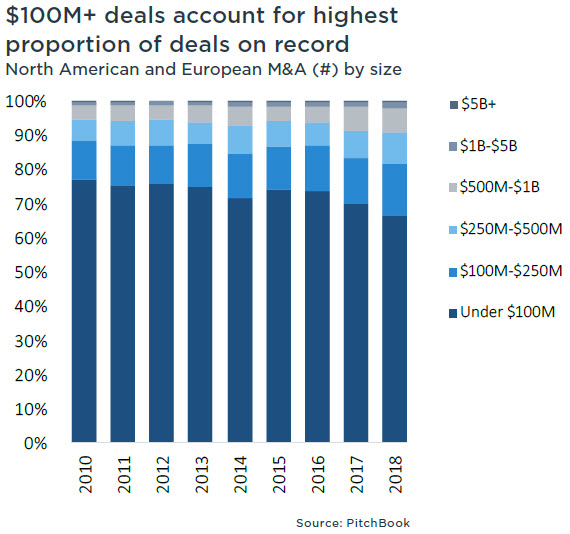 Cross-border activity hits lowest level in six years
Trade tensions and a wave of protectionism have been building in recent years, and the results of that trend are now being reflected in the underlying M&A data. In 2018, North America and Europe saw a combined total of 2,192 deals involving acquirers from outside their respective regions, an 18.7% YoY drop that marks the sharpest annual dip since the financial crisis. Deal value also fell 18.7% YoY, its second straight year on the decline.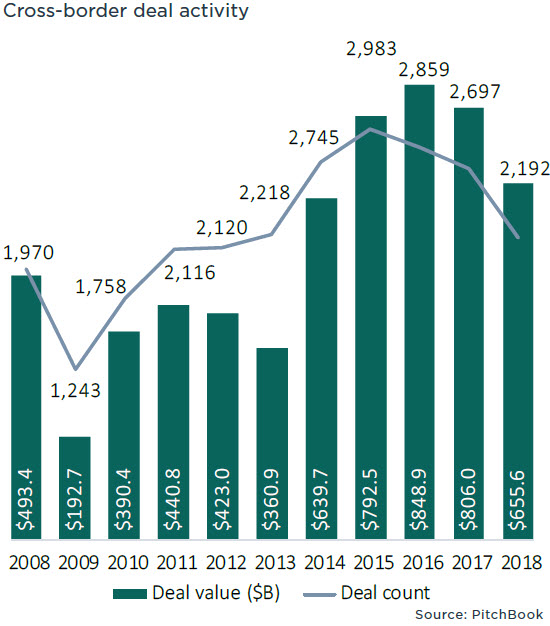 Proportion of value falls while count stays level
Since the decline in cross-border dealmaking coincided with a dip in overall M&A activity, the proportion of deals involving cross-border investors remained roughly the same in 2018 as it's been for much of the past decade. The effect was felt more in cross-border activity's share of total deal value, which fell from 24.1% to 19.5%—its sharpest decline in nearly a decade.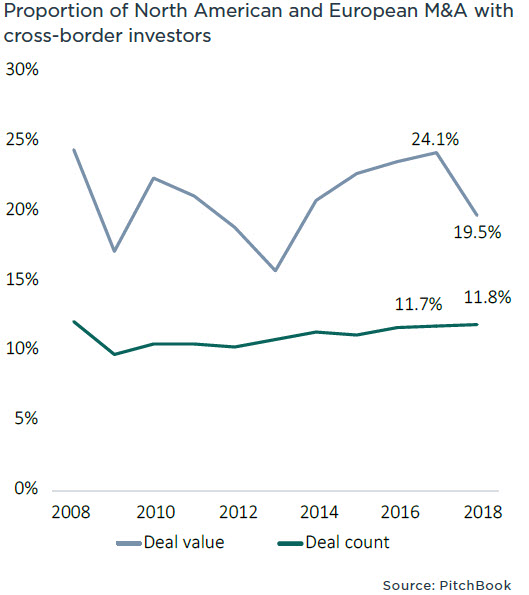 PE- and VC-backed companies make up rising percentage of M&A targets
An ever-growing percentage of M&A targets are now institutionally backed, defined as being PE-backed, VC-backed or publicly traded. Last year, 20% of acquired companies had institutional backing, the highest share on record. A key force behind this shift is the growing number of PE- and VC-backed companies, a trend that is likely to continue. Private equity firms have played a particularly strong role in driving this change, inking more than 5,000 acquisitions last year in the US alone. And a rise in secondary buyouts has also had an impact, as these transactions accounted for more than half of all PE-backed exits in 2018.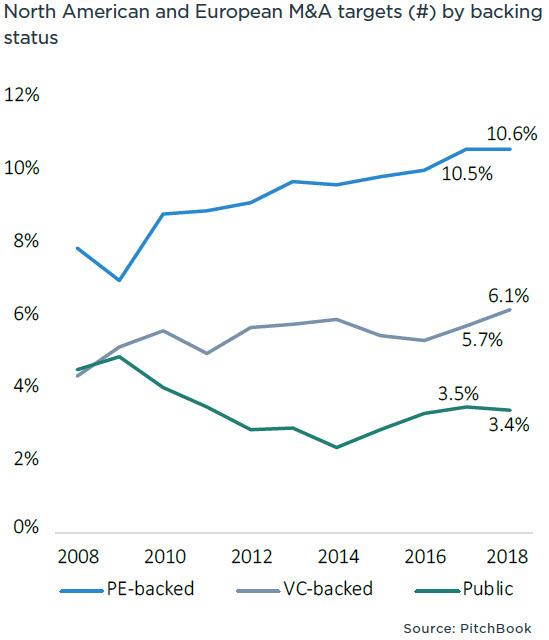 Convergence between public and PE-backed companies continues
The convergence between public and private equity-backed companies in North America and Europe has been ongoing over the past decade: The number of PE-backed companies in existence grew 44.3% between 2008 and 2017, while the number of public companies fell 29.2% over the same period. Our analyst Alex Lykken took
a closer look at this trend
, exploring the consequences of PE's increasing role.