2015 previously held the mark for most venture capital invested globally in a single year over the past decade. But now it's 2017, and massive VC financings are the new normal.
These enormous funding rounds have contributed to the record-breaking year, of course, but there have also been other factors. Take SoftBank, the Japanese telecom giant that's made headline after headline in 2017 with its
$98 billion Vision Fund
. It's made a huge impact on the tech world, participating in deals worth more than $22 billion—and that's not even including the multibillion-dollar stake SoftBank is set to take in Uber.
Large fundings have led to even larger valuations. This year, more than 40 VC-backed companies reached billion-dollar valuations and joined the ranks of the
unicorn club
. Among the companies that have achieved that milestone in 2017 are well-known startups such as exercise bike-maker Peloton, stock trading platform Robinhood and food delivery company Deliveroo.
Numbers can't tell the whole story, of course—this year has also been characterized by
turmoil at the most valuable private company in the US
, sexual misconduct allegations against several prominent VC investors, and
layoffs and shutdowns
at many VC-backed startups, among other themes—but they do provide a solid overview of the industry.
We've taken a look at the figures for three key measurements of the global VC landscape in 2017.
Record amount of venture capital invested
After a dip last year, 2017 has reached new heights in terms of the sheer dollar amount of venture capital invested over the past decade. VCs have
poured more than $148 billion
into private companies this year, per the PitchBook Platform. The previous high over the last 10 years, reached two years ago, was $142.8 billion. Deal count, however, is still falling from the 2015 figures. That year, VC investors participated in more than 19,000 deals, a number that has dropped significantly since.
The bump in capital invested and decline in deal count aligns with one of the biggest VC trends of the year: Gigantic funding rounds. As of mid-October, eight startups in the US had
raised $500 million-plus rounds
. Some representative transactions are a $4.4 billion infusion into WeWork, a $1.5 billion investment in Lyft and a billion-dollar bet on Airbnb.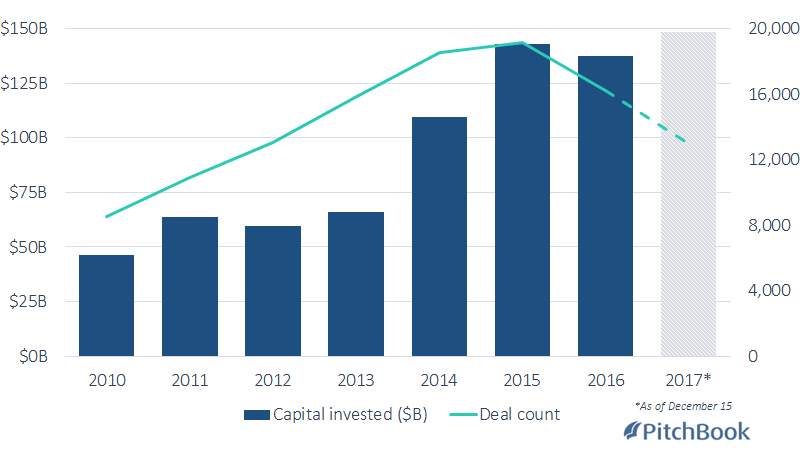 VC-backed exits on the decline
As VC deal count dropped for the second year in a row, so did exit activity. The number of VC-backed exits around the world reached a peak in 2014 and nearly matched it in 2015, then dropped in 2016 and again this year,
to about 1,400
. The figures are commensurate with the noticeable lack of IPOs in the past few years. The median time to IPO has
risen dramatically
over the last decade, from 4.9 years in 2006 to 8.3 years in 2016.
Companies
staying private longer
contributes to the massive VC funding rounds discussed above.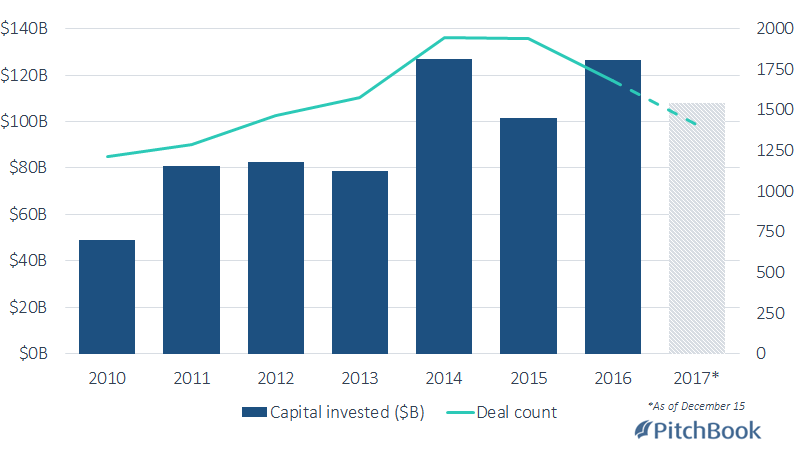 Fund count dips to new lows
In terms of VC firms raising funds, this year experienced a noticeable downturn. Last year was a record year for VC fundraising, with both more capital raised and more funds than ever before. But in 2017, those numbers have taken a dramatic dip: The fund count is the
lowest it's been in at least a decade
, and the total amount of capital raised is also lower than in the past few years. (It's worth noting that SoftBank's $98 billion fund is classified not as a VC vehicle but as a PE fund.)
The discrepancy between 2016 and 2017 is partly due to this year's relative lack of mega-funds. In 2016, nine VC funds closed on $1 billion or more—nearly double the five vehicles that reached the billion-dollar mark in 2017.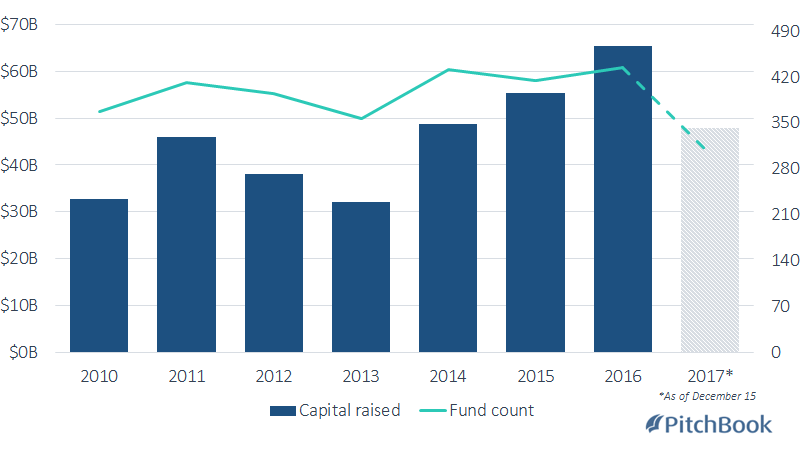 Check out more of our 2017 Year in Review content.