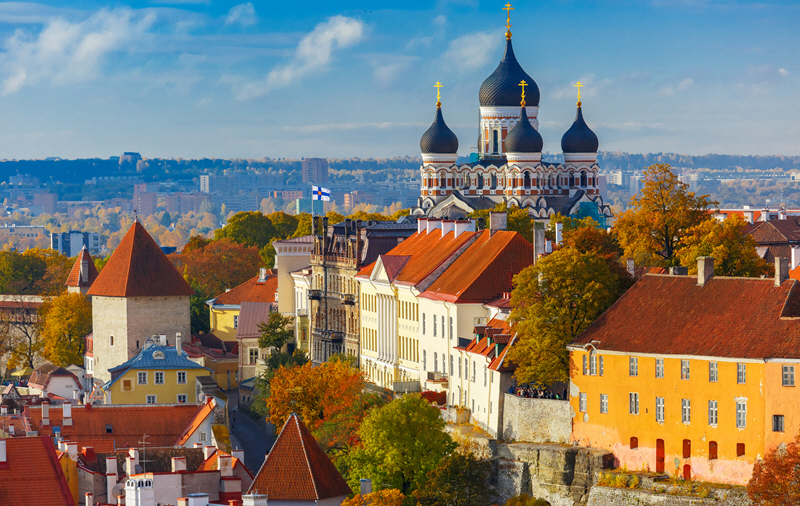 The Estonian capital, Tallinn
Nestled in the hills of Northern Europe is the often-overlooked region generally referred to as the Baltics. The three countries—Estonia, Latvia and Lithuania—lying on the eastern coast of the Baltic Sea are dwarfed by neighboring Poland and Russia, but despite its sleepy appearance, there is one area where the region excels: Creating startups.
Home to just over 6 million people, the region has a very high count of startups per capita in Europe, according to PitchBook data. Estonia is leading the region with nearly 6 startups per 100,000 inhabitants, placing it in 10th position for the whole of the continent. Both Latvia and Lithuania are in the top 20 in terms of startups per capita, with 3.6 and 2.6 per 100,000 people, respectively—beating giants such as Germany and France.
The fact that there are so many startups might be surprising for such a little-known area, but even more striking is how many of those companies originating from the region now rank among some of Europe's most recognized and successful businesses.
Perhaps the most well-known is
Skype
, whose software hails from Estonia, but there are several other examples, most in the tech space. Money transfer service
TransferWise
is one of those, developed again in Estonia, and is valued at $1.6 billion, having achieved unicorn status last year.
Proof of how small an ecosystem it is, TransferWise's founder, Taavet Hinrikus, was Skype's first employee. In fact, the software company is a big part of the region's startup culture, having inspired the creation of a number of other tech companies. Former Skype employees and founders have together launched over 40 startups, like
Starship Technology
and
Deekit
, calling themselves the "Skype Mafia."
Growing ecosystem
While overall investment in the region pales in comparison to other areas in Europe, the amount of capital pouring into the region is growing. So far this year, €178 million has been spent on Baltic startups—although the majority of that comes from Tallinn-based
Taxify
's €154 million funding round. However, taking that particular transaction out of the picture, 2018 still beats the previous year in terms of funding.
Taxify's latest round is a bit of an anomaly, as deals in the Baltics tend to remain small. The median VC deal value in the area so far this year amounts to just €740,000, per PitchBook data. To put this into context, the UK's median deal size in 2018 is €2.3 million, while for Germany it's €6 million.
The lower transaction sizes should not be seen as a reflection on the quality of the startups, however, but rather evidence of the still slightly obscure nature of the region as an investment hub. This is also illustrated by the fact that the majority of the leading investors in Baltic startups are also based in the region, with their funds being considerably smaller and less numerous than their European counterparts.
While this could be seen as a negative for the region, it offers Baltic startups an opportunity to think globally. Many of these companies, such as TransferWise, start out in the region before moving to cities such as London, where they can scale up while still keeping a back office in their (cheaper) home country.
The Baltics act as a springboard for these startups, which can take advantage of a favorable ecosystem before launching themselves into countries with more available capital. The fact that these startups can't simply rely on their domestic markets propels them toward a more global and ambitious mindset, which can be conducive to international success. There are of course exceptions, with the region seeing some higher-value deals, such as Lithuania-based online marketplace
Vinted
's two $27 million funding rounds.
State-supported entrepreneurship
A driving factor behind the triumphs of Baltic companies is their governments' recognition of the value of innovation and embrace of the startup culture. All three countries have launched state-backed initiatives, including the Startup Visa, which allows non-EU founders to create and grow their businesses. Latvia has also gone one step further, introducing economic support mechanisms such as a low flat social tax and no individual tax for startup employees with the aim of attracting founders and highly qualified specialists.
When looking at the numbers, it's clear that the Baltics are punching above their weight in terms of startups. With the high levels of funding relative to their size and strong governmental support, it would come as no surprise to see more international successes come out of the region.
Join the more than 1.5 million industry professionals who get our daily newsletter!