Airbnb
Airbnb closes out crisis year valued at $100B
December 10, 2020
Airbnb
has capped off a monthslong wait for its initial public offering, delayed in the throes of the coronavirus pandemic, and finally gave Wall Street the signature public listing it sought for 2020.
In a second straight day of marquee stock market debuts, the home rental pioneer more than doubled its IPO price of $68 per share, with it stock closing on Thursday at $144.71. That figure propels Airbnb to a more than $100 billion valuation, and ranks it among biggest first-day pops in a year that has, as of this week,
notched a 10-year high
for combined value of companies going public.
Airbnb still hasn't turned an annual net profit, and it recorded a $674 million net loss last year.
But the San Francisco-based company has fought through the pandemic with a combination of cost-cutting measures (including laying off a quarter of its staff) and $2 billion in debt and equity financing. Annual revenue growth also shrank to about 31.5% in 2019 from around 42.5% the previous year.
Early backers like
Sequoia
—which invested in Airbnb at the seed stage—are poised for a big payday. The firm's 16.5% stake in Airbnb was worth $5.57 billion at the IPO price, and is now drastically higher thanks to the stock's opening day leap.
Founders Fund
's 5.4% position was worth over $1.81 billion at the IPO price.
"This is not 1999 or 2000, where it's a crazy tech IPO season and the companies have no fundamentals," said
Nihal Mehta
, founding general partner at
Eniac Ventures
, which also owns a stake in Airbnb. "Companies like Airbnb are still sacrificing profit for growth … But these are real businesses."
Airbnb's listing is the culmination of a roller-coaster year that endangered the company's IPO hopes in March as the pandemic ravaged the travel industry and much of the company's core home rental business. But under CEO
Brian
Chesky
's leadership, Airbnb righted the ship and sailed ahead toward a public debut.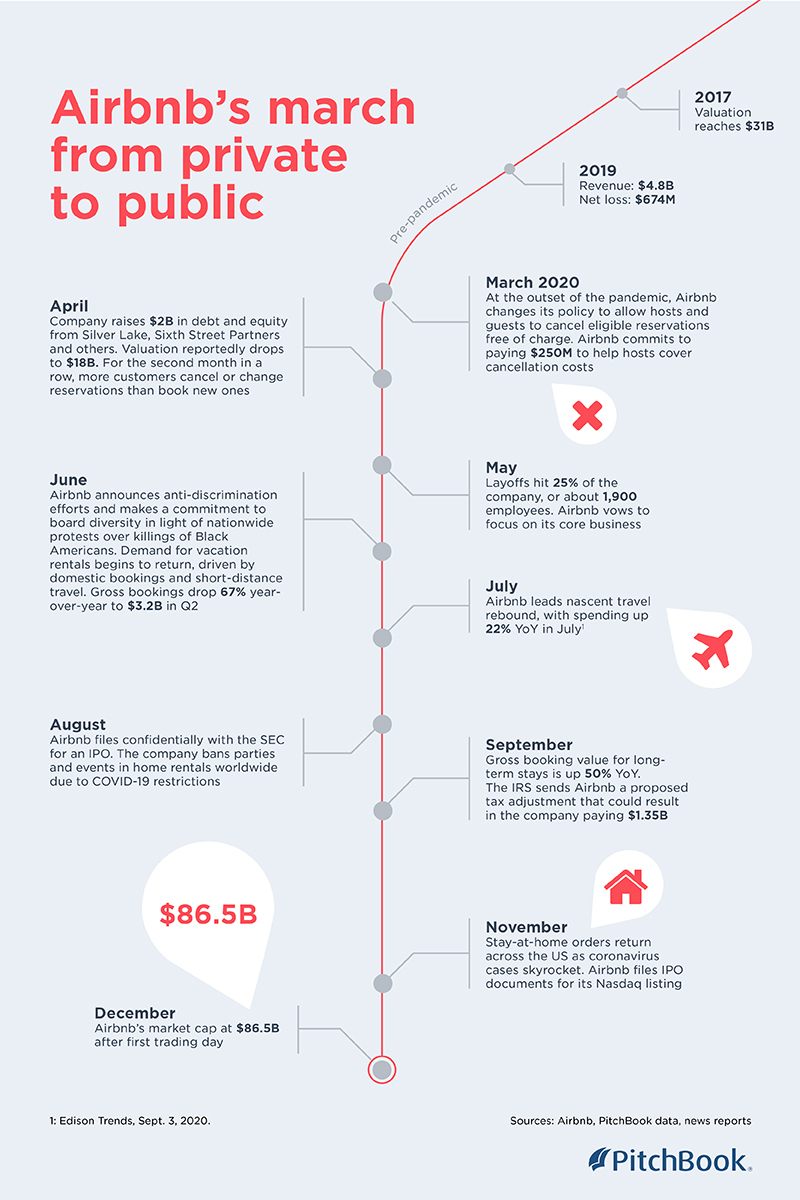 The company was born when Chesky and co-founder
Joe Gebbia
hastily created a website 13 years ago to rent out short-term space in their San Francisco apartment to attendees of a conference and help Chesky and Gebbia pay rent. That website would become Airbnb, now one of the biggest travel companies in the world. With a market cap of nearly $86.5 billion, it's now worth more than travel company
Booking.com
.
Airbnb dashed onto the
Nasdaq
on Thursday in dramatic fashion, opening at $146 per share, 115% above the IPO price. The company raised a total of $3.5 billion in the deal, making it the year's biggest VC-backed offering on a US exchange, according to PitchBook data.
The company's booking numbers took a downward turn in March, when they began to plunge, hitting a low of 72% year-over-year in April. But over the summer Airbnb got a fortuitous bounce-back in domestic bookings as travelers itched to leave the lockdown-imposed confines of their homes for a change in scenery.
While bookings have continued to rebound into September, the company has acknowledged that a return to normal will be an uphill battle as it pins its hopes on a successful vaccine that could help reinvigorate traveling. The company expects more cancellations and fewer bookings YoY in the fourth quarter as the pandemic continues to rage around the world.
James Thorne contributed to this report.