Automation Anywhere hits $6.8B valuation amid a bot boom
November 21, 2019
Last year, a 16-year-old software company raised its first round of venture capital financing. Today, its valuation has ballooned by $5 billion.
Automation Anywhere
, a developer of robotic process automation software, said Thursday that it has secured $290 million in a Series B led by
Salesforce Ventures
. The funding has catapulted the company's valuation to $6.8 billion
—
solidifying its position among the 20 most valuable VC-backed companies in the US, according to the PitchBook Platform.
SoftBank
and
Goldman Sachs
, who both participated in the company's $550 million Series A in 2018, also joined the round.
Co-founded by four Indian entrepreneurs, the San Jose-based company helps businesses build artificially intelligent software bots that can automate repetitive and mundane tasks.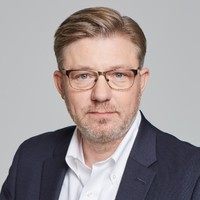 Stephen DeWitt (pictured), who joined Automation Anywhere in September as chief strategy officer, said that in the past, process automation tools couldn't recognize unstructured data. Automation Anywhere's technology, he said, takes aim at that problem with a recently launched bot that continuously learns from human feedback as it automates repetitive kinds of work on things like invoices, purchase orders and loan applications.
DeWitt said RPA software companies are gaining momentum in part because investors and customers see a giant potential return on investment in the technology. Another notable player in the RPA space that raised a mega-round this year is
UiPath
. The company raised $568 million at a $7.1 billion valuation in April.
"Our expectations of continued significant growth are predicated on the fact that we can sell across a wide horizon of industries
—
all of the fortune 2000 companies," DeWitt said. "We've invested in the resources to meet the needs of customers in their environment. And it's paying off."
Automation Anywhere was founded in 2003
—
a time when tech gurus were debating whether wireless connectivity would go mainstream. DeWitt said the founding team recognized the opportunity of automating back-office work at the time. And operating with a break-even mindset gave them the independence to invest and scale the company in the early days.
"The contextual reality of what we're able to build now is blowing all of our collective minds," he said.
Featured image via OstapenkoOlena/iStock/Getty Images Plus; photo of Chief Strategy Officer Stephen DeWitt courtesy of Automation Anywhere