PE Fundraising
Blackstone surpasses $22B mark for what could be biggest PE fund ever
April 3, 2019
Blackstone
has exceeded $22 billion for its eighth flagship buyout fund, according to reports, surpassing the firm-record $21.7 billion vehicle it raised in 2007.
With no fund target stated publicly, the New York-based investor isn't done raising capital, either. Blackstone is reportedly expecting to exceed the $24.7 billion that
Apollo Global Management
raised in 2017 when it ultimately wraps up fundraising by the end of this year. If all goes to plan, that would make this latest effort by Stephen Schwarzman's outfit the largest private equity fund in history (excluding
SoftBank
's $100 billion Vision Fund, which is officially classified as private equity but focuses on global tech investments and backs the type of companies favored by VCs).
Raising mega-funds that match or exceed $5 billion is business as usual for private equity's biggest players. And Blackstone isn't new to the phenomenon, having pulled in $18 billion for its seventh flagship fund in 2015 and $16 billion for its sixth in 2012. In addition, the alternative asset manager is in the process of raising $40 billion for its latest infrastructure fund, with $20 billion of the total eventually expected to come from Saudi Arabia's Public Investment Fund. The vehicle had raised around $7 billion by the end of 2018.
On a broader level, mega-funds have accounted for more than 45% of capital raised in North America from 2016 to 2018, per a recent
PitchBook analyst note
. Granted, the number of total mega-funds dropped in terms of both quantity and capital raised in 2018, but that downward trend will likely soon end, as 19 open mega-funds seeking more than $185 billion have yet to close. Here's a visual look at how the numbers have fluctuated: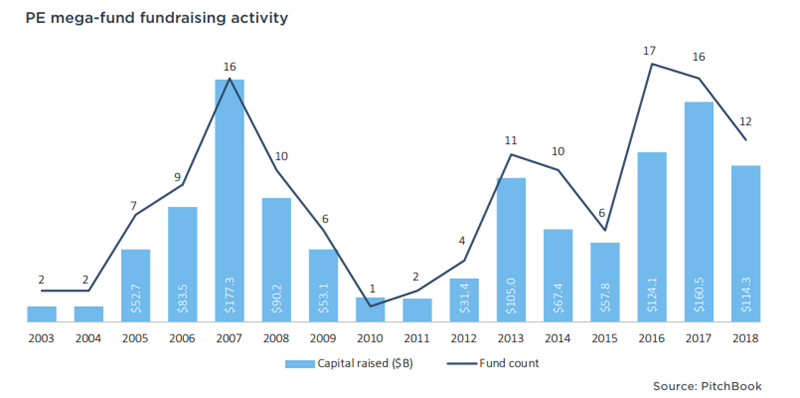 What's more, with big funds come big deals—and Blackstone hasn't been shy about pursuing them. Last year, it bought the
financial and risk business
of Thomson Reuters in a deal valued at some $20 billion, later renaming the company Refinitiv. And last month, it agreed to purchase
Servpro Industries
, a provider of emergency restoration repair services, in a deal valued at more than $1 billion. In February, the firm
teamed with Hellman & Friedman to acquire Scout24
, a German online classifieds business, in a transaction worth upwards of €5.7 billion (about $6.4 billion).
Expect more massive buyouts from Blackstone in the near future. The firm had more than $44 billion unspent in its private equity coffers and more than $472 billion in total AUM as of the end of 2018, per its latest earnings report. The firm's goal is to reach $1 trillion in total AUM by 2026.
Featured image via mikdam/iStock/Getty Images Plus
Related read: Which PE mega-funds are coming next?