GP Stakes
Despite larger assets, publicly traded PE firm valuations are languishing
October 18, 2019
View comment

(1)
Recent GP stake deals are giving us a growing sample size of private PE firm valuations. We already had a small set for publicly traded PE firms, and we've heard ad nauseam that the public markets don't fully understand how to value firms like
Blackstone
or
Apollo Global Management
.
Much of that misunderstanding revolves around all the different, complex strategies they employ, ranging from real estate to credit and infrastructure to hedge funds. The big five featured in our chart are closer kin to asset managers than they are to their private equity roots. Their share prices have largely languished over the years, despite their growth in AUM.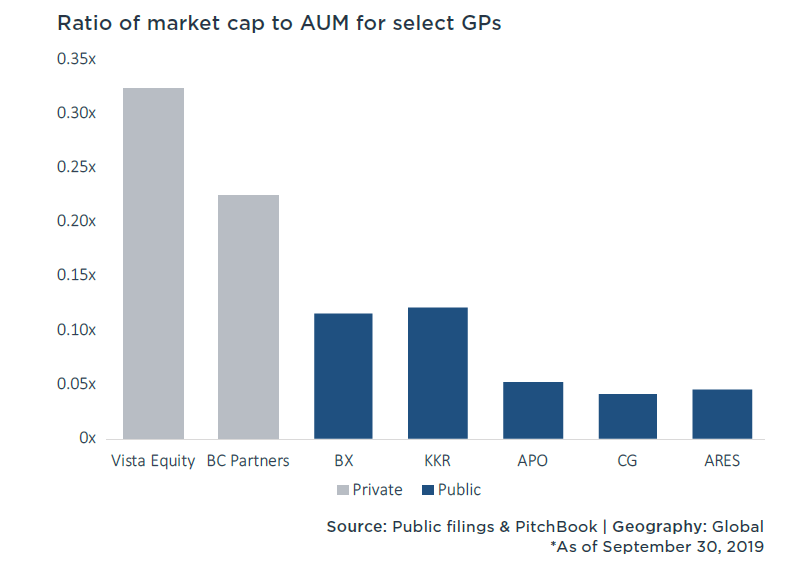 In
a recent PitchBook analyst note
, we ran a quick comparison of private and public PE firm valuations using market caps against AUMs. It's an oversimplification, given the myriad of strategies baked into each firm's valuation, but it's interesting to see.
A few months ago, for example,
BC Partners
sold part of itself at a valuation of up to $5.6 billion. Total assets were about $25 billion, making the firm's private valuation about a fifth of its AUM. Blackstone, by contrast, is valued at around $60 billion, just around a tenth of its approximately $550 billion in AUM.
Vista Equity Partners
is another example on the private side—the firm sold a minority stake to
Dyal Capital Partners
in 2015 at a $4.3 billion valuation, despite only accumulating $13.3 billion in assets at the time. Vista's market-cap-to-AUM ratio was about a third, compared to more recent ratios for Apollo,
The Carlyle Group
and
Ares
, which are all trading well below one-tenth of their AUMs.
BC Partners and Vista have branched out a bit from private equity, but not nearly as much as their public peers. They both sport credit strategies now, but they haven't ballooned into real assets or infrastructure or hedge funds like the biggest firms have. They may one day, if they choose to go public, which tempts plenty of firms looking for liquidity or expansion capital. For now, we think most PE firms will continue operating privately until they can trade at a premium to compensate for all of the stresses of going that route.
This column originally appeared in The Lead Left.
Featured image via manjik/iStock/Getty Images Plus
Read more about public and private valuations for PE firms in our recent analyst note