Healthtech
Digital remedies: The tech future of European healthcare
October 18, 2019
The National Health Service is often regarded as one of the UK's proudest achievements, but it's a flawed system. While many abroad will regard free healthcare with envy, Britons are painfully aware of the NHS's shortcomings. Under-resourced and understaffed, it is an institution that is crying out for innovation and efficiency.
One big issue is doctor appointments. In some areas, getting a time slot with your primary care doctor can be a near-hopeless game of cat and mouse—a recent survey from GP magazine Pulse showed that patients are on average waiting more than two weeks to see a doctor. One company trying to alleviate this strain is London-based telehealth provider
Babylon Health
, which reportedly raised $550 million in August.
Babylon has developed an AI-powered app that allows patients to get medical advice from a chatbot and track their health. It also allows users to book remote appointments, via video link, with an NHS GP. The startup is one of many hoping to plug gaps in universal healthcare systems by leveraging advances in internet-enabled devices, Big Data and AI.
"At the moment we are seeing a lot of interest in data as the new currency for innovation," Niamh McKenna, managing director with technology consulting company Accenture and leader of its UK Health practice, told PitchBook. "Artificial intelligence is the catalyst for healthcare and so it's attracting a lot of investor attention."
Healthy growth
A 2018 report from
Accenture
on AI in healthcare showed that 72% of healthcare executives polled across European and Asia-Pacific countries are either piloting or planning AI adoption. Meanwhile, 93% confirmed they have AI projects lined up. As such, Accenture expects investments in the space to increase, with 40% of respondents being focused on growing their use of AI-assisted applications.
Babylon's round, which was led by Saudi Arabia's Public Investment Fund, reportedly valued the company at $2 billion. It accounts for a large chunk of the total €1.42 billion (around $1.58 billion) in VC raised by European healthtech companies during the first three quarters of 2019, per the PitchBook Platform. Even if one were to strip out Babylon's mammoth raise, 2019 is still a bumper year for capital raising, easily surpassing the €753.4 million and €728.7 million raised in 2017 and 2018, respectively. On the other hand, 2019 has seen fewer rounds, with deal count sitting at 101, compared to last year's 222.
As the vertical matures, the rounds are also getting bigger. Babylon is now one of two healthtech unicorns in Europe, per PitchBook data. The other is France's
Doctolib
, which offers a SaaS platform for booking doctor appointments with a similar aim of bringing efficiency to GP-patient interactions. In March, DoctoLib raised €150 million in a round led by
General Atlantic
at a valuation of over €1 billion.
"The growth potential is enormous," McKenna added. "The expanded availability of health information and care options has led to patients demanding more sophisticated, convenient, transparent, affordable and personalized service. This will only continue."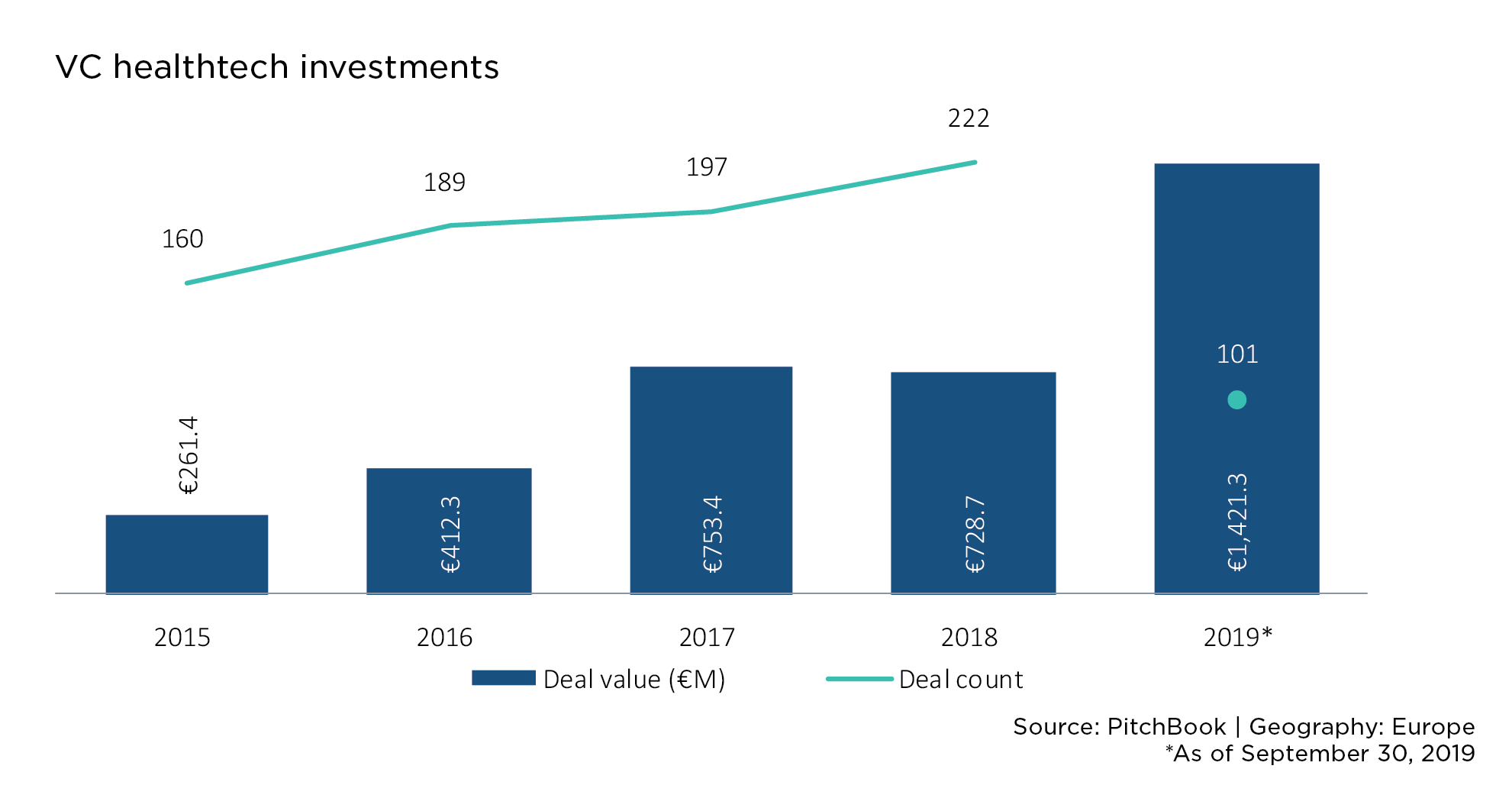 Barriers to entry
While the opportunity is clear, European tech startups operating in the health sector can face more regulatory and political hurdles than in any other vertical. In Europe, having a system of universal healthcare typically means greater government oversight and public sensitivity to private sector involvement when compared with, for example, the US.
In the UK especially, the NHS is something of a sacred cow, meaning any business seeking to disrupt the system will come under a lot of scrutiny. Babylon is not the only remote GP service operating in the UK. Manchester-based
Push Doctor
, for example has raised more than £27 million (around $35 million) to date. Nevertheless, Babylon has been exposed to the lion's share of criticism by dint of its size and prominence.
Last year, the chair of the Royal College of General Practitioners, Helen Stokes-Lampard, accused the startup's health technology—primarily used by the young, urban and tech-savvy—of creating a "digital divide" between patients, according to the Independent. Babylon, which has since dismissed such accusations, is not alone in its PR struggle to modernize healthcare. Doctolib has also faced opposition in its bid to shake up the French system. How much of a hurdle European healthtechs must face, however, depends on where they operate in the system.
"There is a clear delineation between areas that are regulated and areas that are unregulated, and there are a lot of gray areas," Nooman Haque, managing director of life sciences and healthcare at Silicon Valley Bank's UK branch, told PitchBook. "In unregulated areas, you have things like wellness apps and advice, but once you get into actually providing healthcare and diagnostic advice, you're getting into the world of regulated provision of healthcare. So you do need, particularly in the UK, to comply with all the relevant regulations regarding that."
This is not a barrier, but rather an opportunity for VC investors. Haque noted that SVB has many healthcare clients in some of the most highly regulated areas of the industry, meaning the existence of regulation and regulatory challenges is not foreign to the firm. Rather, Haque said, it gives them "muscle memory."
"It's not something we avoid. In fact, it's something that, if a regulatory challenge is there and the company has the right strategy, you can build around it," he added. "That's actually quite attractive to us because regulation is a barrier to entry. So from a market entry position, if a company can stay on top of regulation and build a good company around that framework, they are in a good position"
One the other hand, regulation and reputation aside, the real issue facing healthtech startups, according to Accenture's McKenna, is scaling, particularly with regard to European healthcare as a whole.
Around 60% of European healthtech VC activity has been in the early stage, with late-stage VC accounting for 23%, per PitchBook data. And while rounds may be getting bigger, an overwhelming number of transactions remain small. In fact, less than 4% are in the €25 million-plus category, while just over 80% total under €5 million.
"There is no shortage of good ideas—indeed arguably there's a lot of duplication in the startup space," McKenna said. "The challenge for all of them is scaling as most health systems are fragmented to a greater or lesser extent and the buyers are often inexperienced in working with startups."
Featured image via Moussa81/iStock/Getty Images Plus