Dispatches from Disrupt: Day 1
September 18, 2017
Highlights from TechCrunch Disrupt in San Francisco from PitchBook's venture capital team: Dana Olsen and Kate Clark.
This is a live page, refresh for updates.
5:05 p.m. -- We grab some snacks (Goldfish & Oreos; thanks TechCrunch!) for the road. We'll be back tomorrow with live updates from Day 2.
4:45 p.m. -- The TechCrunch editor-in-chief hosts an AR panel. One question is why AR has blown up over the past few years, using the runaway success of Pokémon Go as an example. The game was about "getting people outside playing a game together. ... It's about getting that shared experience," says Phil Keslin, CTO of
Niantic
. The concept of "shared experience" comes up a few more times in the AR discussion. -DO
4:20 p.m. -- Bob Xu, the founder of the Beijing-based seed stage-focused ZhenFund, is on stage. He says the key to successful angel investing is identifying companies whose founders work well together. -KC
ZhenFund's Bob Xu is on stage talking #angelinvesting: "In angel investing, we don't follow the technology, we follow the people." pic.twitter.com/RyLdcaCNlt

— PitchBook Data (@PitchBook) September 18, 2017
3:55 p.m. --
Facebook's
head of design, Luke Woods (no relation to Zach Woods), hits on a variety of topics including how the social media giant helped survivors of Harvey in the wake of the hurricane and how the platform continues to improve. "There's always work to be done to make Facebook better," Woods said. "We need to be willing to experiment, to try a lot of things and to throw some things away." -KC
2:00 p.m. -- We were just notified that Zach Woods, aka Jared Dunn, of HBO's "Silicon Valley" is here for meet-and-greets. Time for some serious fangirling. Update: 3:55 p.m. --
Kate met Zach Woods!
-KC
1:40 p.m. -- We were hoping for an IPO timeline, but
Pinterest
founder & CEO Ben Silbermann said the company is immersed in its core business. "There's a lot of work that goes into reporting," he said. "Right now, we're focused on building a good product for users." -DO
1:20 p.m. -- On my third LaCroix of the day; had to settle for the lime flavor. Grapefruit ran out fast. -DO
1:05 p.m. -- "Together, we think we're going to build a product that is really powerful and capable of driving cars." -- Brian Krzanich of
Intel
on companies coming together to create autonomous vehicle technology. -DO
11:45 a.m. --
In a llama, cat, rainbow, alien spaceship T-shirt
, 23-year-old Vitalik Buterin, the founder of
Ethereum
, takes the stage. He talks about the diverse use cases for the Ethereum Blockchain, the distributed ledger and gateway to decentralized apps similar to the Bitcoin Blockchain. He's uttered my favorite line of the day: "When you have Paris Hilton promoting ICOs on Twitter, that's peak hype." -KC
.@naval closes the talk on #Ethereum: "Learn what you can about Ethereum because it really is the future of digital currency." #TCdisrupt

— PitchBook Data (@PitchBook) September 18, 2017
11:20 a.m. -- Russian billionaire Yuri Milner tells the audience he'll continue to focus on investing in consumer internet companies. He also provides an update on the $100 million project he funded two years ago in an attempt to find intelligent life outside our solar system. Moderator: "Did you find the aliens yet?" Milner: "We have not heard signs of intelligence out there." -DO
11:05 a.m. -- Moxie Marlinspike, CEO of the company behind the Signal app, on why encryption software is so important for messaging services: "If people open a messaging app and they send a message to their friend, the intent was to send a message to a friend—not to Facebook or the NSA or the government." -DO
10:45 a.m. -- We wander around Startup Alley, where hundreds of startups have gathered to show off their businesses. Highlights include
a robot that removes weeds for you
(
Franklin Robotics
) and a breastpumping bra with automated compression (
Lilu
).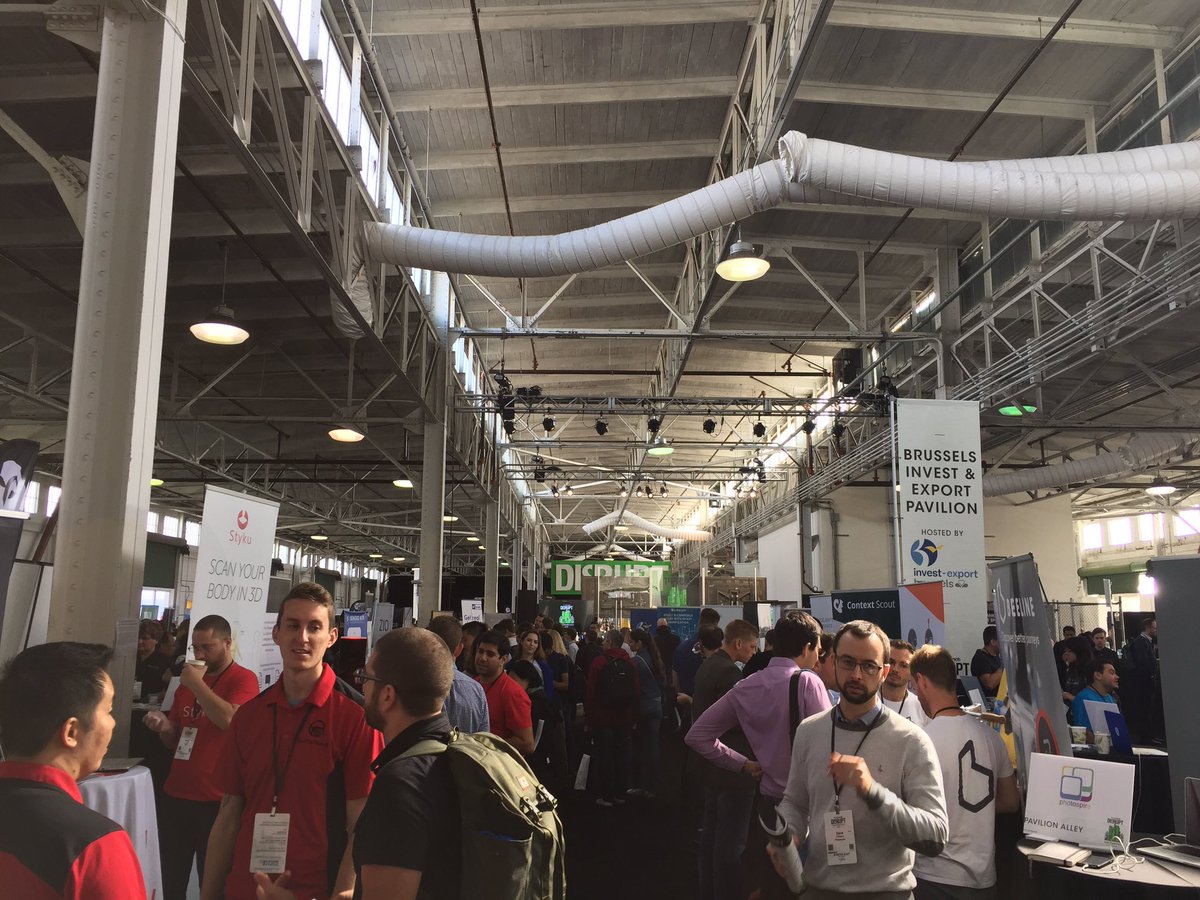 10:15 a.m. -- Dan Morehead of the crypto-focused VC Pantera Capital closes the discussion on ICOs by saying that those who see ICOs as a bubble don't understand: "I think you are going to see just an enormous explosion of projects out of it, and the ones that are successful, they are going to change the world." -KC
On stage: @dan_pantera, @eyal & Jun Hasegawa on rise of #cryptocurrency. "This is the beginning of a multi-decade project," -@dan_pantera pic.twitter.com/3aAmtd0Ahz

— PitchBook Data (@PitchBook) September 18, 2017
10:00 a.m. --
TechCrunch's
Jordan Crook introduces the first batch of cryptocurrency speakers: Eyal Hertzog of the Bancor protocol, Dan Morehead of Pantera Capital and Jun Hasegawa of crypto startup OmiseGO. "I've been waiting years for the whole crypto thing to just die so I don't have to understand it, but it looks like that's not gonna happen," Crook jokes. -KC
9:40 a.m. -- Herman Narula, CEO of game development startup
Improbable
, is on stage. Moderator opens the talk with a mind-bending question: "Is this all a simulation?" Narula talks about creating VR & AR platforms to better understand all parts of the world, from infrastructure to defense against terrorism. Plus, he provides some thoughts on scaling after the company's recent $500 million fundraise: "You get in over your head. There's no getting around that." -DO
9:35 a.m. -- Someone has flipped the AC switch to "on." It's now cold and windy inside Pier 48. -DO
9:30 a.m. -- Heather Adkins of Google talks IT security: "If you're a startup, even if you're just two people in a garage, one of you must be in charge of security." She also said she deletes all the love letters (emails) from her husband. Key takeaway: when it comes to cybersecurity, you can't be too careful. -KC
9:00 a.m. -- Matthew Panzarino, editor-in-chief of TechCrunch, takes the stage to welcome everyone (startup founders, startup employees, investors, media...) to the conference. The event has officially begun. -DO
8:45 a.m. -- We've arrived! Before sitting down for the opening remarks, we take a walk around the event venue (Pier 48 in San Francisco). Key takeaway: TechCrunch spent A LOT of money on LaCroix.
Live from #TCdisrupt. I (@KateClarkTweets) will be tweeting all day from @TechCrunch. Stay tuned. pic.twitter.com/DI2VzcazQQ

— PitchBook Data (@PitchBook) September 18, 2017
Follow PitchBook or Kate Clark on Twitter for live updates from TechCrunch Disrupt.