Edtech
Why some edtech investors could finally be set for a post-pandemic payday
February 12, 2021
For years, many venture capitalists were skeptical about betting on education technology startups, in large part because of a dearth of exit opportunities.
Among the few notable exits by edtech startups: US-based
Chegg
and
2U
debuted on the public markets with valuations of around or less than $1 billion in 2013 and 2014, respectively, while
LinkedIn
bought
Lynda.com
, an online learning company, for $1.5 billion in 2015.
But when schools around the world shut their doors amid the COVID-19 pandemic, demand for digital education surged and investment in the sector took off at an unprecedented clip.
Edtech startups collected $13.3 billion in global venture funding in 2020, surpassing the previous record set in 2018 by nearly 50%, according to PitchBook data. Meanwhile, 2U stock has roughly doubled, while Chegg stock has nearly tripled since the start of the pandemic.
And now increased interest in the sector, combined with strong public market conditions, is beginning to pave the way for more sizable exits.
Global VC deal flow in edtech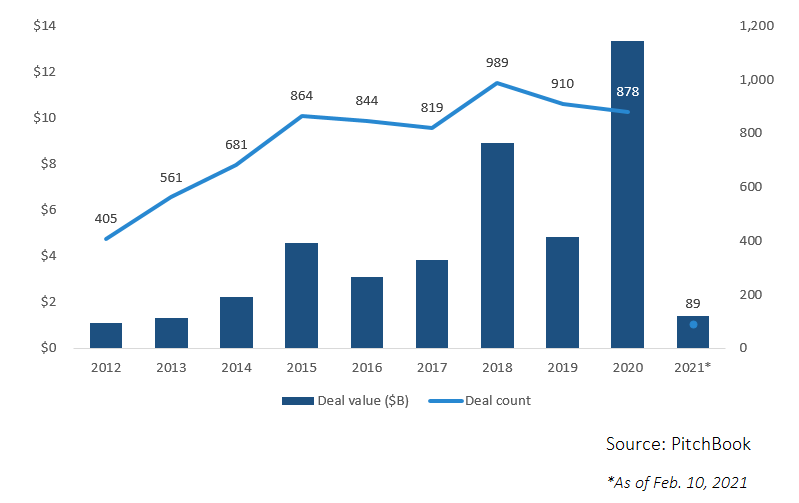 PowerSchool
, an education software company serving K-12 institutions around the world, filed to go public at an estimated valuation of $6 billion this week, a 100% increase from what it was worth in 2018, according to a Bloomberg report.
Backed by
Vista Equity Partners
and
Onex Corp.
, the company is angling for what would be the sector's largest IPO to date.
In the meantime, Nerdy, which runs Varsity Tutors, agreed to go public via a
TPG Capital
-sponsored SPAC in a deal valued at about $1.7 billion. And last October,
Skillsoft
, a learning management software platform, reached an agreement to merge with a blank-check company in a transaction worth about $1.3 billion.
"We are seeing more capital and talent come into edtech," said Ian Chiu, a managing director at
Owl Ventures
, an edtech-focused VC firm that raised a $415 million fund last year. "I think this will help create bigger companies, which in turn will lead to more acquisitions and IPOs."
Today there are nearly two dozen global edtech unicorns, including US brands like
Udemy
,
Coursera
and
Duolingo
, according to edtech market intelligence company HolonIQ. But the largest companies in the batch are based in China and India, two countries that have a high per-capita supplementary education spending rate.
Yuanfudao
, a Beijing-based online education company, raised $2.2 billion last year at a valuation of $15.5 billion. And its India-based counterpart,
ByJu's
, which is also an Owl Ventures portfolio company, is reportedly valued at $12 billion.
Chiu said that ByJu's could have gone public a couple of years ago if it wanted to, but for now the decacorn is rapidly growing both organically and through acquisitions. Byju's acquired
White Hat Jr.
, another India-based Owl Ventures portfolio company, for $300 million last August, and it bought US-based Osmo in 2019 for a reported $120 million.
MasterClass
, also an Owl Ventures-backed startup, is another potential public market candidate, according to Chiu. "Fidelity led their last round. We don't normally see names like Fidelity investing in companies unless there is an expectation that the company will go public," he said.
Earlier last decade, many edtech companies were hoping to be scooped up by education industry incumbents such as
McGraw Hill Education
, Wiley and
Pearson
, but it turned out that these companies did not have their sights set on acquiring innovation, according to Owl Ventures managing director Tory Patterson.
And as education disrupters continue to increase in value, legacy education companies may no longer have the financial resources for these acquisitions.
Now it looks like edtech is coming into its own, despite some earlier challenges.
Since a large majority of US-based students now have broadband and access to Chromebooks or iPads, it is finally possible to build edtech companies on a large scale in a reasonable timeframe, according to Chiu.
"We are starting to see more exits, but the COVID tailwind is only a part of the story," he said. "Until recently, there were significant infrastructure constraints in the market."
Featured image by seksan Mongkhonkhamsao/Getty Images