Public-to-Private
Expect the number of take-privates in the US to spike in 2019
December 19, 2018
As the US private equity industry continues to produce an increasing number of mega-funds and mega-deals, don't be surprised if the number of take-private buyouts surges in 2019 as well.
That's one of a handful of takeaways from the
PitchBook 2019 Private Equity Outlook
released earlier this week.
Why the prediction?
For one, larger funds are typically involved in larger buyouts, according to PitchBook analyst Wylie Fernyhough, and the proportion of take-privates grows in tandem with deal sizes. For proof, the median take-private deal size in 2018 was $977 million as of November 30, while the median deal size for other non-take-private buyouts checked in at roughly $175 million. And top-dollar buyouts are only increasing. There have now been more than 70 buyouts of $1 billion or more in the US in two consecutive years for the first time ever, and the number of mega-funds closed over the past three years is more than any period on record.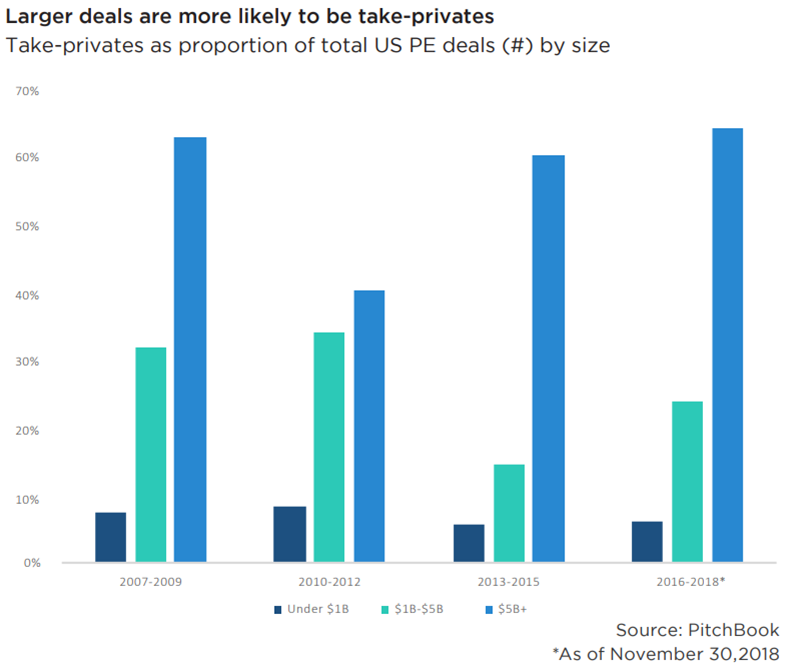 Of the four take-private mega-buyouts in the US so far this year, three were in the healthcare industry. In October,
KKR
completed a deal to purchase
Envision Healthcare
for $46 per share, or roughly $9.9 billion, including debt. In November,
Veritas Capital
and Elliott Management agreed to purchase
AthenaHealth
for $5.7 billion after the company bowed to Elliott pressuring the board to seek a sale. That same month,
Apollo Global Management
portfolio company RCCH Healthcare Partners acquired
LifePoint Health
in a deal worth roughly $5.6 billion.
With the stock market suddenly volatile over trade fears and rising interest rates, that could cause public market multiples to drop. And if they do, private equity firms will be looking to strike a deal for a bargain.