Space
Exploding rockets, the Great Man Theory and other reasons space is heating up again
March 29, 2018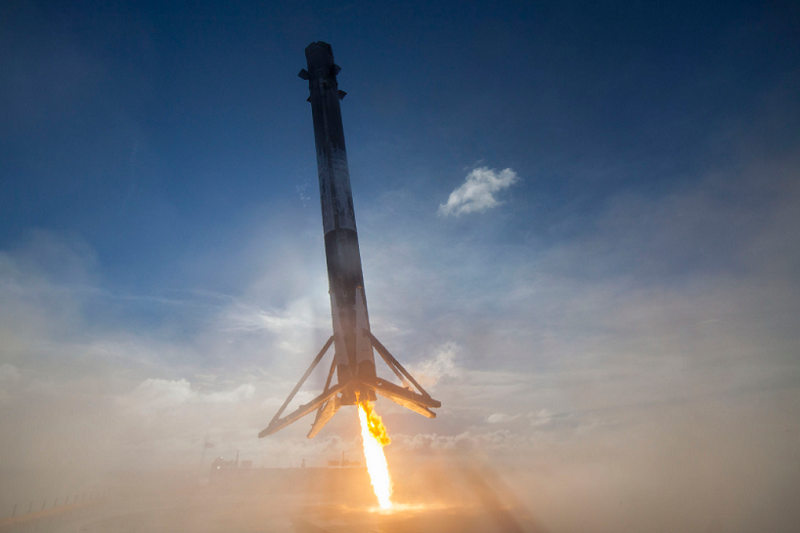 As part of
my recent article
on the new privately-funded race for space­—with $2 billion in VC capital invested in 2017, per PitchBook data, beating the previous seven years combined—I chatted with Tim Fernholz (pictured), space reporter at Quartz and author of the new book "Rocket Billionaires: Elon Musk, Jeff Bezos, and the New Space Race."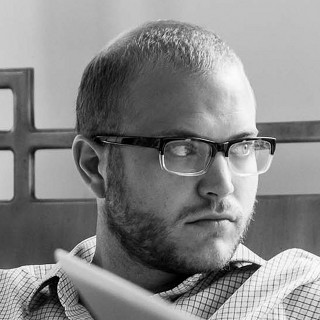 Here are some of the highlights from our conversation, lightly edited for length and clarity, with my own additional insights in italics where applicable:
PitchBook: What motivated you to write this book?
Fernholz: I was based in Los Angeles in 2011, and the buzz around SpaceX just seemed like a fascinating story that was at an inflection point. A new industry, the space industry, was being born out of the shell of the aerospace industry.
Ironically, it was catalyzed by some of SpaceX's early failures (such as the
CRS7 resupply mission
) which at the time looked horrible for the company and horrible for NASA, which had signed contracts with the company to deliver cargo and personnel to the International Space Station.
But many of the smaller rocket companies said it was great for the industry since it revealed that a bit of failure wouldn't end the march of progress. It cleared a path to more participants—including companies like Rocket Labs and Relativity Space—helping to rapidly lower the cost of launch.
Relatively Space, it should be noted, closed a $35 million Series B funding round on Tuesday led by Playground Global, with Social Capital, Y Combinator and Mark Cuban participating. The company is developing a building-sized 3D printer with the aim of automating the production of rocket engines and fuselages.
What are the trends that matter the most?
First, falling launch cost.
When SpaceX started, there was basically a government monopoly via the United Space Alliance and the United Launch Alliance (joint ventures between Boeing and Lockheed Martin) for trips to space. There were no commercial launches. And thus, costs were extremely high despite being subsidized by taxpayers. Yet private companies were launching in China and Europe.
SpaceX founder Elon Musk was really the first person to do a venture-backed space company and succeed. Musk said at the time that his company didn't need government contracting since they could take advantage of 20 years of stagnation.
An example of the low-hanging fruit Musk saw was that rockets at the time used old-fashioned serial data cables, the ones with screws on the attachments. SpaceX uses high-speed ethernet cables instead. For an industry that charges thousands of dollars per kilogram lifted into orbit, insight like this has made rockets lighter and cheaper.
Second, new interest in small satellites.
A consequence of falling launch costs (Note: costs are down by roughly 90% since 2003, according to Bank of America Merrill Lynch) has been the rise of companies like OneWeb—PE-backed with a recent $500 million funding round from SoftBank—that want to launch constellations of smaller, cheaper satellites into orbit. This is being encouraged by cheaper and more efficient solar cells, batteries and electronic components in general.
SpaceX has plans in this area as well. Planet is another small sat company focused on earth imaging using satellites the size of a shoe box that take a picture of the world every day, creating data to be exploited. They are the next big private space company and could be the first space startup to IPO.
Planet raised a $575 million Series D venture round from Syngenta Ventures in August 2017 for a post-money valuation of $2.3 billion.
Third, cheap capital.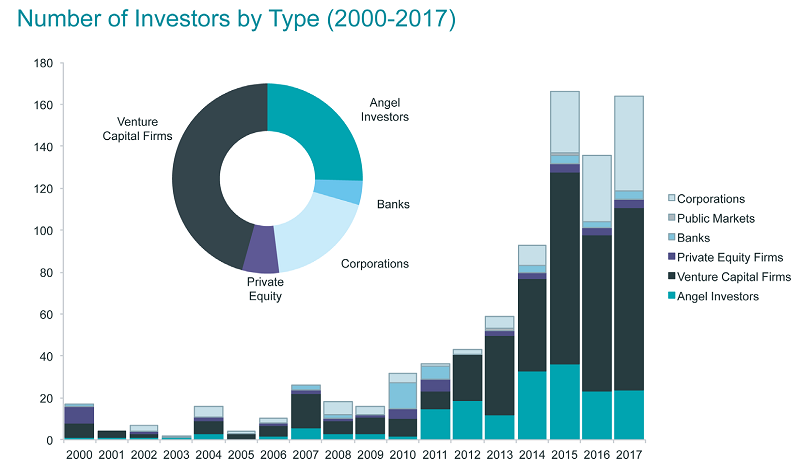 The number of investors moving into the space industry is growing rapidly. Something that has caught the eye of Wall Street, with both Goldman Sachs and Bank of America Merrill Lynch recently penning analyst notes on the sector. Bryce Space and Technology, a consulting and analytics firm, does a good job tracking industry dynamics as well.
Merrill Lynch estimates that between 2000 and 2005, there was an average of eight investors per year in space companies. From 2006 to 2011, the average was 23. And from 2012 to 2016, it was 93—almost a 12-fold increase compared with the first five-year period. Check out my previous article for more fundraising highlights.
Is the 'Great Man' theory at work here, forcing the industry forward?
It's clear that some force of will among tech billionaires is playing a role. Both Musk and Jeff Bezos—the founder of Blue Origin, funded by the wealth gained from his success at Amazon—share a passion about the future of humanity. They had a ton of money necessary to get their space companies started. But both are businessmen and are trying to be profitable.
They kicked off private market interest, with Google buying Skybox Imaging in 2014 for $500 million, which convinced a lot of VCs that exits are available.
Every single space entrepreneur seems to have a sci-fi "
Rosebud
" in their closet. And it's not a new dynamic: Robert Goddard, the rocketry pioneer that invented the liquid-fueled rocket, grew up reading "War of the Worlds."
Bezos, in his valedictorian speech, said we needed to build giant space stations to move humanity off of the Earth. His focus is on protecting the environment, doing heavy industry in the vacuum of space. Stuff like that. Musk is big on the multiplanetary species thing, [and] redundant ecosystems.
Both are all in. Musk wants to retire on Mars. And he's doing everything he can to make that happen.
Related read: Ahead of their time: Valuable VC-backed companies of the future [datagraphic]