Coronavirus
Facing disaster, corporate venture capital to undergo key stress test
March 24, 2020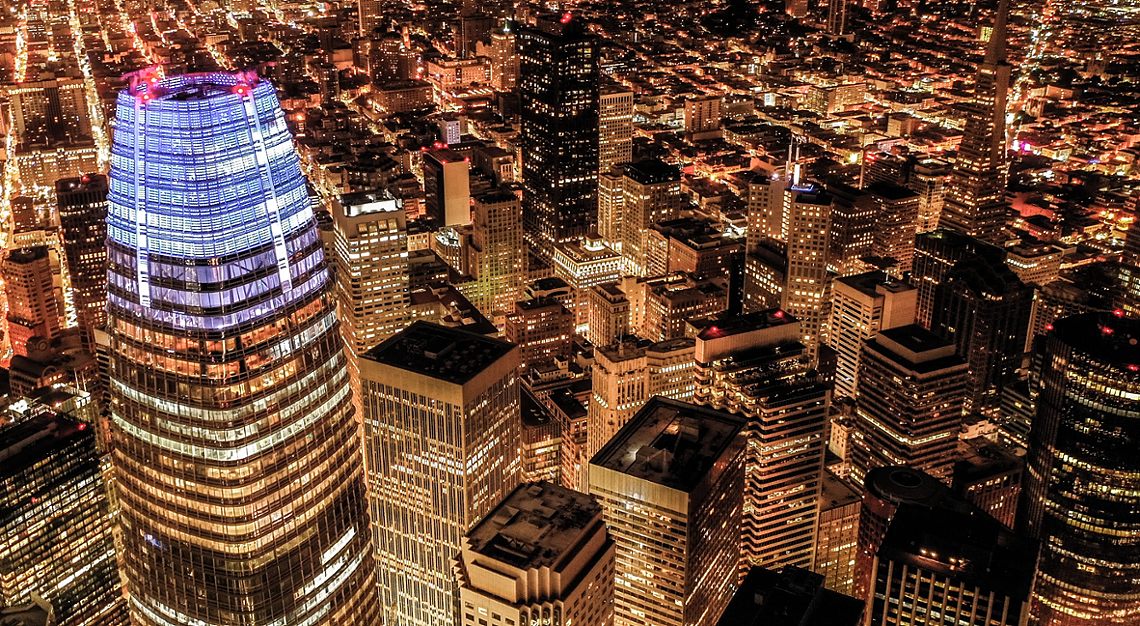 After driving much of the venture capital market's hyper-growth in recent years, corporations are poised for a decisive stress test of their zeal for funding startups.
Heading into 2020, it wasn't unreasonable to forecast another record year for VC financing involving corporate venture capital arms, such as those of titans
Intel
,
Salesforce
and
Google
.
But that was before the coronavirus brought the world economy to a standstill.
Turmoil spurred by the global health emergency has given rise to a new mantra for business decision-makers: Hit pause.
Inside boardrooms of every stripe, countless investment decisions are either being postponed or subjected to fresh scrutiny. Companies are suddenly on guard as they struggle to take the measure of an unfolding economic disaster, in a challenge of their commitment to venture funding.
More coronavirus news: Continuing coverage from PitchBook
"In that hunker-down scenario, all spending goes through a rigorous review, obviously," said Pradeep Tagare, head of the $250 million corporate venture fund at UK-based energy company
National Grid
. "One of the first things that gets hit is the venture capital part of it because that's an easy thing to step back on."
Corporate VC departments make strategic bets on markets, innovations, partnerships and entrepreneurial talent as a way to propel their parent companies to stretch into bold new directions. In recent years, a wide variety of corporations across all industrial sectors and geographies have jumped into the VC market, including
JetBlue
,
Yamaha Motor
and even outdoor gear company Patagonia. Just last week Dating.com said it would start investing out of a $50 million corporate fund for early-stage deals.
Because corporations, notably SoftBank, played such a pivotal role in private fundraising recently, their willingness to stick to their VC strategies in this new downturn could go a long way toward shaping the pool of capital that will be available in the months and perhaps years to come.
Last year, startups raised roughly $136 billion in VC funding and about $141 billion in 2018. For their part, corporate venture firms participated in 1,849 US funding rounds totaling $57 billion—second only to the 1,871 deals worth $71 billion in 2018, according to PitchBook data.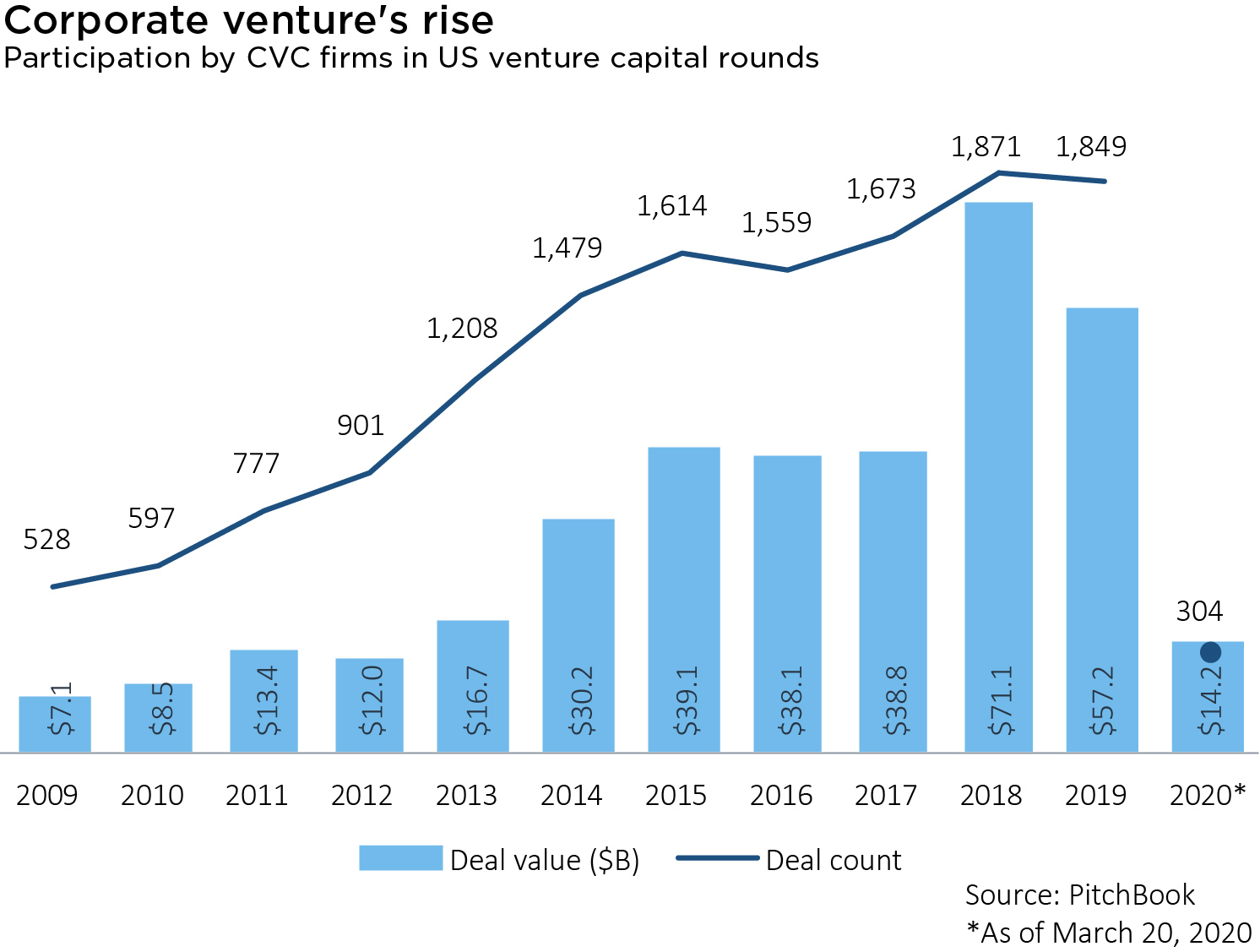 Already there are signs of the coronavirus epidemic's chilling effects. Tagare said that two separate funding rounds that National Grid is backing have seen a pair of would-be CVC partners back out in recent days.
"A freeze in all activity is definitely starting to happen," Tagare said, adding that the remaining firms in the deals expect to find partners to fill the gaps left by the ones that got cold feet.
In SoftBank's case, the outlook is so dire that the company, which operates the $100 billion Vision Fund, said publicly this week that it will shed about $41 billion worth of assets as it struggles to regain investor confidence following a series of stumbles even before the global pandemic wiped out 40% of its market capitalization. SoftBank invests off its own balance sheet in addition to the Vision Fund, which raised outside capital from sovereign wealth funds and other institutions.
Under more predictable market conditions of the past several years, VC firms grew accustomed to writing checks in funding rounds that were left open without all the target capital spoken for. Tagare said that will no longer happen in this environment, adding, "Investors are making sure that capital coming in will give the company 18 to 24 months of runway."
As of Friday, there have been 304 deals worth $14.2 billion with CVC participation in Q1. That's about 100 deals behind the quarterly pace seen in the past years, according to a PitchBook analysis.
One corporate VC based in Silicon Valley said that the COVID-19 crisis has caused "quite a bit of disruption" for the firm's portfolio companies in the midst of fundraising. "We're also seeing cash runways getting squeezed as revenue targets get lowered."
The damage done to the VC investing landscape may not be known until midyear, said Kyle Stanford, a venture analyst at PitchBook.
"Now, with everything going on, the corporations that have dedicated teams and capital to venture investing ... will likely continue to invest alongside VC firms," Stanford said. "Other corporations—or those that were new to the game and hadn't seen any impact yet from VC—will probably steeply slow down their participation until they can see where their business stands at the end of this."
For many years, some founders and VC investors looked upon CVC firms as fair-weather allies and questioned whether they'd be reliable partners through good times and bad. In a bull market, corporate investing rates rise sharply, and they decline even faster in a down market.
"This is a time when we'll separate serious corporate investors from what are referred to as tourist CVCs," Tagare said.
Typically, a down market will result in a shakeout among many corporate investors. But that is likely to be limited to the smallest players while corporate titans that are flush with cash are well- equipped to stay involved.
Any slowdown in writing checks probably won't be for lack of funds.
Publicly traded US corporations still have about $1.5 trillion in cash on their balance sheets. Dry powder, the amount of committed capital still to be deployed, hovered around an all-time high of $121 billion as of midyear 2019, the latest period for which PitchBook data is available.
But after years of frothy valuations and a glut of capital hustling to close deals, investors in the cautious new climate will take much harder, more careful looks at fundraising pitches and likely will demand discounts.
National Grid's Tagare insisted that this is a good market to invest in, when valuations will be lower and the next generation of great companies will be born.
"We have not changed our plans," he said. "Our gut feeling is just that it will take a lot longer to close deals now."