M.H. Lines was set to kick off a Series A funding round for her marketing software startup,
Automaton
, at an industry conference in mid-March. Then, the pandemic turned the world upside down. The conference was canceled, as were the bulk of the in-person meetings she had scheduled with investors.
Soon enough, Lines said, investors seemed to be looking for a reason not to invest—a marked change from sentiments a few months earlier. Venture capitalists appeared to barely skim her email pitches, and some backed away, citing previous investments that might compete with Automaton. But to Lines, it was clear that those investors were looking for a reason not to invest—their portfolio companies weren't competitors.
"It was amazing," said Lines, who has shelved fundraising plans. "You could tell people weren't reading them."
Women, especially first-time founders, have long lagged behind men in raising venture capital for their startups. But in the pandemic's heightened climate of caution, anecdotes from female founders suggest that they face even greater hurdles because VCs are suddenly turning more risk-averse.
After making modest but steady gains in receiving funding the past couple of years, women had a setback just before the pandemic began. VC deals with startups founded exclusively by women dropped to just 4.3% in the first quarter vs. 7.1% in Q1 2019, according to PitchBook data. For first-time founders, it could take months or even years to see better fundraising outcomes, depending on how an eventual economic recovery goes.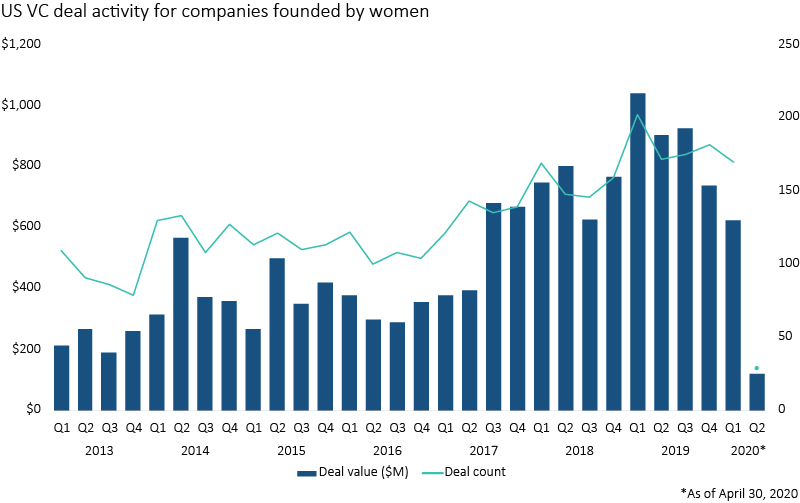 Repeat founders, by contrast, boast networks and experience rapidly scaling startups—factors that help explain their success getting venture capitalists to place a bet on them.
"You're reducing some of the financing risk not only because they're likely a more seasoned operator than someone who hasn't necessarily been through it before, but also because other investors share that opinion," said Isabelle Phelps, an early-stage investor at
Lerer Hippeau
in New York.
"It becomes a bit of a self-fulfilling prophecy," Phelps added. "It's easier to fundraise because other investors also value experience, increasing competition and de-risking future rounds. But this makes it even more important for investors to be cognizant of bias against first-time and underrepresented founders."
Many female founders say they've had no choice but to be capital-efficient from the early days of their companies, having been accustomed to more meager funding than their male counterparts receive.
That discipline will be valuable during an economic slump, when investors are tightening controls overspending, said Elizabeth Galbut, co-founder and managing partner of
SoGal Ventures
, which focuses on minority and female founders. She said SoGal participated in eight funding deals with first-time female founders in March and April.
"Underrepresented founders are used to thinking about risk in an intelligent way," Galbut said. "They are constantly thinking about ways to protect themselves from worst-case scenarios."
Having a track record goes a long way toward gaining the trust—and checks—of investors, even in a growing economy.
Lesley Eccles boasts a battle-ready resume, having closed the Series A for her first startup, sports betting company
FanDuel
, at the end of 2008, around when
Lehman Brothers
went bankrupt. Last month, she closed a $5 million Series A for
Relish
, a relationship-counseling app.
"In terms of getting meetings with VCs in the first place and getting the door open, having founded a company before, and a company that's as well-known as FanDuel, I think that was incredibly helpful," Eccles said. "Once you're in the door, you do have to stand on your own two feet. … There's no free lunch just because you've done it before."
Priyamvada Mathur contributed to this report.



Featured image via Shannon Fagan/Getty Images
Join the more than 1.5 million industry professionals who get our daily newsletter!