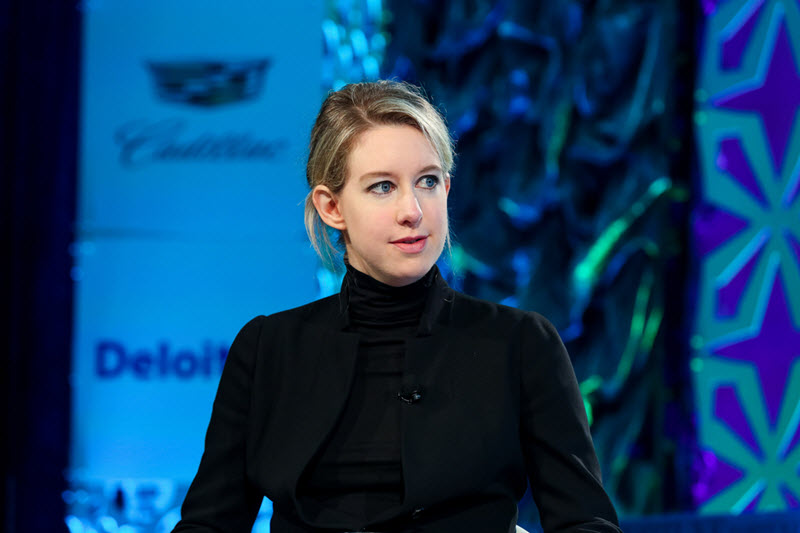 For all the success Silicon Valley has enjoyed in this business cycle—the new unicorns, the fresh billionaires, the must-have apps and transportation innovations—the ongoing implosion of
Theranos
is a giant festering blemish.
And disgraced CEO Elizabeth Holmes, with her deep baritone voice and Steve Jobs-inspired black turtlenecks, is the very personification of the ugly side of the venture capital industry. The overzealous hype. The "fake it till you make it" true belief in benefiting humanity. The cultivating of media sycophants.
And for a while, it worked: The promise of a game-changing testing device that needed just a drop of blood attracted more than $800 million in investments from the likes of Rupert Murdoch, Betsy DeVos, Carlos Slim and Tim Draper. Making Holmes the youngest female self-made billionaire with a company valued at more than $9 billion.
Until an exposé by John Carreyrou in the Wall Street Journal revealed the company's blood test equipment didn't actually work and that patient's lives were potentially threatened by faulty results. In the end, nearly a million tests done in California and Arizona had to be voided or fixed.
The reality distortion field collapsed. Reality rushed in. Lawsuits and fraud investigations followed. The company is near death, with a skeleton crew resting its hopes on the company's portfolio of 1,200 patents and applications. Although I'm no psychologist, Carreyrou's recently published book on the downfall paints Holmes in the broad strokes of what seems like a psychopath convinced she was creating "the most important thing humanity has ever built."
Digging into the deal history data on the PitchBook Platform, looking back at the valuation step-ups Theranos enjoyed and the rapidity of its downfall, is breathtaking. After a 1.4x and 2.8x valuation step-up in its second and third funding rounds, respectively, in 2006 (encouraged by
a pitch deck
seeking $30 million in "pre-IPO" financing to fund the development of blood tests with "gold standard" accuracy), the fourth round in 2010 featured a massive 6.8x jump in value.
Theranos stock value by series over time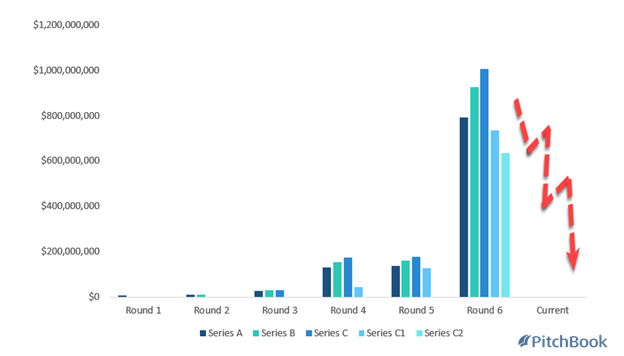 That $45 million raise took the company into unicorn territory with a post-val of $1.12 billion. Shortly afterward, it moved into Facebook's former headquarters in Palo Alto. A 1.1x step-up marked the fifth round in 2013, and in the sixth round, a $633 million fundraise in 2014 with participation from BlueCross BlueShield Venture Partners, a massive 6.6x step-up pushed the post-val past the $9 billion threshold.
Early-stage investors were enjoying the ride up: Series A equity value jumped from just under $7 million in 2005 to nearly $800 million. A gain of 11,309%.
Now, all these shares are essentially worthless: Murdoch closed a secondary transaction in March 2017, according to the Wall Street Journal, selling his $125 million Series C2 stake for just $1 to harvest the tax loss benefit.
Earlier this year, the company was able to raise $100 million in debt financing from
Fortress Investment Group
, the PE firm recently acquired by
SoftBank
, though the funding is contingent on hitting certain milestones. Back in April, Holmes
pleaded with shareholders for more capital
, warning it only has enough money to operate through July as it desperately tries to create a test for the Zika virus. Something it admits has "
taken longer than anticipated
."
We've got more Theranos coverage.
Join the more than 1.5 million industry professionals who get our daily newsletter!