Fund Performance
Creative capital: How cash-strapped funds bridge the liquidity gap
June 3, 2020
An enduring myth about private equity is that the asset class is immune to economic downturns.
Patient capital may be better insulated than more liquid alternatives in the long run, but when things go sour, it is still vulnerable. This was evident at the start of May when
Apollo Global Management
, the firm headed by master contrarian Leon Black, reported a $2.3 billion loss in the first quarter, citing the impact of the COVID-19 crisis. That same day, fellow buyouts behemoth
The Carlyle Group
said it lost $612 million in the quarter.
Like many other sectors, private equity is stuck between a rock and a hard place as the pandemic upends the world economy. More than ever, general partners of PE firms are in need of capital—not only to support their ailing portfolio investments but also to invest in and take advantage of new opportunities. That's equally true for general partners of venture capital firms. And yet, at the same time many limited partners have taken a hit in the public markets, and now face pressure to reduce their exposure to alternative investments like PE and VC.
While the situation has echoes of the global financial crisis, GPs may be better positioned to weather hard times than they were over a decade ago. Today they're armed with more elaborate financial ammunition to help their funds go into battle despite adverse market conditions. GPs who find themselves in a bind are resorting to financing tools like subscription credit lines, borrowing against their fund with various asset-backed securities, or simply negotiating other options with their limited partners.
"As soon as there is a sign of the crisis, people worry that the same sort of events are going to play out, but I think that the playbook is a little bit different this time around," said Janet Brooks, a London-based partner at placement agent
Monument Group
. "Both LPs and GPs learned a lot from the 2008-2009 crisis."
Nevertheless, GPs—facing uncertainty surrounding the pandemic—are already exploring several creative funding tactics to bridge the gap as LPs and GPs work through liquidity constraints. Some investors in the past have questioned whether the two sides' interests are adequately aligned when practices such as subscriptions lines come into play.
Then and now
While there are parallels between the global financial and present crises, there are also some key differences. A decade ago, two trends played out. First, as bank financing dried up, so did the deal flow. Then capital calls declined. However, distributions fell even faster as exits failed to materialize, causing net distributions to turn negative.
Also in the 2008 financial crisis—and again today—LPs were buffeted by the so-called denominator effect. The public market downturn reduced the value of their equities relative to their alternative investments. While some investors were able to review their asset allocations, many LPs, bound by their mandates, were forced to reduce their exposure to the private market, typically by exiting their previous commitments through the secondaries market.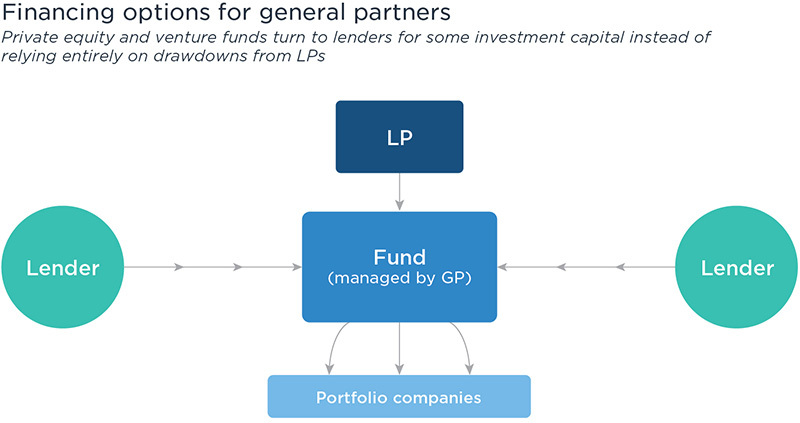 Similar pressures have reappeared. Once again, capital calls are expected to exceed distributions. Distributions have been in the decline since their peak in 2017 and now net cash flows look likely to turn negative, according to PitchBook data, even before the pandemic took shape. Although new investments may have slowed, GPs may increase drawdowns to shore up portfolio companies dealing with the fallout from stay-at-home orders during the pandemic. Meanwhile, mezzanine and special situation-focused firms may want to increase capital calls to take advantage of distressed-asset opportunities.
Today's private markets are much larger, better funded and more developed than they were just 12 years ago. The industry had a record $1.2 trillion of dry powder available globally as of Q3 2019, according to PitchBook data. Moreover, LPs—many of whom experienced the last crisis—have more confidence in the asset class' ability to mitigate the damage from an economic downturn.
Credit lifelines
Subscription lines of credit, which have at times sparked controversy, are seeing increased use. Private fund managers typically obtain these specialized forms of credit lines from a bank or an alternative lender, using the LP commitment as a security, to delay calling capital. Barely known during the last financial crisis, subscription lines are being applied more broadly for various purposes. For example, they give GPs flexibility to complete deals without having to go to their investors each and every time cash is needed. LPs, meanwhile, are able to deal with fewer capital calls from the GP and the accompanying administrative burden.
There are other benefits, too. By delaying the capital call, a GP can essentially use subscription lines to boost a fund's internal rate of return. This is part of the reason subscription lines—benefiting from low-interest rates—have gradually extended well beyond their traditional 90-day repayment terms. This hasn't always gone over smoothly in the LP community. In 2017, the Institutional Limited Partners Association expressed concern over what the industry group called a lack of transparency regarding LP's overall exposure to credit lines. The ILPA issued guidelines that sought to rein in the practice. Nevertheless, subscription lines remain in use, especially in the context of the current crisis.
"We do think that there may well be an increase in GPs using their credit lines, as opposed to calling on LP capital," said Tom Pinnell, a London-based associate director at fund administrator
Langham Hall
. Pinnell said some LPs may even ask their GPs to use their credit lines rather than calling capital if their liquidity gets constrained.
Cameron Roper, a fund finance lawyer at
Proskauer
, said some GPs now using credit lines have already sought to expand their use by borrowing additional capital, or in some cases, extending their repayment period. So far, Roper said, banks are being supportive of existing borrowers.
GPs tend to draw upon subscription lines early on in the life of a fund. Funds in later stages of deployment may have the added pressure of supporting their existing portfolio and are therefore more likely to consider alternatives. One way is to use the proceeds of an exit to support portfolio companies.
However, if their limited partner agreements don't allow for this practice, known as recycling provisions, the GP would have to renegotiate terms with their investors. Alternatively, managers have the option of borrowing against the fund.
"This might involve using an asset-backed facility secured by the underlying assets of the fund," said Proskauer's Roper. "There's quite a lot of innovative products in this space."
Asset-backed facilities—also called net asset value lines—offer another liquidity crutch for GPs with fewer uncalled commitments available.
Obtaining such credit is typically easier for funds that can secure the financing against a diverse pool of portfolio companies. However, lenders can usually tailor a package according to the needs of the GP—depending on the stage of the fund. This includes the issue of hybrid facilities that use a combination of uncalled commitments and underlying assets as collateral.
"The crisis has forced GPs to consider their options a little bit more and look at what other types of products might be available in the fund finance space," Roper said. "That may mean these will be used more going forward."
Pure debt isn't the only course of action. Another niche solution gaining favor is preferred equity financing, which allows an outside funder to have extra skin in the game through access to fund distributions. Equity financing can be put in place more quickly as they don't have the same sort of controls that a bank would seek in a typical credit deal. The trade-off is that the overall economics are more expensive than debt.
Eamon Devlin, a London-based lawyer and partner with asset management consultancy
MJ Hudson
, said that it can be difficult in the current environment to gauge a GP's capital needs. That's especially a concern while firms are unsure whether US or European government programs will take any pressure off their portfolio investments. In any case, Devlin said, GPs should be considering options beyond debt.
"There is significant leverage throughout the system," he said. "And adding more leverage may not be the only answer to current issues."
Featured image via z_wei/iStock/Getty Images Plus
Join the more than 1.5 million industry professionals who get our daily newsletter!