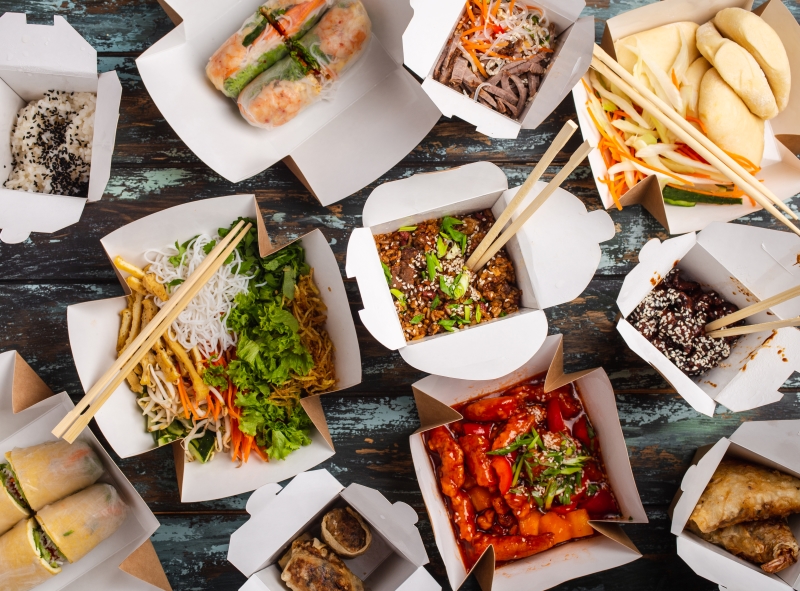 The battle for food delivery dominance in Europe is heating up.
Last month,
Deliveroo
raised a staggering $575 million in its largest fundraise ever, boosting the total amount of capital received to upward of $1.5 billion. The proceeds of the round, which was led by
Amazon
and supported by
Fidelity
,
Greenoaks Capital
and
T. Rowe Price
, will be used to expand the British food delivery service's product offerings and geographical footprint.
Ordering food online isn't a new concept, of course, but it has become increasingly popular with the industry evolving and more consumers opting to order out. Not too long ago the best you could hope for was a slightly soggy pizza or a greasy Chinese delivery, whereas menus now feature everything from tapas and Mexican food to a plethora of Asian options, with many businesses accommodating dietary restrictions such as veganism and vegetarianism. And this newfound variety is driving growth. The online food delivery market is estimated to have generated more than $14.5 billion in Europe so far this year, according to Statista, with roughly 154 million users, a veritable cash cow for ambitious startups and established businesses.
Leading the pack as of 2017 is
Just Eat
with 40% of Europe's market share, followed by Deliveroo and
Takeaway.com
holding 13% each. But what is each competitor doing to gain market share?
Strength in numbers
Deliveroo's Series G, which is estimated to have pushed its valuation to around $4 billion, is likely to put the company on track to increase its share of the food delivery market, especially with one of the world's most valuable companies backing it. By investing in a pre-existing startup with an already-significant customer base, Amazon has increased its chances of success. Its prospects are seemingly more hopeful than last year, when it had to shut-down its London-based food delivery service due to price pressures. And since many consumers are used to Alexa controlling their music and lights, it would be all too easy to imagine asking her to order some salmon sashimi.
The most pressing issue for Deliveroo is its profitability, as the business has posted massive losses—nearly £185 million in 2017, per reports. In addition to Amazon's backing, which is likely to ease concerns due to its deep pockets, there are signs that Deliveroo is heading in the right direction. Its introduction of 'dark kitchens'—shipping containers retrofitted as kitchens in which several restaurant's cook side by side—was a highly copied innovation, which significantly lowers overhead costs and may translate into higher margins.
More importantly, Deliveroo has opened its business to restaurants with their own fleets of riders, reportedly bringing more than 5,000 additional choices to customers and reducing its costs. This could also help the startup to target new areas since having your own drivers is practical in dense locations such as Berlin or Amsterdam but more problematic in less populated regions.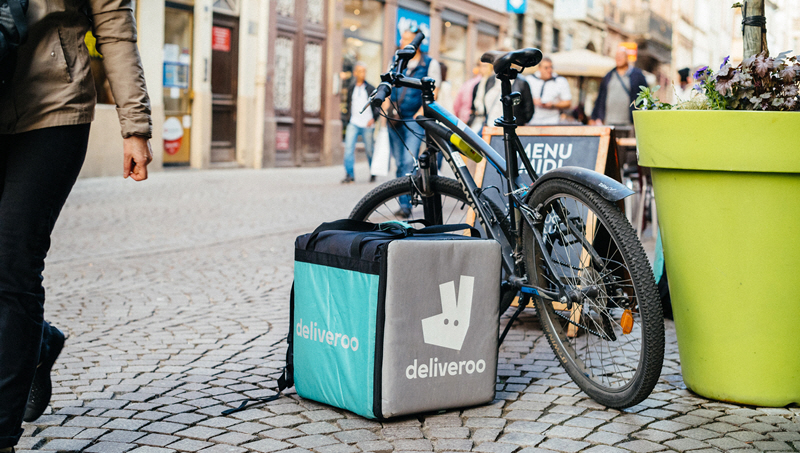 Following the crowd
Just Eat's shares reportedly fell more than 7% on the announcement of Deliveroo's mega-round. It came amid a challenging time for the business which included the surprise exit of its CEO Peter Plumb, just 16 months after he came on board. Investors are believed to have expressed concern over the company's slowed earning growth due to a shift in strategy. Traditionally relying on restaurants to deliver food themselves, Just Eat is now, similar to Deliveroo, using its own drivers to fight against competition. This may damage profits as costs will increase but could be offset by increased revenues, which the company reportedly expects to rise to more than £1 billion this year.
If Deliveroo's strategy of opening up its app to external drivers does guide it in the direction of profitability and Just Eat's costs increase, the latter's dominant position could become precarious. However, it is important to note that although the two companies might have a similar product, their target demographics are different. Traditionally, Deliveroo is focused on the higher end of the market, which is why the Amazon-Deliveroo tie-up makes sense. The investment appears to be in the same vein as the US giant's acquisition of Whole Foods as both companies appeal to high-end customers steering away from fast food. The shift toward vegetarian, vegan and organic food is likely to set Deliveroo ahead of its peers which have a lesser focus on these types of dietary preferences. But, this leaves space within the lower ticket market where Just Eat has strong roots and Deliveroo does not carry as much weight.
Of course, they aren't the only ones occupying the food delivery market. Uber Eats, while more popular in the US, still poses a considerable threat … not in the least because of its ridehailing parent. Its strategy to compete with its rivals? Slash prices. Fees are now capped at 30% of an order, as opposed to the previous 35%. Uber Eats is also opening dark kitchens and creating a marketplace for external couriers. The company presents itself as sort of a midway point between Deliveroo and Just Eat. The question remains as to whether its the best of both worlds or if consumers will stick with brand loyalty—if that even exists in this space.
Gobbling up the competition
The one company that appears to have taken a novel approach to acquiring territory is Takeaway.com. The Dutch behemoth's strategy? Buy everything. Since its creation in 2000, the business has acquired a total of 19 companies both in Europe and internationally. And it appears to be working. The group saw a 23% increase in active consumers in 2018 to 14.1 million and is the leading delivery service in several countries including Germany, Israel and Belgium.
Few companies have taken the acquisition route as demonstrated by the failed talks between Deliveroo and Uber Eats. However, despite its apparent success in continental Europe, Takeaway.com has failed to penetrate Europe's largest market—the UK. The Dutch business even had to go as far as selling off its assets in the country, which went to Just Eat, due to an insufficient growth rate. Now, the UK is by far ahead of its counterparts with 50% of orders in Europe taking place in the region as of 2017. It would be hard to emerge victorious in the race without a presence in the UK even with impressive numbers that most of the others seem to lack.
To win the food delivery wars, it's a pretty simple cycle. More customers mean more restaurants on any given platform, which in turn leads to more customers. Interestingly, while all of the players started out with varying models and features, they all appear to be converging and copying each others' successful innovations. With everyone doing the same thing and only slight variances on prices and dietary options, it is hard to determine how any of the companies can pull ahead in the race for dominance of Europe's food delivery market.
Join the more than 1.5 million industry professionals who get our daily newsletter!