Lyft
's recent spate of bad news continued over the weekend, as the focus on the company's steadily slipping stock price was overshadowed by a safety recall of a reported 3,000 of its electric bikes.
The pink-themed ridehailing service announced Sunday that it had pulled the bikes from New York City, the Bay Area and Washington, DC, citing braking issues. Specifically, Lyft said it had received reports from riders that they were experiencing an excessive amount of braking force on the front wheel of the bikes. The issue led to numerous injuries, and two riders said on Twitter that the braking issue had caused them to be thrown over the handlebars, per CBS. The day after the recall, Lyft's stock (NASDAQ: LYFT) continued its slide, closing down 6.3% at $56.11 on Monday, continuing a bearish selling assault on the company's $72 IPO price.
Lyft's e-bike pull brings both
Uber
and Lyft's alternative transportation options into focus, as both companies' IPOs and profitability prospects remain in the spotlight, and Uber's recent filing shed new light on its approach to the space. Lyft's e-bikes largely originate from its July 2018 purchase of Motivate for $250 million; Uber, which refers to scooters and e-bikes as "new mobility" in its S-1 filing, acquired Jump Bikes in April 2018 for around the same amount.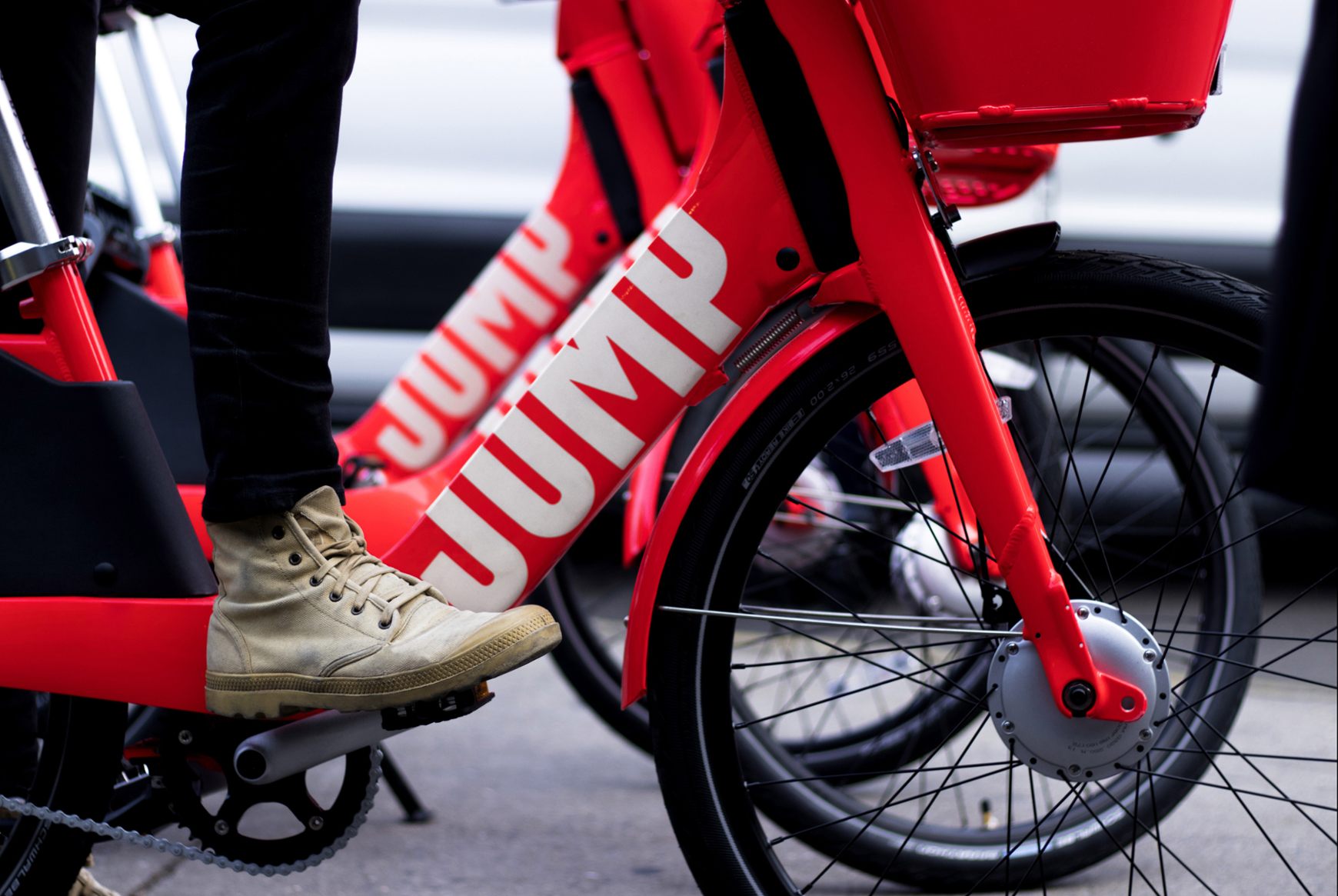 Uber's S-1 does not separate its legacy ridehailing services from its new mobility offerings in terms of revenue, making it difficult for potential investors to understand the full role scooters and e-bikes may play in the company's future performance. However, Uber did provide hints related to how the company plans to incorporate new mobility into its efforts to reach profitability.
While Lyft's tone in its S-1 suggested far less dependence on human labor in the future, due to its continued development of autonomous vehicle technology and investment in scooters and e-bikes, Uber was more reserved in this aspect. Uber's "new mobility" modes seem to be intended as a secondary alternative to cars when traffic and external factors limit the feasibility of a car ride, instead of personal mobility being a desirable transportation method on its own merit. Per page 164 of Uber's S-1:
"We primarily address use cases that are fulfilled today by passenger cars for trips of under 30 miles, given the cost and range of vehicle options across our Ridesharing products. We have introduced New Mobility products to address trips of less than three miles."
This stands in contrast to Lyft's more clear belief that personal mobility options, such as scooters and e-bikes, could be an independent offering altogether—regardless of passenger car offerings. From page 6 of Lyft's S-1:
"We have a network of shared bikes and scooters in a number of cities to address the needs of riders who are looking for lower-priced, more active and often more efficient options for short trips during heavy traffic. These modes can also help supplement the first mile and last mile of a multimodal trip with public transit."
Both statements may sound similar at face value. However, it was Uber's dependence on traditional passenger cars that doomed its Southeast Asia operations, ultimately succumbing to rival
Grab
. Whereas Grab and fellow competitor
Go-Jek
implemented motorbikes into their respective platforms as early as 2014, Uber's stubborn commitment to passenger cars led to a late motorbike entry in 2016. Further, Uber's insistence on replicating its original US strategy of initially offering a higher-end "black car" service did not play well in Jakarta, for example, where crippling traffic and lower average monthly income leads to a focus on simply getting to a destination by the most efficient means, rather than in luxury.
Knowing this background, the fact that Uber's S-1 statement specifically calls out "passenger cars" as the default solution for trips over three miles perhaps suggests an ongoing stubborn dedication to the same formula that doomed its Southeast Asian presence. Further, consumer preferences for personal mobility may not be necessarily linked to mileage, as shown during the popular South by Southwest conference that was held in March.
At the event, e-bikes and scooters were incredibly popular in their own right. The city of Austin, through a real-time data portal on its website, reported having almost 20,000 dockless scooters and 1,375 dockless bikes available from all brands during the month of March. Although an average trip from both types of devices consisted of only 1.07 miles, riders spent an average of over 13 minutes on a device per ride, with bikes pulling in an average trip of only 1.64 miles but with a duration of 17.27 minutes.
These numbers calculate to an average speed of around four miles per hour—about the same speed as a power-walk. With this figure not being excessively better than simply walking with a purpose, at least for most of the younger demographic more likely to use these devices, this could suggest riders are embracing personal mobility for reasons other than the qualifier of a trip being less than three miles.
Jeff Bercovici of Inc.com summed it up in an article covering the influx of scooter and e-bike riders during SXSW 2019:
"... It took me only a block or two to understand why people enjoy scooters so much. It's a feeling of freedom, almost like flying. On the other hand, while it's more carefree than piloting a big, heavy cruiser bike, there are obvious tradeoffs. There's no basket to put your stuff in, and the tiny wheels turn every crack in the pavement into a teeth-rattling jolt."
Whether scooter or bike, the popularity of personal mobility was on full display during the convention. Lyft's stance as outlined in its IPO filing appears more in line with the reality that people often view personal mobility to be a desirable experience on its own merit—rather than a basic solution for getting from point A to point B.
As Uber prepares to go public, its viewpoint toward its personal mobility business and, hopefully, a clear breakdown of revenue between its business segments will help investors understand which company is best suited towards a potential two-wheeled future.