Meet three tech titans helping lead PE's fundraising boom
March 15, 2018
This story was included in the 1Q 2018 edition of PitchBook's

Private Market PlayBook

, a collection of our most popular reports, original
datagraphics
and feature articles covering the key trends in VC,
PE
and M&A.
The final years of the 1990s were a heady time in the world of software and tech. One dot-com startup after another was founded and quickly rocketed to a lofty valuation—and several private equity firms were formed to capitalize on the bonanza.
The first wave of dot-com darlings soon came crashing back to Earth. But the PE shops created to fund them have proven more resilient. And now, they're raising money like never before.
The primary examples are Silver Lake, Vista Equity Partners and Thoma Bravo. All founded in either 1998, 1999 or 2000, the three tech-focused buyout shops have followed different paths over the past two decades. Yet they've arrived at the same destination: the pinnacle of private equity. All three investors closed new flagship funds within the past 18 months, combining to collect $33.6 billion in new capital.
A new industry emerges
The firm that's now known as Thoma Bravo was created in 1998 by Carl Thoma and Bryan Cressey. Called Thoma Cressey, it was formed as a spin-out from GTCR—where its two founders previously worked—with the intent of raising smaller funds and pursuing smaller deals than GTCR. Ten years later, Orlando Bravo took over Cressey's name partnership, and the scope of the firm's goals began to change: After gathering $822.5 million for its Fund IX in 2009, Thoma Bravo closed its Fund XII in September 2016 on $7.6 billion—representing an 824% step-up in less than a decade. And the firm is now said to be seeking $10 billion for a new vehicle.
A year after Thoma Bravo was formed, meanwhile, Robert Smith left his position on the tech team at Goldman Sachs to form Vista Equity Partners, a firm focused exclusively on enterprise software companies. The shop has experienced a significant uptick of its own in fund size, going from a $1 billion flagship effort in 2000 to an $11 billion vehicle closed in May 2017. Today, the charismatic Smith is one of the most prominent founders in PE: Away from the office, he's the chairman of the Robert F. Kennedy Human Rights.
It was also in 1999 that veteran tech investors Jim Davidson, Glenn Hutchins, Roger McNamee and Dave Roux formed Silver Lake, creating one of the most-hyped new firms in recent memory: Bill Gates, Michael Dell and Larry Ellison all reportedly contributed to the tech-focused investor's debut. At the time, the idea of large-scale tech LBOs was a new one; now, thanks largely to Silver Lake's successes, it's commonplace. The firm has played a role in some of the biggest transactions ever, including Dell's $67 billion add-on of EMC. Last April, it closed its newest fund on $15 billion.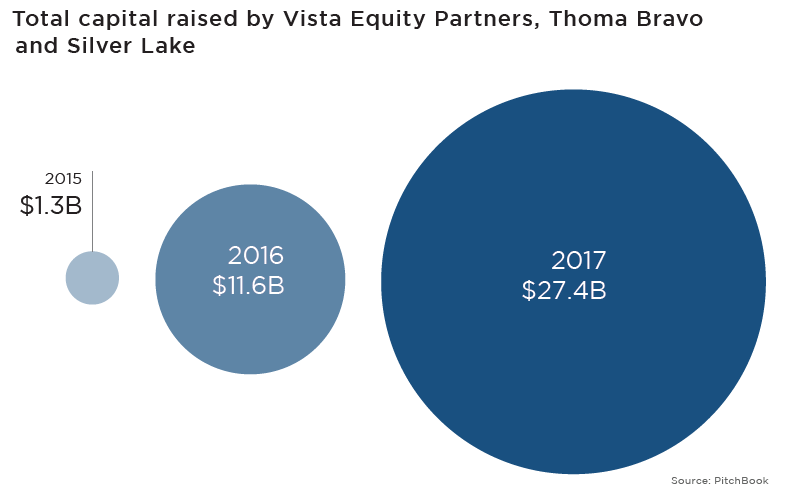 Combined, the three firms have completed 527 private equity investments since the start of 2008, according to the PitchBook Platform. About 79% of Thoma Bravo's deals have been in the IT sector, compared to 69% for Vista and 63% for Silver Lake.
How different is that from the PE field as a whole? Over the same span, barely 13% of all private equity investments worldwide involved IT businesses.
But with more and more software companies maturing to the stage where private equity investment makes sense, that number seems to be on an inexorable rise. Deals in IT increased from 11.4% of all worldwide activity in 2008 to 17.8% last year. Amid an overall pullback in activity, IT investment surged in 2017, with the industry overtaking B2C as the second most popular sector for PE firms in the US.
Big money, big results
An emphasis on the fast-growing software sector has created another similarity among Thoma Bravo, Vista and Silver Lake: All three have generated some eyebrow-raising returns with recent funds.
Each of Thoma Bravo's last six flagship buyout funds currently ranks in the top half of its respective peer benchmarks, per PitchBook data—highlighted by the firm's Fund IX and Fund X. Thoma Bravo Fund IX has logged the best TVPI of any of the firm's vehicles.
Vista's Fund V, from 2014, has been something of a disappointment in terms of multiples: Its IRR currently sits toward the bottom of its peer benchmark. Before that, though, the firm's LPs had grown used to higher returns: The $3.5 billion Vista Equity Partners Fund IV and the $1.3 billion Vista Equity Partners Fund III both rank near the top of their benchmarks as of 4Q 2017.
Silver Lake's most recent effort, meanwhile, has been a monster. The firm's fourth namesake buyout fund, which closed on $10.3 billion in 2013, has far and away the best IRR of any vehicle in its PitchBook benchmark.
While all three have raised recent mega-funds, the trio of tech-focused firms had varying levels of deal activity in 2017.
Vista completed 43 private equity investments, per PitchBook data, headlined by a $4.8 billion acquisition of fintech provider DH. Thoma Bravo sealed 20 new investments, including takeovers of software provider Kofax and a division of Symantec. Silver Lake, meanwhile, completed just 13 transactions, but it could have a doozy in the works: The firm has been connected to reports of a possible chipmaking mega-merger between Broadcom and Qualcomm.
After the fundraising flurry of 2017, the coffers of all three firms are freshly stocked with new billions. When it comes to tech buyouts, there's little reason to think Silver Lake, Vista Equity Partners or Thoma Bravo will slow down anytime soon.
Check out more from the PlayBook:

The trillion-dollar question: What does record dry powder mean for PE & VC fund managers?

How fund managers are adapting strategies [datagraphic]

Data-driven investing: Why 'gut feel' may no longer be good enough

Private equity firms bring creative financing to an untapped sector—private equity
Join the more than 1.5 million industry professionals who get our daily newsletter!