More add-ons, fewer exits and 7 more US PE trends from 3Q
By PitchBook
November 2, 2018
Through the first three quarters of the year, US PE firms invested $508.8 billion across 3,501 deals. Much of that came in the past three months, as the industry continued to pick up from its sluggish start and settled into another record-breaking pace. Dealmaking increased, median deal values rose, funds got bigger and multiples remained elevated.
Our full
3Q 2018 US PE Breakdown
takes a detailed look at the data behind these trends. For a quick look at the highlights, check out this set of charts.
A flurry of $1B+ deals puts 2018 on pace for a record
That robust deal activity helped 3Q top 2Q in both deal count and value, with YTD increases of 2.1% and 3.4%, respectively. A notable portion of the boost in value came from a single transaction:
JAB Holding
and
BDT Capital Partners
' $21 billion buyout of
Dr Pepper Snapple Group
, which closed in July.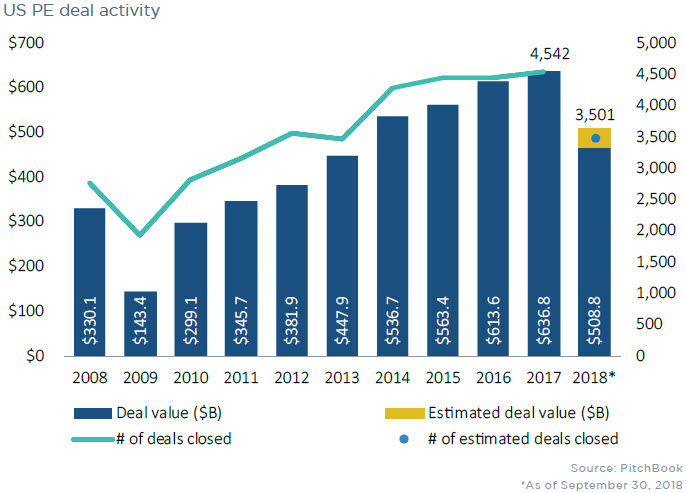 Add-ons account for an unprecedented percentage of buyouts
The buy-and-build strategy has become increasingly popular in PE. Add-ons now account for close to two-thirds of all buyouts, with 2018 on track to be the fourth straight year with a deal count above 2,000, while SBOs have experienced their largest proportional drop since the financial crisis during 2018. Add-ons have been growing in size, as well, with
Getronics
' $815 million add-on of
Pomeroy
in mid-July serving as a recent example.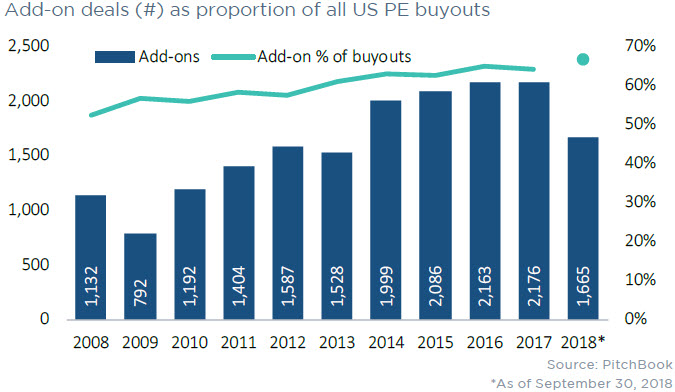 IT and healthcare growth in deal count outpaces B2C and energy
The IT and B2B industries have increased their share of overall PE deal count this year, while the B2C and energy sectors have seen significant drops. The IT space in particular has been the site of a steady increase in private equity investment over the past several years.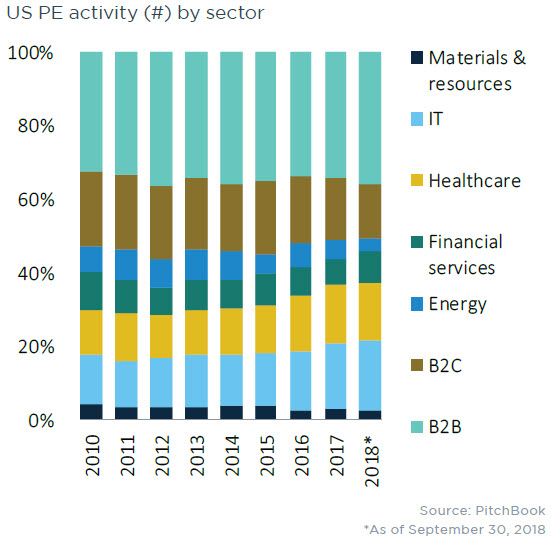 Dealmaking slackens in smallest size bucket
Deals worth less than $25 million are making up a smaller share of all US PE activity during 2018, while the number of transactions valued above $100 million is on pace to grow for the third straight year. The largest increase came in the $100 million to $500 million category, which also saw a boost in its share of total deal value.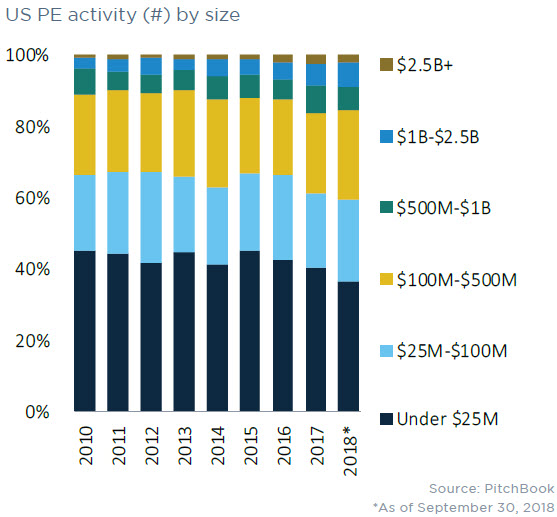 Exit count lags, but exit value could match 2017
Despite the drop in exit count, total exit value from 3Q remained in line with previous quarters, and the median exit size grew to a record high of $354.5 million. Multiple exits of $1 billion or more closed in 3Q, and multiple other major transactions—including
KKR
's $8.3 billion buyout of
BMC Software
—have already closed in 4Q, meaning the pace should keep up.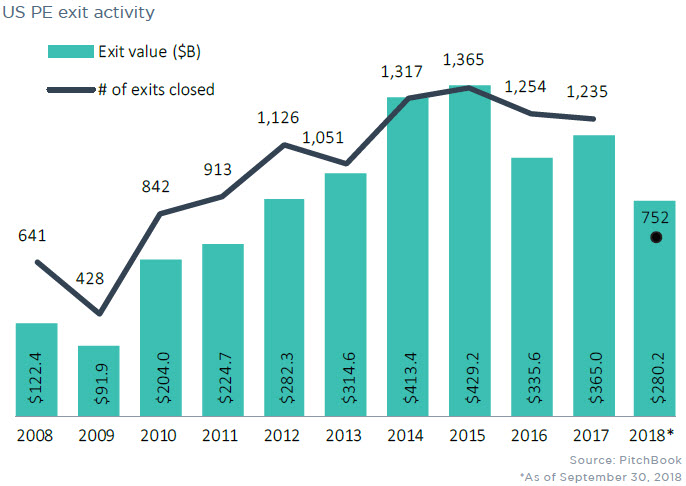 IPOs are most likely in financial services and energy
Specific sectors have disproportionately favored certain exit types this year; for example, more than half of all B2B exits have been via SBO. While IPOs still remain the least common type across the board, companies in the financial services and energy sectors have been significantly more likely to go public than businesses in healthcare or materials & resources.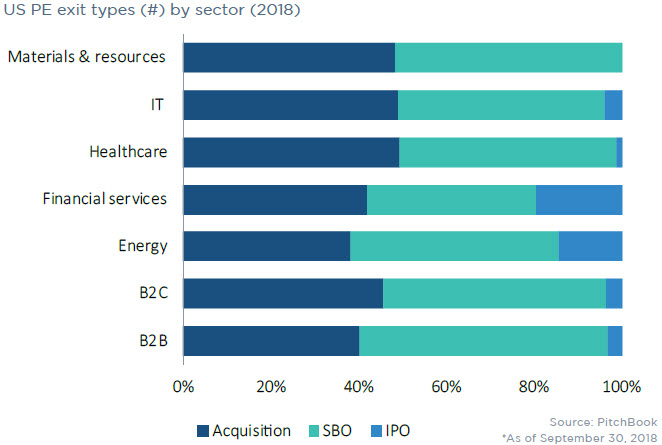 Median IPO size decreases but stays relatively stable
So far this year, the IPO market is on pace for its highest proportion of PE exit activity since 2014, though the median pre-money valuation of $625.2 million is a decline from the past two years and only about 14% higher than the median pre-money value at the time of the stock market's low point in 2009. However, the median pre-money value of PE-backed IPOs this year is still significantly higher than the overall median exit value, which stood at $354.5 million through 3Q.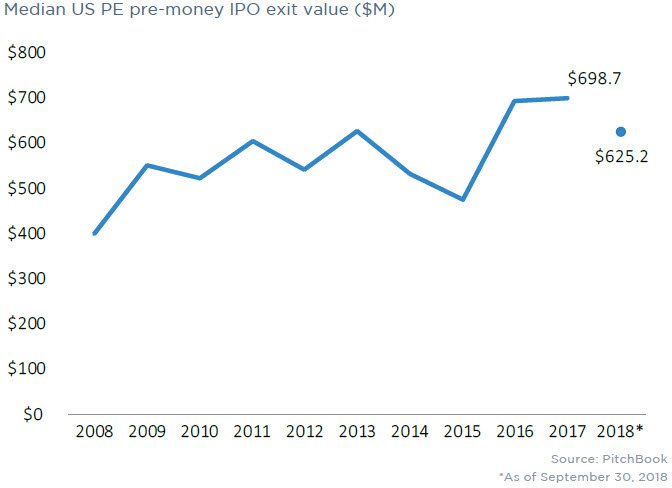 2018 brings a fundraising slowdown
This year has slowed notably from the record-breaking fundraising pace of 2017. In 3Q, fundraising totaled $57.4 billion, and two mega-funds accounted for more than 40% of that figure—including
The Carlyle Group
's new $18.5 billion buyout vehicle. The average fund size is down YoY, which may seem counterintuitive given the increasing reserves of dry powder and the major firms raising mega-funds.
$1B-$5B fund bucket experiences robust activity
The lull in overall fundraising isn't being felt equally across all fund sizes, however. Fundraising activity in the $1 billion to $5 billion range has spiked relative to other categories, with 30 funds closed through 3Q—already matching 2017's full-year count.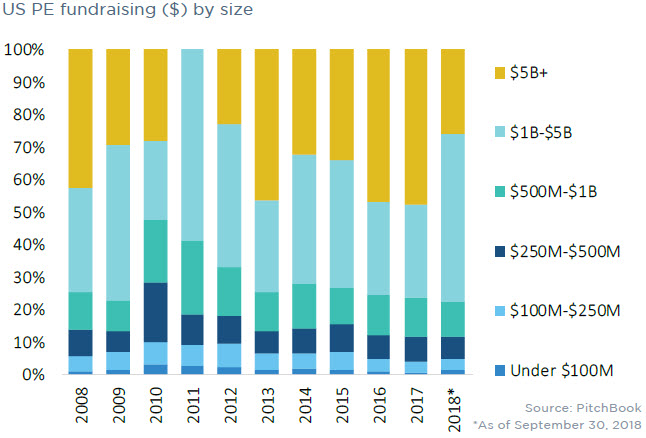 Check out the full 3Q 2018 US PE Breakdown