Diversity
Moves to lift board diversity highlight inaction among private companies
February 28, 2020
View comment

(1)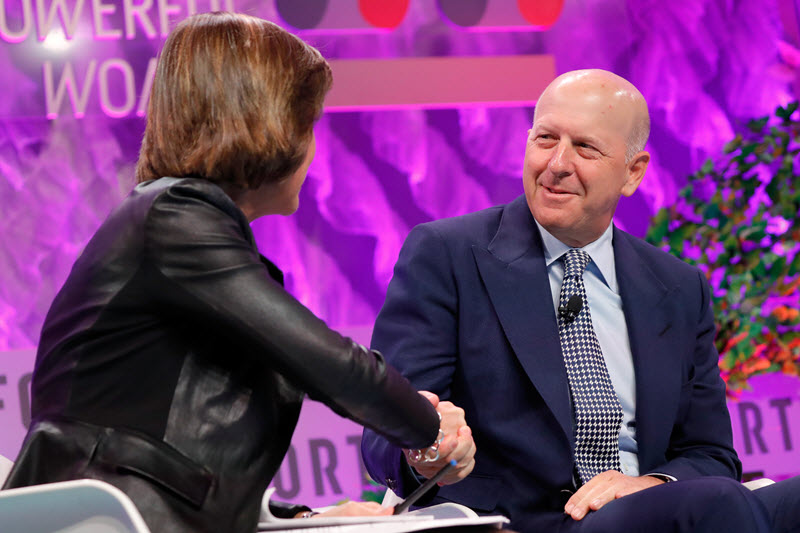 Women are gaining more seats in the corporate boardroom, a movement that figures to gain steam from fresh strategies like a new California law and the clout wielded by financial heavyweights such as
Goldman Sachs
.
But those moves to step up diversity are aimed solely at public companies or those about to arrive on Wall Street, overlooking the nation's much-larger crop of boards that govern startups and other private companies. Indeed, more than half of 304 US and European companies had all-male boards when going public or announcing IPOs since January 2019, according to a new analysis by PitchBook.
The dearth of women on boards has a long history rooted in the male-dominated ecosystem of venture capital, private equity and startups. Most newly public companies receive PE or VC backing, and their boards tend to reflect the gender makeup of their main institutional investors.
"The lack of gender diversity among funders and founders really has a downstream effect when you're looking at gender diversity in the boardroom," said Ann Shepherd, co-founder of Him For Her, an organization that promotes greater board diversity.
Women make up 12% of the investing partners at venture capital and angel firms in the US, according to PitchBook research
published in November
in collaboration with All Raise, a group that helps advance women in the VC-backed startup ecosystem.
The diversity divide between public and private companies takes on even greater importance as growing startups stay private longer and more companies avoid going public altogether.
Moreover, the main levers that public policymakers and large institutions have for changing public companies don't carry over to the lightly regulated private markets. That is why more advocates are focusing on a more diverse makeup at the investor base of the private market ecosystem.
"This all really starts on day zero. We need more women venture capital partners investing in companies and then taking board seats," said Amy Nelson, founder of
The Riveter
, a female-focused co-working startup based in Seattle. The Riveter's board includes Hope Cochran, managing director of
Madrona Venture Group
.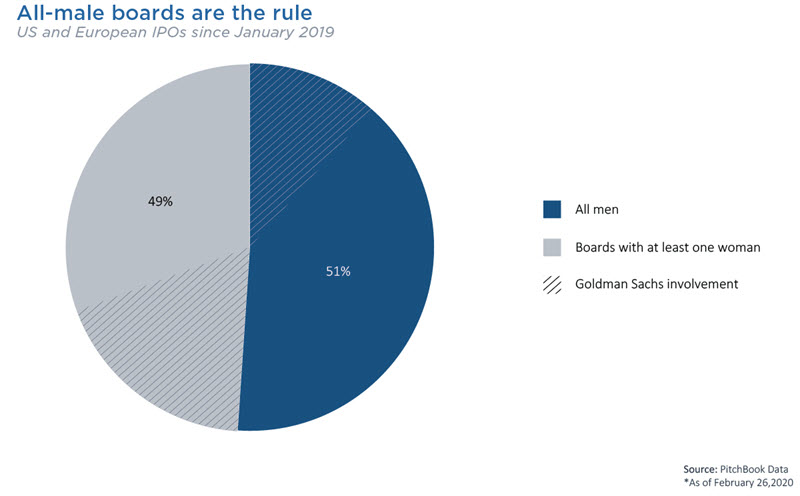 David Solomon, the CEO of Goldman Sachs, said in January that beginning later this year the firm will no longer take companies public if their boards lack "at least one diverse board candidate," which Goldman defined by gender, race, ethnicity, sexual orientation or gender identity. Next year, Goldman plans to require two diverse members. The decision followed a new California law that, as of the end of 2019, can impose a $100,000 fine on publicly traded companies with all-male boards.
In a sign of progress, women's representation is improving among both founders and funders. Startups that were founded or co-founded by women claimed record levels of investment last year, pulling in a total of $18.6 billion across 2,304 deals, according to PitchBook data.
VC firms also increased their hiring of women as investing partners by 37% from 2018 to 2019, according to All Raise. But the same report found that 65% of VC firms don't have a single female partner or general partner, and that black and Latina women were virtually absent from the list of new hires.
Many private equity firms have embraced progress. The nonprofit Women on Boards Project recently launched a partnership with several PE firms to boost gender diversity and inclusion. And leading private equity firms such as
TPG Capital
and
Vista Equity Partners
have independently led similar efforts.
Goldman Sachs' influence on IPO-stage companies is hard to overstate. The firm was the top underwriter in the world last year, claiming around 9% of the US market, according to Bloomberg.
The new Goldman standard for diversity will apply to companies in the US and Europe. Rather than turning away companies that lack diverse boards, Goldman intends to help them add new members by working with recruiting firms or tapping its own network.
In announcing the policy at the World Economic Forum in Davos, Switzerland, earlier this year, Solomon said the move follows Goldman's observation that US companies with women on their boards performed better in public offerings than those without any gender diversity.
WeWork
drew criticism last year for its all-male board in the run-up to its ill-fated IPO, in which Goldman was to be an underwriter. WeWork added Harvard professor Frances Frei to its board in September and has pledged to add more diversity to the board within a year.
DoorDash
, which just announced plans to go public, quietly named to its board Shona Brown, a former
Google
executive, Bloomberg reported on Friday. Goldman is one of DoorDash's underwriters, according to The Wall Street Journal.
Among the IPOs underwritten by Goldman in 2019, more than a third of those companies currently lack female representation on their boards, PitchBook data shows. The shortfall is more pronounced at newly public companies not underwritten by the investment bank, more than half of which have all-male boards.
Join the more than 1.5 million industry professionals who get our daily newsletter!