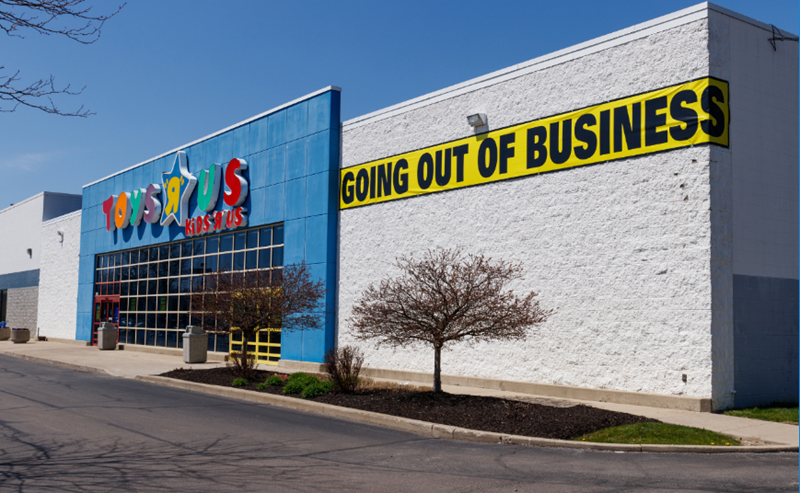 Toys R Us
closed the last of its remaining US locations on Friday.
Bain Capital
and
KKR
should respond by paying off the reported $70 million in severance owed to the roughly 33,000 employees that lost their jobs as part of the company's bankruptcy.
No, it wasn't Bain Capital or KKR that opted to liquidate the famed children's toys retailer. Blame creditors for that. And it wasn't Bain or KKR's fault that the toy industry was disrupted by the rise of Amazon and other online retailers. Neither firm has any legal obligation to pay the laid-off employees.
But would it really be that hard? KKR in 1Q reported
$365 million in economic net income
, which represents the mark-to-market valuation of their combined holdings. As a private entity, Bain Capital doesn't report its ENI, but
it's safe to say the firm is not hurting for cash
.
Both deserve blame for saddling Toys R Us with roughly $5 billion in debt when they teamed with
Vornado Realty Trust
in 2005 to take the business private for some $6.6 billion. Over the next 12 years, the trio didn't pay down that debt on a deal that was leveraged at a heavy 7.2x debt-to-EBITDA ratio, per The Wall Street Journal.
At the time of the initial investment, going to Toys R Us and other traditional brick-and-mortar retailers was still part of the American consumer's typical shopping experience. And the PE-led consortium benefited, earning a reported $470 million in management and interest fees during its ownership tenure. That isn't out of the ordinary for the PE world. But that doesn't change the fact debt hampered Toys R Us from quickly adapting and investing in a new digital strategy. If private equity firms are going to reap profits when portfolio businesses perform well, they shouldn't be able to shirk financial blame when things go poorly under their watch.
Some LPs involved in the Toys R Us investment have responded to the failure. The Minnesota State Board of Investment, a manager of $93.5 billion in state retirement funds, has frozen commitments to all KKR investment vehicles, according to The Wall Street Journal. The Washington State Investment Board, another major LP for the firm, wasn't pleased either, reportedly chiding a KKR representative in a recent board meeting.
To their credit, Bain Capital and KKR tried to save Toys R Us when sales plateaued, investing $3.5 billion of their own money to try and recharge the business. But after a wretched performance during the latest holiday season, both were basically powerless to stop creditors from systematically shutting down the more than 700 US locations.
Both firms declined to comment for this column. In recent months, both have taken a PR beating for the bankruptcy, aided in part by a faction of former Toys R Us employees that protested for severance pay during June by storming the lobby of Bain Capital with graveyard signs that read "Toys R Us, 1957-2018." Shortly before the closure of the company's stores, former customers paid tribute on social media. A former Toys R Us employee tweeted a photo of the store's iconic Geoffrey the Giraffe mascot with his bags packed, looking ready for a vacation.
— Jerry Whitworth (@barnivous) June 27, 2018
PE-backed bankruptcies don't always result in liquidation. Cash-strapped companies are often able to restructure their debt and operations, resulting in a more efficient, profitable business. But Bain Capital and KKR weren't able to see it through with Toys R Us, leading to this worst-case scenario for employees. It's only fair they share some of the financial burden.
It's the kind of story that makes the average citizen decry corporate greed. And how could you blame them? Former Toys R Us CEO Dave Brandon, a former athletic director at the University of Michigan, failed to turn around the business after taking the CEO job in 2014. Yet the bankruptcy judge awarded him and 16 company executives a combined $14 million in possible incentive bonuses, though $5 million of that was contingent on the business being able to emerge from bankruptcy protection. That's one example of the company's leaders emerging from the bankruptcy largely unscathed while its workers lose their jobs, and its private equity ownership is another.
The least Bain Capital and KKR could do is to pay the former employees the severance they're owed.
Related read: Recapping PE's rollercoaster year in retail—and what it means for 2018