Mega-deals underscore PE's growing embrace of VC deals in tech
October 28, 2020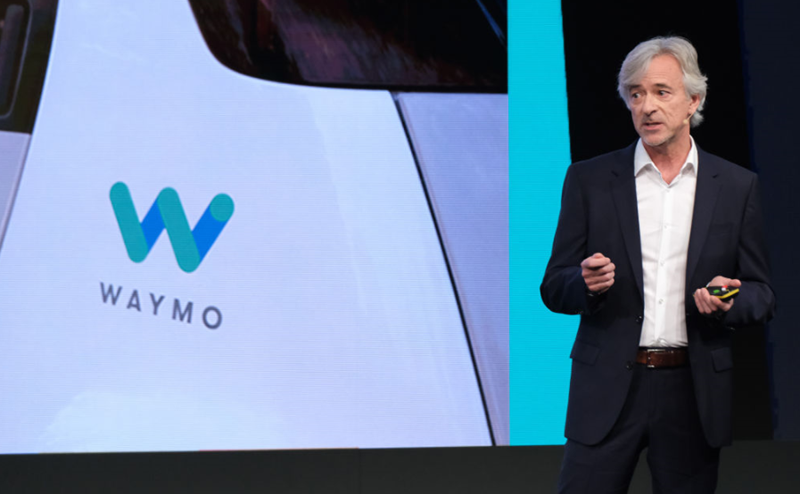 Over the past decade, the private equity industry has made an aggressive push into late-stage deals that were once solely carried out by venture capital firms.
That trend was on full display in May, when a group co-led by
Silver Lake
, the
Canada Pension Plan Investment Board
and
Mubadala
completed a $3 billion investment in
Waymo
, the self-driving car unit backed by Google parent
Alphabet
.
It was the year's largest venture capital deal done with participation of private equity investors. And it was yet another sign that an industry previously known for leveraged buyouts of mature companies has markedly shifted its attention to the fast-growing tech universe.
This widespread shift across the PE landscape speaks to private equity firms' diversification over the past decade, with more investors branching into deal types beyond traditional buyouts. But it also underscores
the industry's insatiable appetite for tech
.
"PE firms are still pouring into (VC) deals because they are often in the tech sector, which is an area which has still seen growth, especially in the migration toward the cloud for software companies," said Stephen-George Davis, a PitchBook analyst who studies private equity. "This is also why the valuations are rising. Assets which are expected to continue to grow through the pandemic are highly coveted now, and investors are scrambling to find alpha."
Private equity's annual investment in US venture capital deals grew more than sixfold from 2010 to 2019. And the average value of those transactions has only gone up this year, punctuated by a flurry of nine-figure investments in recent weeks.
In 2020, PE firms have participated in more than
800 VC transactions
worth a combined $48.3 billion
in the US, according to PitchBook data, putting the trend on track for its highest annual total on record. The average size of those venture rounds is $60 million, also an all-time high.
Last week,
Advent International
led a $150 million Series C in
Tekion
, a provider of sales software for the automotive industry. In September,
KKR
led a $450 million Series C for online fitness startup
Zwift
, while
Blackstone
took part in a $500 million Series E for insurance company
Bright Health
. A month before that, KKR joined in a $1.78 billion funding round in
Epic Games
that valued the gaming giant at more than $17 billion, just two years after participating in a $1.25 billion financing for the company.
Those deals, Davis said, reflect another development driving PE interest in venture deals: Because of the abundant capital on hand, VC-backed companies are staying private for longer before conducting an IPO or finding another path to exit. This has led to an overall increase in the number of companies seeking to raise late-stage fundings, deals that can often closely resemble the growth-stage financings with which many PE firms are already more familiar.
The surge in these crossover transactions has come primarily from private equity's upper echelon—think names like Blackstone, KKR,
Warburg Pincus
and
Thoma Bravo
—rather than middle-market investors, according to Patrick Donegan, an executive vice president at
Performance Improvement Partners
, an IT consultancy that works with PE firms and their portfolio companies.
"It is definitely a trend," Donegan said.
Growth equity funds raised $41 billion in 2019 across North America and Europe, the highest total to date, according to a
recent PitchBook analyst note
. And many more are on the way: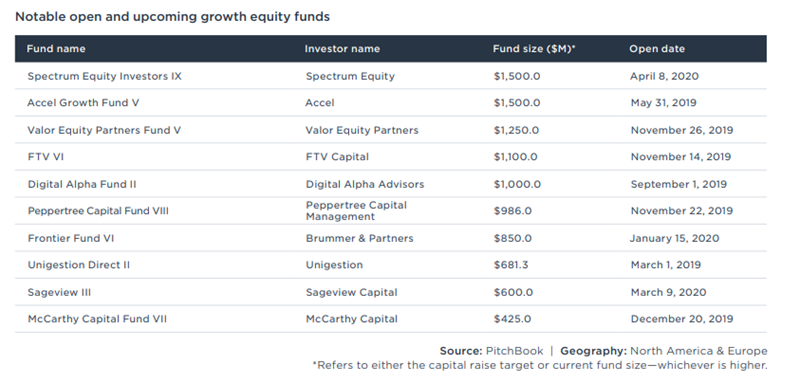 Not every growth fund raised by a private equity firm is a potential vehicle for venture deals. But many firms are using them as a way to straddle the traditional line between PE and VC.
"Some growth funds are specifically looking to invest in the 'classic' growth equity strategy, where a firm is stable and possibly at an inflection point where they need more capital to expand," Davis said. "Other growth firms are more like VC firms and invest in unprofitable companies, which they anticipate will continue to grow."
Donegan hinted he hasn't always been a huge fan of more private equity piling into the VC world. And that's primarily because it can be unfair to LPs if PE firms have lured them into a general private equity fund before going after VC-style returns.
"Once you start having PE shops to act like VCs, or, you know, VCs like PE, it starts to muddy the waters and how they are representing themselves and their value add," Donegan said. "Sure, at the end of the day, the limited partners do want to get good returns out of that fund. But that's not why they're investing in them."
Related read: Buying out public tech companies