Food delivery startup
Postmates
has considered being sold to
DoorDash
or
Uber Eats
instead of pursuing an IPO, according to Recode. This could help explain the apparent lack of progress toward an IPO since the company's confidential S-1 filing with the SEC on February 15. The company is still reportedly considering all options, however, including advancing its IPO or raising additional privately held equity funding. When contacted by PitchBook, Postmates declined to comment, while DoorDash and Uber Eats did not immediately respond to requests for comment.
As an alumnus of
AngelPad
's first cohort in 2011, Postmates has cumulatively raised $681 million, according to the PitchBook Platform. Its big break may be partially linked to Mexican-inspired food chain Chipotle. While the chain has gone on to strike deals with competing services such as DoorDash, Postmates facilitated the restaurant's entrance into food delivery in 2015.
Then, 2018 brought rumors of a potential merger between DoorDash and Postmates—something that never became reality as the two went on to experience different fates. Since raising a $535 million Series D in March 2018, DoorDash has nearly scored a 10-bagger as its valuation has soared from $1.4 billion to $12.6 billion after a $600 million Series G in May.
For comparison, here's a look at Postmates' eight-year funding history, per PitchBook data:
2011:
AngelPad accelerator investment (reportedly about $60,000)
April 2012:
$1.75 million seed round (unconfirmed)
March 2013:
$8.45M Series A | $15.5M valuation
February 2014:
$16M Series B | $72.97M
February 2015:
$35M Series C | $125M
September 2016:
$80M Series D | $470M
October 2016:
$141M Series E | $751M
August 2018:
$45M in debt financing
September 2018:
$300M Series E | $1.01B
February 2019:
$100M Series F | $1.85B
Market share struggles
Reports of Postmates' search for an alternative exit strategy may be circumstantial evidence of a broader struggle to stand out in this crowded field.
In March, Edison Trends, a consumer technology research firm,
reported
a sharp balancing of market share among food delivery service providers. Previously in July 2018,
Grubhub
was the leader with nearly 40% of market share measured by total US-based consumer spending amount on food delivery platforms.
That number has since been reduced to only 26.7%, roughly on par with Uber Eats at 25.2% and DoorDash at 27.6%. Postmates remained at 12.1%, where it has roughly sat for over a year. When measured by transaction volume, figures remained roughly the same, with no provider exceeding 30%.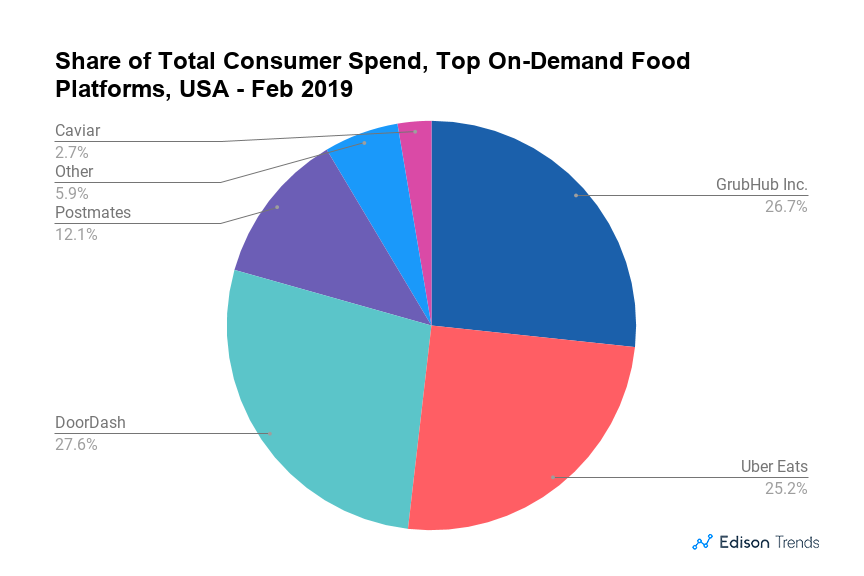 Edison Trends' data falls roughly in line with reports from analytics firm
Second Measure
, which reported DoorDash's 32% market share exceeding Grubhub's 31.7% as of June, based on nationwide monthly sales volume in the US. Postmates clocked in at 10.2% nationwide market share, with the Los Angeles subregion reporting a dominating 35%—calculations that the company told Recode is evidence of its growth. The research firm noted that orders placed under its Postmates Unlimited subscription service are not always tracked, possibly making Postmates market share larger than reported.
However, an April 2018 report from Second Measure reported a similar 10% range for Postmates' market share, further indicating stagnant growth regardless of Postmates Unlimited orders. By comparison, DoorDash's 15% market share was only slightly ahead of Postmates at the time, a figure that DoorDash has since more than doubled.
The extremely competitive food delivery field has not been forgiving. For example, while Grubhub delivered record 3Q 2018 results on October 25, 2018, its stock fell over 20% during the next three trading sessions from $109.62 on October 24 to $84.44 on October 29. This was due in part to slightly lower-than-expected EBITDA and lowered guidance because of increased marketing spend, in addition to the departure of COO Stan Chia. Despite its increases in marketing spend, the company's continued loss of market share has kept its stock down, and it currently trades at around $76.
With Postmates staying between 10% and 12% market share, a sale of the company may seem a better option than a blood-red stock chart six or 12 months down the line.
Featured image courtesy of Postmates