IPO
Secondhand luxury: An inside look at The RealReal's IPO filing
June 3, 2019
Online luxury reseller
The RealReal
filed for an IPO with the SEC Friday in what could be another win for a female founder and help set the pace for a strong year for women in VC.
The Bay Area company was founded eight years ago by Julie Wainwright (pictured) and claims to be the world's largest online marketplace for authenticated, consigned luxury goods. Per the SEC filing, it intends to list on the NASDAQ under the ticker symbol REAL and is looking to raise $100 million in the offering, though that amount is likely a placeholder.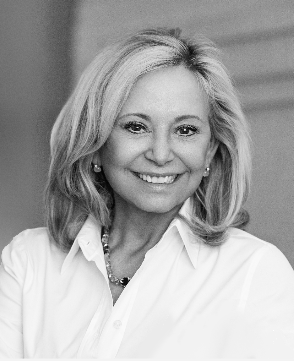 Through its current business model, The RealReal makes money by retaining a percentage of designer goods sales made through its platform by consignors. The company also earns revenue through its brick-and-mortar stores in New York and Los Angeles.
In the beginning
Here's a look at the company's VC history:
Founded:
2011
Total venture capital raised:
$336 million
Reached unicorn status:
March 2019, with a $50 million Series H valued at $1.05 billion
Principal investors with stakes greater than 10%:
Other notable figures from the public S-1
Revenue:
$207.38 million for the year ended December 31, 2018, a 55% YoY increase from $133.87 million in 2017
Net losses:
$75.77 million net loss for the year ended December 31, 2018, a 44% increase from a $52.31 million net loss in 2017
Take-rate on consigned goods:
35.5% for the year ended December 31, 2018
Orders processed:
1.6 million as of December 31, 2018, up 42% from 2017
Number of members:
11.4 million members as of March 31, 2019
A high price to ensure it's 'real'?
The company's S-1 filing points out that one of its biggest challenges is gaining the trust of buyers, who may be hesitant to make a purchase due to the pervasiveness of counterfeit luxury goods. It's not surprising then that The RealReal has greatly emphasized its investment in trained experts that inspect the quality and condition of every item, though this may be a contributing factor to the company's mounting losses. The number of employees in The RealReal's merchandising and fulfillment facilities has increased to 801 as of March 31, 2019, up roughly 200% from 2017.
Another challenge is the company's competitors. The RealReal directly competes with
eBay
Authenticate, which allows shoppers to access verified luxury handbags from brands including Louis Vuitton, Prada and Valentino. Launched in 2017 by the ecommerce giant, which had 171 million active buyers of its own as of 1Q 2018, eBay Authenticate provides the seller with up to 80% of the selling price.
Online marketplace Poshmark, which is reportedly expected to go public sometime in 2019, is also a competitor. The company caters to a wider audience, providing a platform for buying and selling clothes, shoes and accessories that may not necessarily fall under the ambit of luxury goods.
Here's a look at how The RealReal fares against a couple of its competitors, according to eBay Authenticate's website: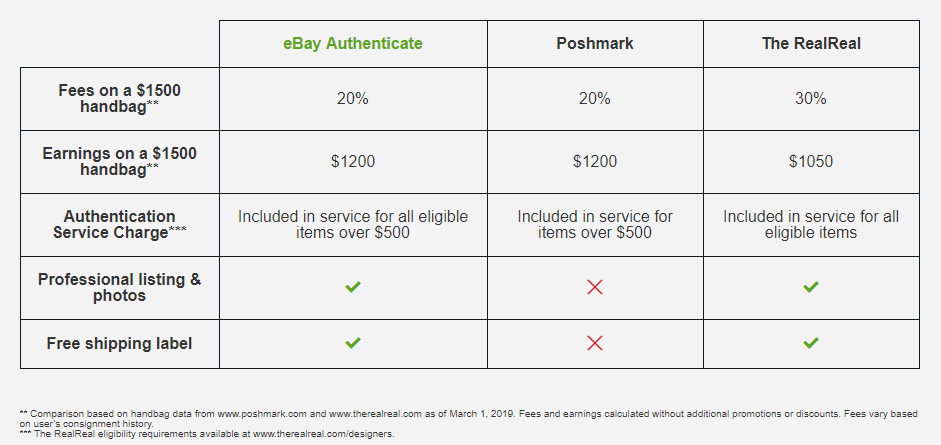 A focus on sustainability
"What I didn't appreciate in 2010, but am fully aware of now, is the importance of recirculating luxury goods for sustainability," writes Julie Wainwright, while highlighting one of the pillars upon which she has built her business in a letter to shareholders.
According to the S-1 filing, The RealReal became the first company in the resale industry to join the UN Climate Change's Fashion Industry Charter for Climate Action. And the business claims that since inception, its environmental impact has been equivalent to a savings of 3,494 trips by car around the world or 1.39 billion eight-ounce glasses of water.
While many affluent consumers might not be very vocal about their purchase of secondhand items, another VC-backed startup that's highlighting the benefits of circulating consumer goods and keeping them out of landfills is
ThredUp
. The online secondhand clothing and accessory retailer has partnered with actress Olivia Wilde and Conscious Commerce to launch a limited edition clothing collection to highlight the positive impact that buying used clothes has on carbon emissions.
Julie Wainwright headshot courtesy of Margot Duane. Featured image courtesy of The RealReal.
Read more of our coverage of women in VC