Big Things
Six big things: Peloton gears up for patent fight with a Wall Street boogeyman
September 13, 2018
Last May, in-studio cycling business
Flywheel Sports
announced plans for a new stationary bike called the FLY Anywhere that would allow users to stream both live and archived cycling classes into the comfort of their homes, all while tracking performance and letting users compete with other riders.
To the folks at
Peloton
, it sounded familiar. A little too familiar. So on Wednesday, the company filed a lawsuit against its cycling rival, alleging that Flywheel had willfully infringed on Peloton's patents in the development of its new toy. But the story Peloton spins about how that infringement took place is the most stunning part of all.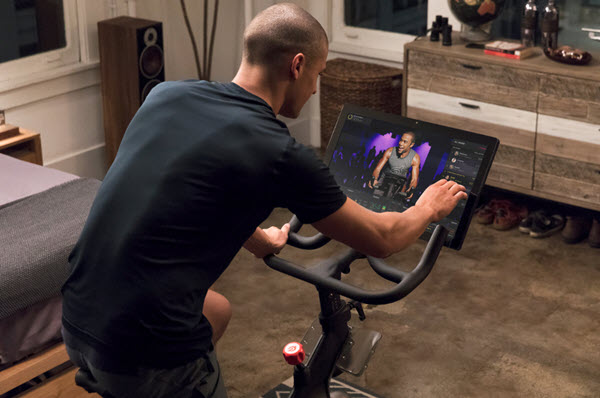 Remember Michael Milken? Nearly three decades ago, after he helped turn the now-defunct Drexel Burnham Lambert into a Wall Street comet, the junk bond king pleaded guilty to securities fraud, was sentenced to 10 years in prison (he served two), and agreed to pay $200 million in fines and another $400 million to reimburse his firm's former clients, per reports at that time. In the years since, he has focused his efforts on philanthropy … and, apparently, on being an investor in Flywheel.
In its lawsuit, Peloton alleges that Milken approached Peloton CEO John Foley at a conference sponsored by
JP Morgan
last February in Miami. According to the suit, Milken "falsely presented himself to Foley as a potential investor in Peloton and pressed for—and obtained—information from Foley about Peloton's technology and business strategy—all without ever disclosing his existing multi-million-dollar investment in Flywheel." Three months later, says Peloton, Flywheel unveiled the FLY Anywhere, and the product launched six months after that.
Milken, for his part, denies any involvement: "Mike is not a party to this action and any claim that he acted improperly is totally without merit and, frankly, ridiculous," wrote Geoffrey Moore, a senior advisor to Milken, in an email to PitchBook.
As penance, Peloton wants Flywheel to cease selling the FLY Anywhere and to pay a significant financial penalty. Who's right? Who's wrong? And why is either company trying to raise cash from a notorious financial felon in the first place? The suit is one of the six big things to know from the past week in VC:
1. As the stationary bike wheels turn
The lawsuit is a bump on a road that's otherwise been remarkably smooth for Peloton, including a recent rapid rise in valuation. Less than three years ago, the startup raised $75 million at a $335 million valuation. By May 2017, that valuation climbed to $1.4 billion, and last month, the company hauled in a new $550 million round that pegged its worth at more than $4 billion. Earlier backers like
True Ventures
will surely be watching the proceedings closely.
2. Uber's new look
Farewell, strange square-inside-of-a-circle logo. We hardly knew you. One day after hiring a new chief marketing officer,
Uber
unveiled new corporate branding (perhaps the worst two words in the English language): Instead of the old shape, the ridehailing company's logo will now just be its name, presented in white text on a black background. But the name is written in a proprietary new font! It's all so exciting.

3. a16z eats the software world
Andreessen Horowitz
is already nearing
50 completed investments in the software sector
during 2018, per the PitchBook Platform, on pace for its highest total in four years. The VC colossus made more additions to its portfolio this week, investing in an $11.5 million round for Applied Intuition after the maker of self-driving simulation software came out of stealth and leading a $65 million investment in
Atrium
, a legal software startup.
4. Acquisitive unicorns
With a valuation of more than $20 billion,
WeWork
is one of the most valuable VC-backed companies in the world. But the question remains: Is it more than a glorified real estate company? On Wednesday, the business put $100 million behind its efforts to become a true tech company by acquiring
Teem
, a developer of facilities management software. Another venture-backed unicorn sealed a takeover this week, too, with
Opendoor
snatching up
Open Listings
, a fellow real estate platform.
5. Chinese unicorns go big
In 2018, discussions of very valuable Chinese companies going public haven't been hard to come by. This week, two giants took the plunge.
NIO
, a maker of electric cars, raised $1 billion in an IPO on the NYSE this week. While that was at the low end of NIO's expected range, the company roared back on Thursday, as its stock gained nearly 70% to give NIO a market cap of nearly $11.5 billion.
Meituan-Dianping
, meanwhile, a
Tencent
-backed provider of online services, raised $4.2 billion with a public offering in Hong Kong and established a market cap of more than $50 billion.
6. PE kingpins go small
KKR
and
Warburg Pincus
are more commonly found conducting billion-dollar buyouts. This week, though, the pair of private equity firms showed they have a growing interest in deals of a smaller scale, too. KKR led a $57 million Series B investment in
Clarify Health Solutions
, a developer of healthcare guidance software, while Warburg Pincus was the main investor in a $33 million Series A for financial planning startup Facet Wealth.
*This story has been updated to include a response from a representative of Michael Milken.