PE Exits
Tariff troubles: PE manufacturing exits are lacking in 2019
November 8, 2019
We covered
China-driven M&A
last week, noting that such activity has taken a nosedive this year. Chinese acquirers aren't buying many American companies at the moment, thanks in part to the broader trade war. According to a
newly released report
from PitchBook and
RSM
, however, private equity is having a rough time exiting manufacturing companies across the board this year—regardless of where the buyer comes from.
Sales to strategic buyers are way down, totaling only 84 through 3Q 2019, compared with almost 150 completed during the first three quarters of 2018. Barring a miraculous fourth quarter, PE-to-corporate sales on the manufacturing side will fall below 200 (by volume) for the first time since 2010.
The numbers suggest the trade war is more of a sell-side problem than a buy-side one. Across North America and Europe, it's within the realm of possibility that 2019 PE deal activity will approach last year's record numbers, despite the rollercoaster ride on the policy front. It would take a strong 4Q for that to happen, but it's shaping up to be another strong buy-side year for manufacturing in any event.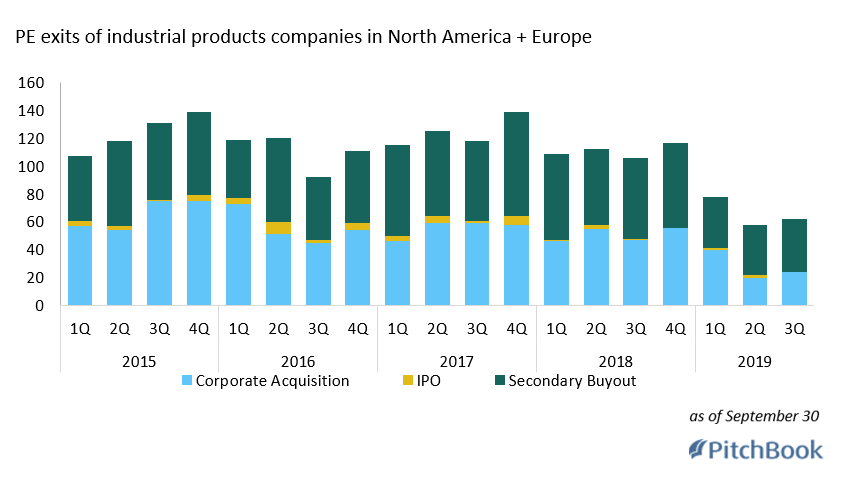 One evergreen explanation is the amount of dry powder that has to be put to work: "Of course deal volume is healthy, what else are they going to do?" Also at play, perhaps, is some long-term thinking on the part of PE firms. The market has been dealing with tariffs for almost two years now, and while we haven't had a trade war in a while, long-term investors understand that they don't last forever.
In fact, it's a bit easier to see where things are going today than compared to January 2018, when the first tariffs were slapped on solar panels and washing machines. Short-term bets would be harder to justify in today's market, which is working through evolving supply-chain disruptions and other major headaches. Long-term investors are likely game-planning for several scenarios before finalizing any deals. PE firms can adjust if they have to.
The thinking appears different for corporate buyers, who are said to be waiting out the uncertainty. It's hard to blame them, but it's fun to see the supposedly risk-averse PE industry barreling ahead while strategic acquirers sit on the sidelines. It must be frustrating, though, to be a sell-side PEG.
This column originally appeared in The Lead Left.
Featured image via ipopba/iStock/Getty Images Plus
Read more about industrial products deal activity in the full report by PitchBook and RSM.