Tesla's woes deepen as cash burn intensifies
May 3, 2018
Tesla
shares (NASDAQ: TSLA) are on the slide again, gapping down to a 6.5% loss in midday trading Thursday, despite the company reporting better-than-expected earnings and revenue growth of more than 26% over last year.
Model 3 production reportedly hit 2,270 per week during April, marking the third straight week above the 2,000 threshold, on the way to a goal of around 5,000 per week within two months. Forward guidance was strong as well, with CEO Elon Musk expecting a move into profitability and positive free cashflow in the third and fourth quarters.
Why the drag then? A bizarre post-earnings conference call on Wednesday, in which Musk was triggered by analysts asking about things like profitability, the safety of Tesla's Autopilot system and capital requirements. As well as the growing realization that with accounting trickery looking more desperate and capital spending needs remaining high, it's inevitable that the company will need to raise cash.
Something that will be more difficult, and thus more expensive, with the hit to confidence from Musk's bizarre behavior—adding to what I feel is a
pattern bordering on untruthfulness
. Because when investors factor in risks, unpredictable management will only raise the premium they demand. Lowering the share price of a secondary equity offering or pushing up the yield on a fixed-income raise.
There's also the risk that a loss of confidence would worsen the company's financial position because of the nearly $1 billion in customer deposits—essentially, interest-free loans—Tesla fans have plopped down to reserve their vehicles. These could be pulled if the company looked headed for bankruptcy, as these are junior, unsecured claims.
And obviously it's something Musk is thinking about, since he cut off an analyst's question on Model 3 reservations.
In a clear example of hiding what's embarrassing under the rug, the company failed to include a line item on free cashflow in its quarterly results. From a record of $1.4 billion in the third quarter of 2017 to just $276.8 million in the fourth quarter, the burn rate reportedly blitzed to $1.05 billion in the first quarter. Or roughly $12 million per day.
Amid on the focus on cash burn and capital raising needs, Tesla's management said it has "significantly cut back on its capex projections by focusing on the critical near-term needs" that will be necessary in the next couple of years. Thus, total 2018 spending is expected to be just below $3 billion vs. $3.4 billion in 2017.
Yet this smacks as fantasy, given the need to fund further production ramps (and process improvements) on the Model 3 assembly line, fund initial development of the Model Y and continue work on the new Roadster and Semi.
This burn rate also comes amid record deliveries during the quarter, with nearly a total of 30,000 Model S, Model X and Model 3 vehicles handed over to customers. Unless profit margins widen quickly, merely producing more vehicles won't be the answer. And by cutting spending plans, future growth initiatives could be threatened.
Mimicking the weakness in the share price, Tesla's bonds are trading lower as well, pushing up yields, currently hovering around 7.7% for its 2025 notes. Debt financing will be more expensive now, especially with $10.5 billion in total debt already outstanding, versus just under $6 billion at the end of 2016.
Morgan Stanley analyst Adam Jonas believes Musk's harsh tone on the call, in which he
berated analysts
for asking questions that were "boneheaded, boring and dry," was a mistake since it clashed with the "inviting, enlightening tone" that had characterized prior conference calls. A welcoming environment that bolsters investor confidence is crucial for such a highly levered, cash-hungry company, Jonas wrote, that needs the capital markets to fund its ambitious growth plans.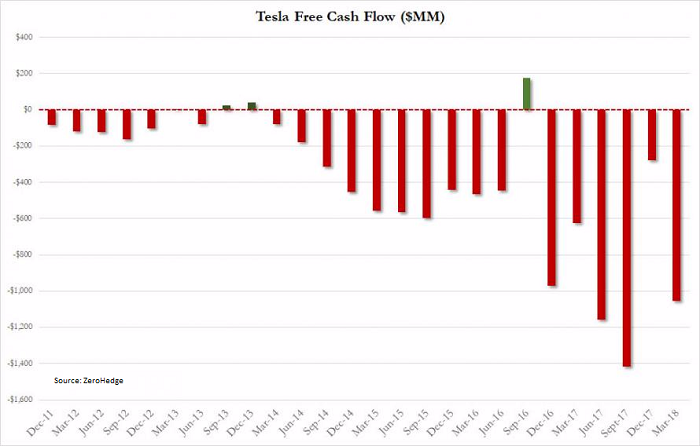 Jonas also highlighted the fact that the analysts on the call represent the investors who provide the capital that Tesla has depended on through its history. Especially with accrued liabilities and accounts payable totaling $4.5 billion, up from $3.5 billion last year and less than $1.5 billion two years ago. Bills are going unpaid.
RBC Capital Markets analyst Joseph Heidt, who was dinged by Musk for asking about Model 3 demand (cognizant of recent headlines about poor quality and ongoing production delays), noted investors were shocked by his behavior, with the general sentiment being that Musk's "defensiveness spoke volumes."
Tesla has just over $3.2 billion in cash on hand, down from $4.4 billion in the year-ago period. Heidt is looking for another $1.8 billion cash burn through the rest of 2018 and $1.06 billion in 2019. Musk is cutting it close, and raising the stakes, by continuing to deny that the company needs additional capital while offending the folks acting as intermediaries between investors and his Tesla's coffers.
UBS analyst Colin Langan, who maintains a "Sell" rating on the stock, is doubtful Musk's 25% Model 3 profit margin target is achievable given the need to make assembly less automated—amid breakdowns in the "machine that builds the machine," as Tesla described it in its earnings letter—and believes a capital raise in 2018 is coming.
After trolling
short sellers on Twitter
,
joking about bankruptcy
and now lashing out at those wondering how reality will mesh with his optimism, Musk has no choice but to deliver higher profitability and positive cashflow before the end of the year if he wants to avoid, hat in hand, asking the markets for more money.
Maybe the pressure is getting to him? Let's hope he stays away from the
red wine and Ambien
this time.
Related read: Tesla's hype and ambition crash into reality