Here are seven key charts from our 2016 Annual US PE Breakdown, which is available for free by
clicking here
.
Median EBITDA multiples of US M&A (including buyouts)
Median enterprise value surged to 10.9x EBITDA for M&A transactions. In short, there are too many dollars chasing too few feasible investment opportunities.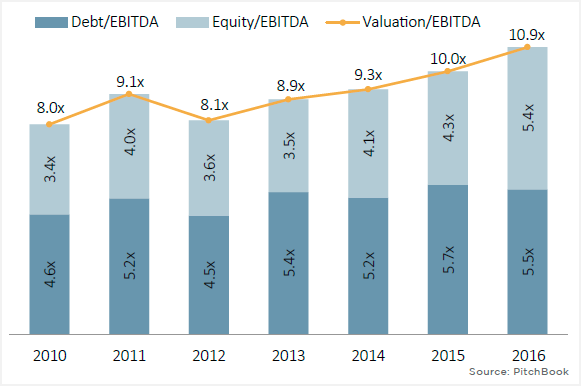 US PE-backed company inventory
US PE activity in IT & energy
The tech & energy sectors enjoy relatively stronger PE deal flow.
US add-on % of buyout activity
US PE-backed exit activity
Exit value remains strong on a historical basis even as volume slides.
US PE-backed exits ($B) by type
The corporate M&A environment still drives much of exit value for PE sellers, even if exit volume is also heavily reliant on fellow PE sponsors.
US PE funds (#) to hit target
Join the more than 1.5 million industry professionals who get our daily newsletter!