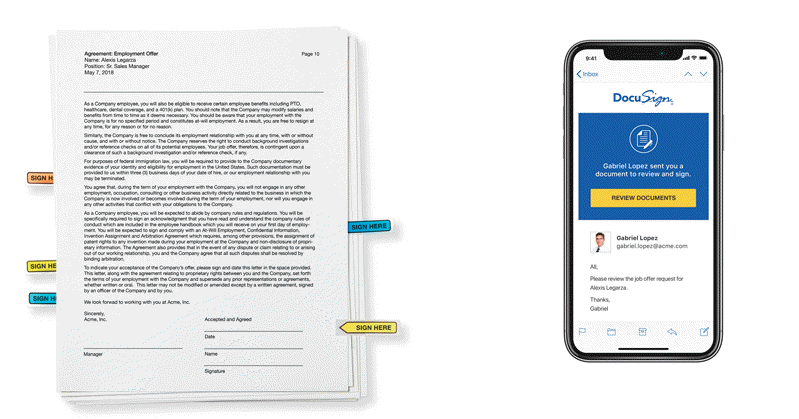 DocuSign
has become the latest well-known tech business to file for an IPO, following the lead of
Dropbox
,
Spotify
and
Smartsheet
. The $3 billion electronic signature company, founded in 2003, has waited 15 years to hit the public markets—much longer than usual for its VC-backed peers, with the median time to IPO clocking in at 8.3 years in 2016, per PitchBook data. It's set to trade on the NASDAQ under the ticker symbol DOCU. DocuSign has indicated that it's looking to raise $100 million in its public offering, though that figure is likely a placeholder.
The company is headquartered in San Francisco, though it was established in Seattle and its largest office is still there. It was founded by Tom Gonser, Court Lorenzini and Eric Ranft, with Gonser still serving on its board of directors. The regulatory filing comes just over a week after reports emerged that DocuSign had filed confidentially. In its 15-year history, the company has reportedly received multiple acquisition offers, including an estimated $4 billion offer from Microsoft and a similar offer from Visa, but reports indicate the board could never agree to a deal.
Now that DocuSign has made the plunge, we have a glimpse of the company's financial picture. Here are three things to keep in mind as the company starts the journey toward its public debut.
These investors could see big paydays
Of the company's three founders, just Gonser is still formally involved with the business, and he owns a relatively small number of shares, with a 1.5% pre-IPO stake. His percentage is significantly smaller than those of some of the company's outside investors. Here's a look at the other major shareholders in DocuSign:
Sigma Partners: 12.9% pre-IPO stake
Ignition Partners: 11.7%
Frazier Technology Ventures: 7.2% (Frazier is now defunct. Scott Darling, who was a partner in the fund, is named in the SEC filing as the holder of the 7.2%)
Keith Krach (chairman and former CEO): 6.3%
DocuSign's current CEO, Dan Springer, joined the company 2017 and doesn't hold any shares.
Its customers include some of the world's biggest-name companies
DocuSign had about $381.5 million in revenue for the year ended January 31, 2017. That's up 52% from the previous fiscal year, which saw around $250.5 million in revenue. (The company didn't release numbers for the year ended January 31, 2018.)
At the same time, losses are trending downward. DocuSign recorded a $115.4 million net loss for fiscal year 2017, down 6% from the year before.
The company has more than 350,000 paying customers around the world in a variety of industries, including real estate, financial services and healthcare. Customers include big-name financial services companies like Bank of America and Charles Schwab, along with big tech businesses such as Dropbox, Salesforce and LinkedIn.
DocuSign is one of the most valuable US private companies
The company was valued at just about $3 billion with its most recent private funding round in 2015. That puts it almost on par with the
most valuable VC-backed companies in the US
(for the sake of comparison, Tanium is the 20th most valuable private company in the country with a valuation of $3.6 billion, per PitchBook data).
DocuSign has raised hundreds of millions in VC funding during its long tenure as a private company. Here's a look at its funding and valuation history:
2004: $4 million round | $11 million valuation
2005: $2M | $12M
2006: $10M | $28M
2007: $17M | $46M
2009: $10M | $57M
2010: $30M | $196M
2012: $56M | $557M
2014: $115M | $1.6B
2015: $310M | $3.1B
Here's more of our IPO coverage.