Femtech
Narrative change: VCs are finally ready to talk about menopause
May 28, 2020
View comments

(4)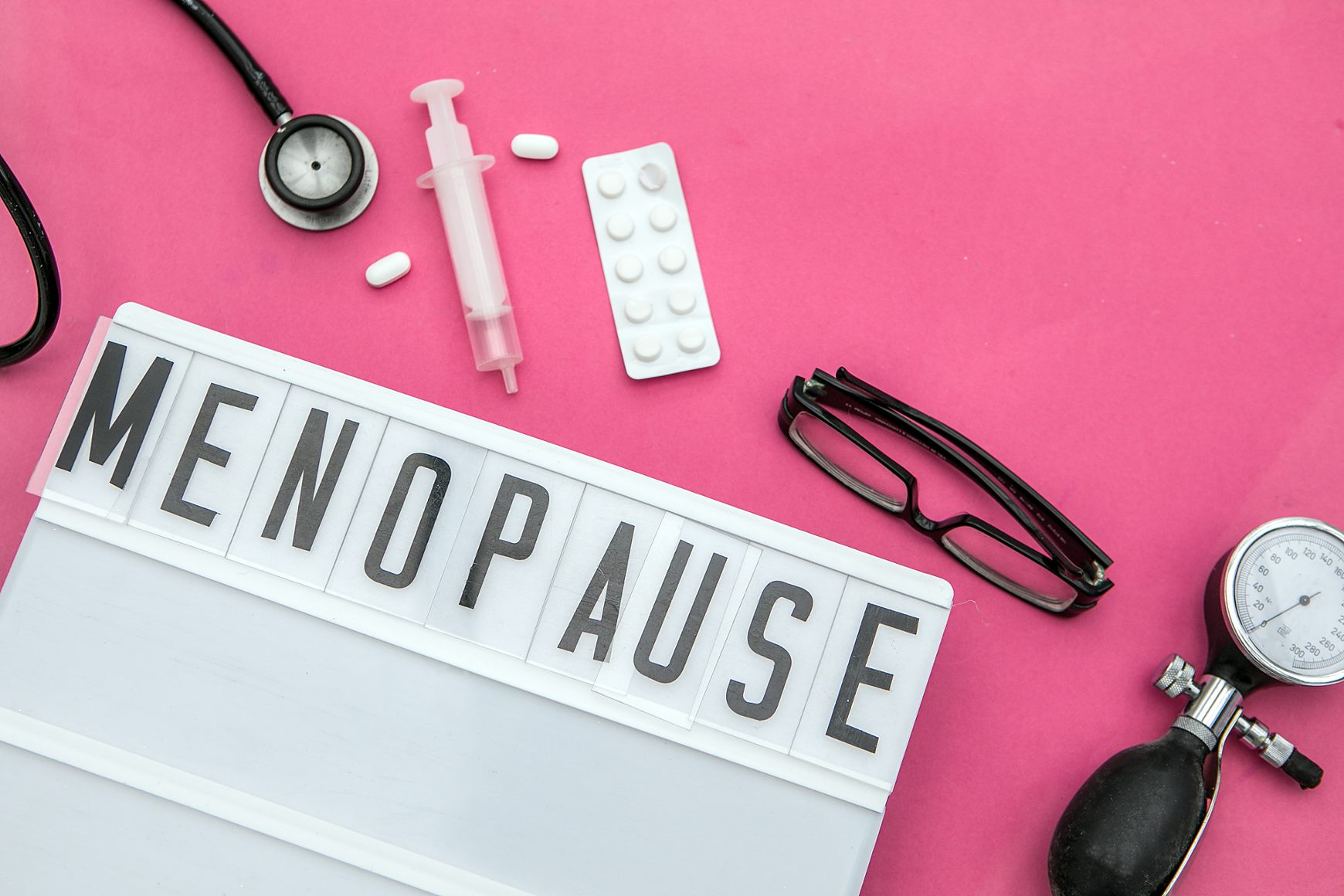 Two beaming women, ice cream cones in hand. Another woman, giggling on a beach. A glass of lemon-infused water. Zippy taglines accompany the images:
"Laugh more and leak less."
"Tell your bladder who's boss."
These are scenes from a social-media ad campaign aimed at women going through menopause. But
Facebook
rejected many of these ads from Lily Bird, a subscription startup delivering bladder leakage products to women experiencing this common symptom of menopause.
Several times, the social media mammoth even suspended Lily Bird's advertising account altogether.
"My interpretation was that Facebook put us in this category of adult products, or something that was taboo," said Sydney Larson, a Lily Bird co-founder. Facebook did not respond to multiple emailed requests for comment.
So-called femtech startups bring technological solutions to problems related to women's health. In recent years, the focus and funding has landed on menstruation and fertility—with offerings ranging from organic tampons to egg freezing.
Yet founders and investors say that menopause startups—much like the life stage itself—still largely face societal stigma. Across the world, these startups have raised $254 million to date since the start of 2009; femtech startups as a whole raised more than $498 million in 2019 alone, according to PitchBook data.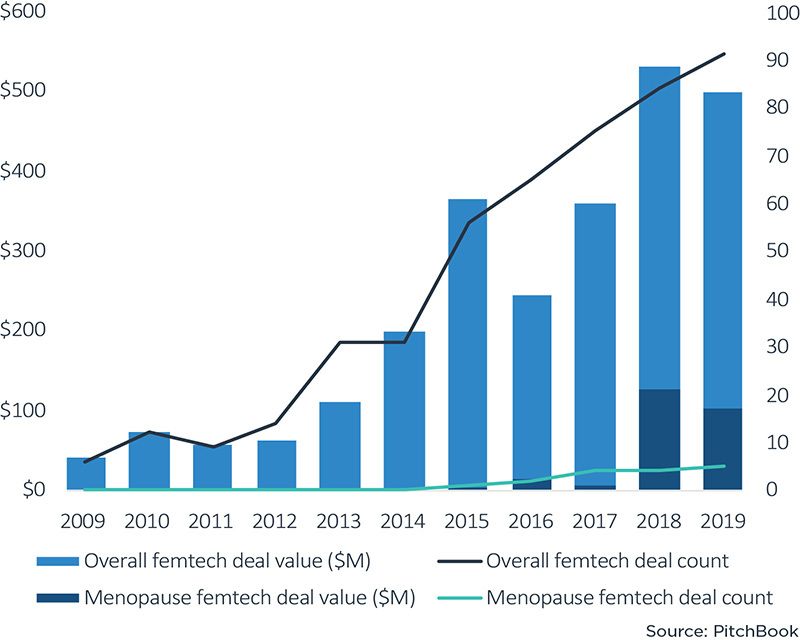 Nonetheless, the opportunity can't be ignored given the vast market size: An estimated 1.1 billion women throughout the world will be postmenopausal by 2025, according to the North American Menopause Society. Many women start experiencing menopause between the ages of 40 and 58, which results in a loss of fertility and periods and can cause a variety of symptoms including bladder leakage, hot flashes and mood swings.
That age range means that menopause often hits women at the height of their careers. And many of them, now empty-nesters, have more purchasing power than at any other time in their lives.
"Investors are starting to recognize that menopause is a massive market that's ripe for innovation," said Ann Garnier, founder and CEO of Lisa Health, which offers non-hormonal programs, like wellness exercises and a symptoms tracker, to help women entering menopause.
About 93% of menopausal women say they're interested in non-invasive tech solutions, including apps, to manage their symptoms, according to an AARP survey published in January. Some startups, like Nevada-based Lily Bird, provide care products to ease symptoms. Others are launching virtual clinics, like New York's
Elektra Health
, a telemedicine provider for women in this stage of life.
"We hear from women over and over again that it feels like a time of life where things happen to them. It's very scary. Women feel isolated," said Elektra co-founder and CEO Alessandra Henderson. "We believe it's time to change the narrative."
Lily Bird and Lisa Health, which are self-funded, said they intend to raise venture capital eventually. If so, they could potentially face strong headwinds and have trouble finding partners.
"I think women's health is not always well understood by the predominantly male investor community," Lisa Health's Garnier said.
The economic uncertainty surrounding the coronavirus pandemic has also curtailed many funding sources.
Until recently, Silicon Valley's youthful investor base has been a tough crowd when it comes to funding for menopause startups. VCs more readily connect with pitches for solutions and products they can relate to, and this is reflected in the healthy amounts of funding enjoyed by parenting, fertility and menstruation startups, according to Vanessa Larco, a partner at
NEA
.
"With a younger population, those women are much more comfortable talking about the issue, so it's much more out there, and there are a lot of companies trying to talk about it," Larco said of startups tackling issues like parenting and period management.
"With menopause, people aren't as out there."
For Larco, the best opportunity would lie in an all-encompassing menopause platform that combines customized symptom management with ongoing treatment and wellbeing check-in—something she hasn't exactly seen yet. Despite the pandemic, Larco remains optimistic about the femtech market and plans to invest in a menopause startup within the next year or two.
Seattle-based
Gennev
, one notable company in the space, offers a telehealth platform for booking appointments with physicians starting at $45. A $25 monthly membership allows access to health coaches and discounts on supplements and feminine hygiene products. In response to the pandemic, Gennev has begun offering access to primary care providers.
Appointments with physicians and health coaches increased 35% between March and April, and the startup forecasts continued growth as in-person clinics postpone non-essential care, Gennev co-founder and CEO Jill Angelo said.
Maven Ventures
partner Sara Deshpande, whose firm led Gennev's $4 million round in July, said the company's data trove about its members is valuable because it can help Gennev refine medical advice.
The startup's free online menopause health assessment collects 72 data points—and nearly 35,000 women took it in 2019, said Angelo.
Gennev, though, remains one of just a few menopause-focused startups to secure venture capital, and the road to get there often left Angelo discouraged.
"People would say, 'Why did you pick such a tough business?'" she said. "It's not sexy. No one wants to talk about it. There's no one size fits all. It was a hard slog."
Lily Bird was able to use personal connections at Facebook to gain approval for its bladder leakage ads. Gennev, which also faced resistance to its ads from social media platforms, has likewise started to see less pushback.
"This is essentially a new category that has barely existed in the past," said Whitney Gosden, co-founder and marketing head at
Kindra
, a startup offering direct-to-consumer menopause care and support, including a line of estrogen-free products.
"We are trying to help change attitudes about menopause, and that starts with talking about it more openly."
Join the more than 1.5 million industry professionals who get our daily newsletter!