IPO
Zoom, Pinterest soar in public debuts: What did they do different from Lyft?
April 18, 2019
The IPO excitement—and drama—of 2019 continued to heat up in Thursday's trading.
Pinterest
(NYSE: PINS) and
Zoom Video Communications
(NASDAQ: ZM) officially debuted in New York with great exuberance. Both companies had increased their initial IPO share prices from original estimates: Pinterest upped it to $19 from a $15 to $17 range, while Zoom boosted its to $36, up from an upwardly revised range of $33 to $35. In both cases, market demand still outstripped the higher prices, as Pinterest closed the day up around 28% at $24.40 per share—a modest gain compared to Zoom, which skyrocketed 72% to close at $62.
Both IPOs were key measures of market sentiment after
Lyft
's disaster of a public debut. The newly public ridehailing company was also perceived to be underpriced initially, upwardly revising its range from $62 to $68 per share to $70 to $72, and ultimately pricing at the high end. After opening its first trading day at $87.24, the stock has since sunk over 30% to close at $58.36 on Thursday—below even its lowest IPO pricing estimate—after less than three weeks on the public market.
Lyft's troubles perhaps originate from the company's infamous unprofitability—its losses neared $1 billion last year, per its S-1—and the resulting difficulties for underwriters in estimating the price of hope and speculation alone. But this was mostly not the case for Pinterest and Zoom, with the former being nearly profitable and the latter being safely in the black.
However, the two companies were caught in the line of fire of the fallout from Lyft's debut. While both companies announced filing for their respective IPOs before Lyft debuted, the terms for the two IPOs were set on April 8, well after Lyft's plunge began.
Hindsight is always 20/20, but if lessons are being learned from Lyft's IPO, there is something to be said of the obvious differences in chart patterns between the two. Lyft's plunge was already forming on Day One, as shown below:
---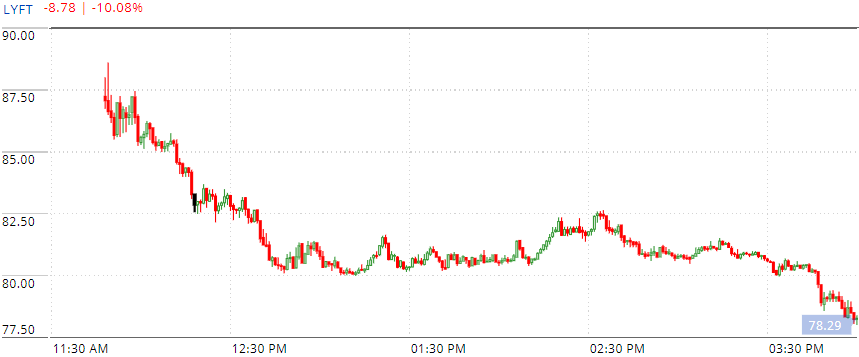 Intraday, Lyft tanked more than 10% to finish near the low of the day at $78.29 with 71,359,660 shares trading hands. Any stock experiencing a sharp drop and finishing near the low of the day is not a good sign, but with an IPO, the inherent volatility and lack of data from which to plot technical analysis made it unclear whether this was a benign correction in preparation for continued gains, or if it was the start of a bearish drop. The latter turned out to be true.
Conversely, both Pinterest and Zoom enjoyed robust trading on their first day. Neither experienced a sharp, sustained intraday drop, and both stocks kept most of their gains, finishing out the day around halfway between the intraday high and low. Zoom's high/low was $66/$60.32 and it closed at $62, while Pinterest's high/low was $25.18/$23.05 and closed at $24.40 on more than 87 million shares traded.
Again, IPOs are innately volatile and often driven more by rapidly changing emotions, but as far as first-day indications go, the two stocks appear to be in good shape to avoid the steady drop that Lyft experienced in the days following its debut.
A numbers game
Fundamentally, both Zoom and Pinterest have better profitability prospects, with Zoom being outright profitable and Pinterest nearing an encounter with black ink.
Pinterest's $19 IPO share price gave the company an initial market cap of $10.1 billion, below its private valuation of $12.3 billion in 2017, despite pulling in a 51.6% YoY reduction in 2018 net losses to $62.9 million and a 59.9% YoY increase in revenue to $755.9 million. Pinterest's closing price of $24.40 brought its market cap back to around its private valuation, suggesting an unnecessary amount of caution may have been put into share pricing that ended up leaving money on the table for the social sharing company.
Zoom is outright profitable, pulling in net income of $7.6 million for the period ended January 31, 2018, up from a $3.8 million net loss a year prior, with $330.5 million in revenue, a 118% YoY increase.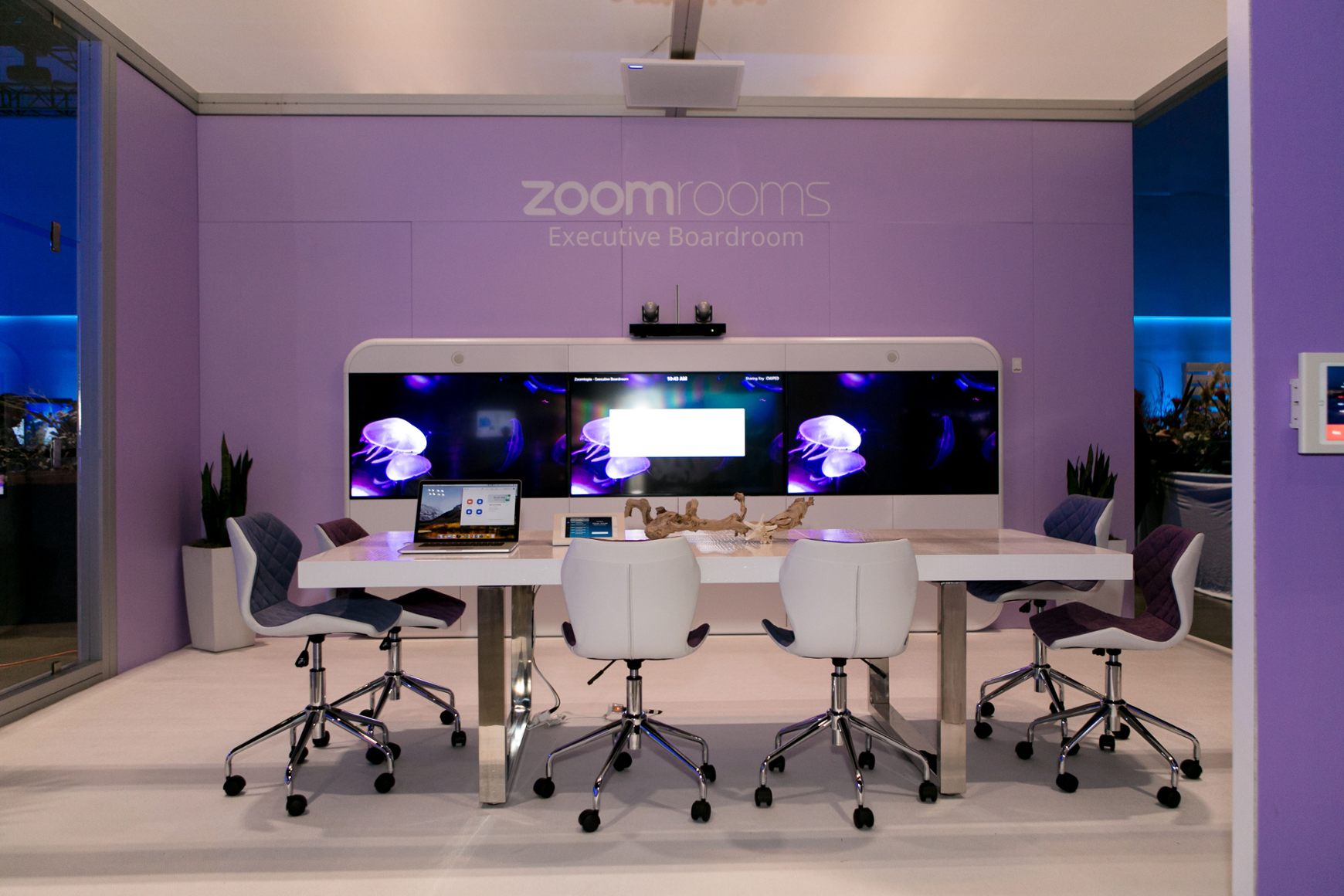 Lyft's legal problems begin
Accurate and unexaggerated information are crucial tools for investors to make decisions. Unfortunately for Lyft, its poor stock performance led to investors filing two class action lawsuits in San Francisco on Wednesday, accusing the company of falsely claiming a 39% US market share and failing to disclose its anticipated
pull of around 3,000 electric bikes
from three cities, per Bloomberg.
The lawsuits follow a report released Tuesday in which analysts at Guggenheim argued, based on Uber's S-1, that Lyft artificially inflated its numbers with respect to market share and accompanying performance. The analysts claim that Lyft is actually much smaller than it communicated leading up to its IPO, as deduced from Uber's disclosures compared to Lyft's.
Whether the court ultimately finds that Lyft lied or not is yet to be determined. However, it's important to remember that the company has yet to clarify a specific timeframe for becoming profitable, and it believes, according to its S-1, that a fleet of autonomous vehicles that could replace human drivers—who are perhaps Lyft's most significant expense—is at least 10 years away from being fully implemented. Until then, it may be difficult for the company to turn a steady, sustainable profit.
Lessons learned
Ultimately, Lyft's stock performance troubles appear to have spooked both Zoom and Pinterest enough to leave money on the table.
Zoom's profitability and future profit growth prospects were not properly credited in its IPO price, as evidenced by its 72% gain on opening day. Pinterest full-on undersold itself at a lower valuation than its previous private valuation for unclear reasons, which the market was happy to correct on its first day of trading, as the company's market cap surpassed its last private valuation of $12.3 billion.
The key takeaway from all of this is that Lyft's troubles may have been due to many emotionally charged factors specific to the company, such as investor demand overlooking the lack of a profitable roadmap, or the sheer amount of anticipation and hype leading up to its place as the IPO winner against
Uber
and one of the first high-profile IPOs of 2019.
These factors should not have led to Pinterest or Zoom underselling themselves, with Pinterest initially taking a loss to its existing valuation and Zoom not properly giving itself credit for its foreseeable profitability. Both mispricings were quickly corrected on opening day, probably leading to a few ruffled feathers between founders and underwriters. But as a result, it is unlikely either stock will suffer the same fate that Lyft has experienced thus far.
Featured image courtesy of NASDAQ