Politics
2020 Election: Gig companies, consumer groups headed to victory
November 3, 2020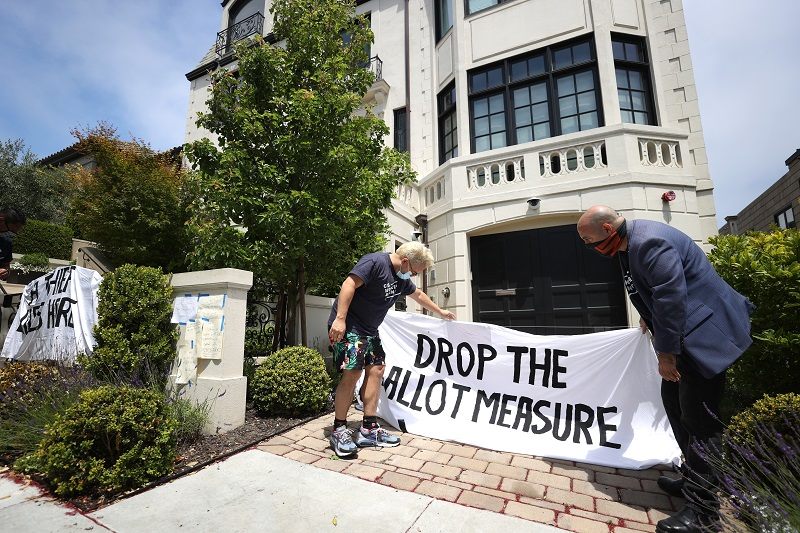 Voters in several US states weighed in on ballot proposals that could have a lasting impact on tech companies, workers, consumers and investors.
Gig economy companies including Uber and Doordash caught a big break, consumer-friendly data initiatives passed in several states, and cities are embracing expanded access to broadband internet.
California's gig worker showdown
California's Proposition 22 was a heavily-financed effort to treat app-based drivers as contract workers rather than employees. The measure effectively exempts the likes of
Uber
,
Doordash
and
Instacart
from a California law passed last year that makes it harder for companies to classify workers as contractors.
Outcome:
Proposition 22 cruised to victory with more than 58% of the vote.
Impact:
The vote is a landmark victory for ridehailing and delivery companies, and it means the more than $200 million campaign funded by the likes of Uber, DoorDash,
Lyft
, Instacart and
Postmates
didn't go to waste.
But the war is far from over for gig economy companies.
New York is leading a similar effort to restrict the classification of contract workers, and the tech platforms must still contend with state minimum wage laws.
"Ultimately these are all opt-in services for workers and customers, so let's let these services further develop and the labor will flow to the companies treating contractors the best," said Shawn Carolan, a partner with Menlo Ventures and an early investor in Uber, who supported Proposition 22.
Companies that pitch themselves as an "Uber for X" have become ubiquitous in the startup ecosystem. While investors can breathe a sigh of relief over Proposition 22's strong showing, other threats to the gig economy business model still remain, said Asad Hussain, an emerging tech analyst at PitchBook.
California data privacy law
In another challenge to tech companies, California voters also considered Proposition 24, a data privacy initiative that would give consumers more control over their data, such as limiting the sharing of data and the collection of sensitive information, as well as the right to correct inaccurate information. The proposal also would create an agency dedicated to privacy protection.
Outcome:
Passed
Impact:
For tech companies, the regulations add another set of requirements for how they treat customer data in California, and a new state bureaucracy with the power to punish violators.
Proponents of Proposition 24, including Rep. Ro Khanna and Californians for Consumer Privacy, argue that it makes the state's existing privacy laws more enforceable by creating a dedicated agency and imposing higher penalties for certain violations.
Opponents like the California Small Business Association say that the passage will create additional compliance costs for businesses. The ACLU opposed the bill on the grounds that it would make privacy something that consumers may be expected to pay for.
Search warrants for data in Michigan
Michigan's Proposal 2 sought to bar law enforcement from unreasonable searches and seizures of electronic data and communications.
Outcome:
Passed easily with around 89% of the vote.
Impact:
This measure will have less impact on tech companies than on law enforcement, which will need to obtain a search warrant data for an individual's data. The passage also means that individuals can rely on clear state constitutional protections in court rather than legal precedents.
Car repair data in Massachusetts
Voters in Massachusetts were asked to consider whether the state's "right to repair" law should be expanded to allow customers and repair shops access to data that is sent wirelessly to manufacturers and dealerships.
Outcome:
Passed.
Impact:
Backers of the bill, including auto repair shops and parts retailers, argue that the initiative will help them to compete with car manufacturers and dealerships. They say that competition will lead to lower prices and more options for consumers.
Opponents, including automakers, say the measure will create additional cybersecurity risks and increase the likelihood that cars may be hacked. Cars have become more complex since Massachusetts passed its right to repair law in 2012, and the use of real-time streaming data is growing. Car companies, including makers of electric vehicles and self-driving technology, will need to find a way to balance security with consumer protection measures such as the Massachusetts initiative.
Broadband in Chicago and Denver
Voters in Denver were asked if the city should be allowed to invest in broadband internet and services, paving the way for the possible creation of an internet utility. In Chicago, a non-binding ballot question on a citywide effort to ensure that all residents have high-speed internet access.
Outcome:
Passed in both Denver and Chicago.
Impact:
Whenever internet access is expanded, the tech industry arguably wins. The passage in Denver simply means the city has the right—not the obligation—to invest in broadband. The passage in Chicago gives public officials an impetus to expand broadband access.
The pandemic has shined a light on how important fast and reliable internet is in a world of remote school and work. If Denver were to successfully establish an internet utility, other cities may be inspired to follow suit.