Apollo
Apollo becomes latest PE bigwig to plan corporate conversion
May 2, 2019
After a new federal tax law in late 2017 dropped the highest corporate tax rate in the US from 35% to 21%, it wasn't long before publicly traded private equity firms began contemplating the switch from a partnership to a C-Corporation.
First came
Ares Management
in March 2018.
KKR
followed that summer. And late last month,
Blackstone
announced it would follow suit, with plans to officially make the transition July 1.
Now, Leon Black's
Apollo Global Management
has announced that it will flip to a C-Corp, assuming the firm's board approves, effective sometime in 3Q. The reveal came in conjunction with Apollo's 1Q financial results, combining to send the firm's stock up almost 1%.
Private equity firms have long complained that their shares were undervalued, with Blackstone co-founder Stephen Scwharzman often leading the charge. In theory, flipping to a C-Corp could help fix the issue by making a firm's shares more accessible to index funds and mutual funds, as well as removing other downsides of operating as a partnership, like the need to fill out complex K-1 tax forms.
The change comes after a healthy quarter for Apollo, albeit one that in at least some respects fell short of expectations. The firm posted distributable earnings in 1Q of $207.4 million, or 50 cents per share; that missed reported analyst expectations of 56 cents per share, but exceeded earnings of $188.6 million and 46 cents per share from the same period last year. Those figures represent the amount available to pay out to shareholders. Net income attributable to Apollo was $149.1 million in 1Q, marking a dramatic bump from losses of $58.2 million during 1Q 2018 and $187.2 million during a turbulent 4Q. Apollo increased its AUM to $303 billion during the first three months of 2019, up 22% YoY.
Apollo's earnings report also offered a look at the performance of some of its recent funds. Here's a closer look, taken straight from the release: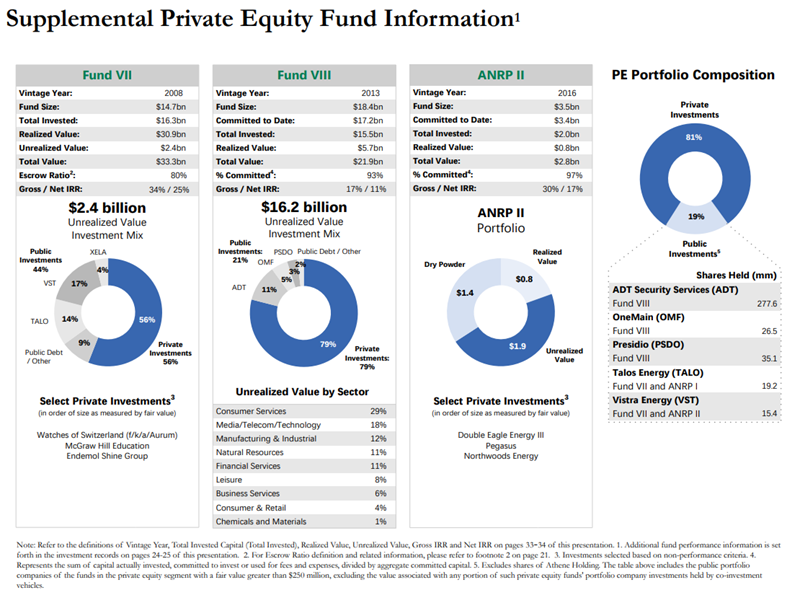 With some $46 billion in dry powder, it makes sense that Apollo has remained active on the dealmaking front. In two separate February deals, the firm took
Aspen Insurance
private for $2.6 billion and agreed to buy a majority stake in 13 local television stations owned by
Cox Media
in a move reportedly worth $3 billion. Last month, Apollo agreed to purchase California-based grocery chain
Smart & Final
for $1.1 billion. And on Thursday, Reuters reported that Apollo-backed
Watches of Switzerland
had begun exploring a London IPO that could value the retailer of Rolex, Cartier and Omega products at as much as £1 billion (about $1.3 billion).
Featured image via VectorPocket/iStock/Getty Images Plus
Check out our recent analyst note breaking down Blackstone's switch to a C-Corp.
Join the more than 1.5 million industry professionals who get our daily newsletter!