Beware the Fed's 'shadow rate'
By Anthony Mirhaydari
June 12, 2018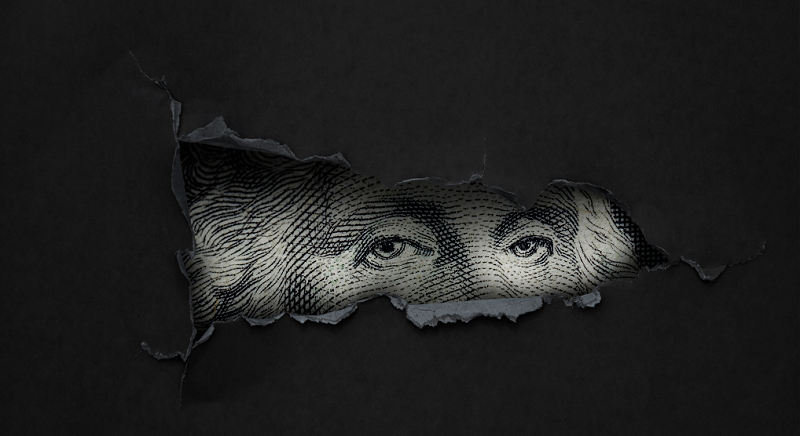 On Wednesday, the Federal Reserve is expected to once again raise interest rates by 0.25%, taking its policy rate to a range of 1.75% to 2.00%. That won't be the end of it, as the futures market is expecting two more quarter-point rate hikes before the end of the year, taking short-term interest rates to a high of 2.5%. Less than three years ago, interest rates were near 0%.
The Fed's dual mandate requires a tightening bias. Full employment has more than been achieved, with the jobless rate at levels only seen for a few months in the dot-com bubble and for a few years in the 1960s that gave way to runaway inflation. Headline consumer prices are rising at a 2.8% annual rate, while the "core" rate is rising at 2.2%, above the Fed's 2% target.
Bank of America Merrill Lynch analysts believe another three rate hikes will happen in 2019 before the Fed pauses with policy rates at an upper bound of 3.25%. But the Fed's cumulative policy tightening could actually be more severe than this if one considers the "shadow rate," which has been rising to a degree not seen since the early 1980s. A tightening that Societe Generale strategist Albert Edwards believes "may be enough for the Fed to have broken something."
Pain is already being felt.
Particularly in emerging market economies as the resulting rise in the US dollar weakens foreign currencies, lifts inflation and slams equities in places like Argentina, Turkey and Brazil. Of the Fed's last 13 tightening cycles, 10 have ended in recessions. The other three resulted in emerging market crises that forced the Fed to reverse course.
For private markets, rising stress from rising rates can be seen in areas like the yields on leveraged loans, which have increased to levels not seen since 2016 as mega-deals are rushed out before rates move even higher. Blackstone announced in January that it was buying a division of Thomson Reuters for $17 billion. Carlyle
bought Akzo Nobel's specialty chemical unit
for nearly $12 billion. And on Monday, KKR announced a highly leveraged
$9.9 billion deal for Envision Healthcare
. US investment grade bonds are annualizing their worst returns since 1986.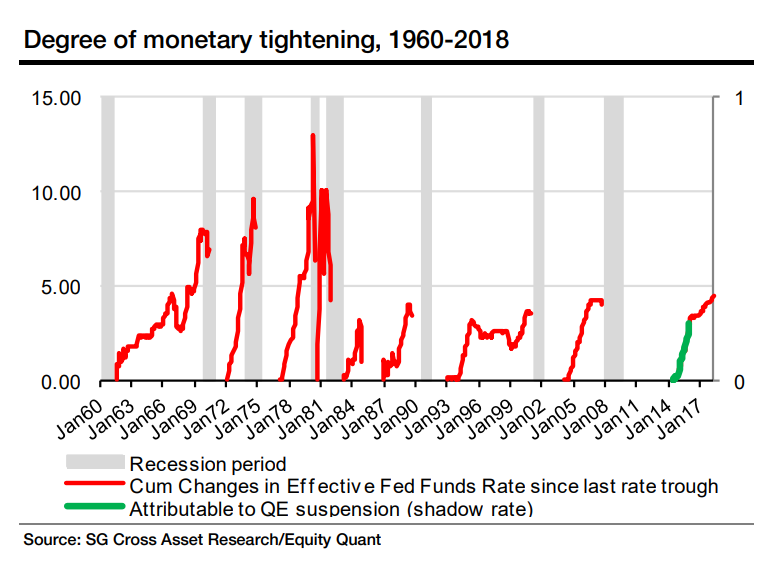 What exactly is the shadow rate? This measure was created by University of Chicago academic Jing Cynthia Wu and Merrill Lynch's Fan Dora Xia to more accurately measure the impact of monetary policy at the so-called "zero bound." When central banks took policy rates to 0% and below following the financial crisis, new tools such as quantitative easing were used. The Wu-Xia shadow rate was an effort to capture these unconventional efforts into a truer measure of where policy rates actually were.
By this measure, the Fed's shadow rate hit a low of -3% in May 2014. It has since risen 4.7% according to calculations by Societe Generale, driven by the slow drawdown in the Fed's balance sheet as years of mortgage and bond purchases are reversed. Assets mature, principal balances are repaid, and cash is repaid to the Fed and taken out of circulation.
Which means financial markets are in store for a tighter pinch on credit costs since, like pregnancy, monetary policy operates with a lag of about nine months. Even if the Fed slammed the brakes on rate hikes, further tightening is coming anyway.
No wonder then that some policymakers are growing nervous. Philadelphia Fed president Patrick Harker, Dallas Fed president Robert Kaplan and Atlanta Fed president Raphael Bostic have all publicly commented that the Fed should pause when the Federal Funds rate hits what they consider the "neutral" level to be: around 2.5% to 2.75%. A level we should see around September.
A new recession may not be far behind. Societe Generale's team of global quantitative strategists, led by Andrew Lapthorne, notes that, historically, a downturn comes about six months after the peak in Fed tightening. Putting a mark on the middle of 2019 as the "shadow" threatens to blot out the summer to come.
Related reads: Economic tightening sets stage for more rate hikes