Cleantech
Cleantech deals set for big shifts under Biden, investors say
November 30, 2020
View comment

(1)
President-elect Joe Biden's agenda has big ambitions to combat climate change, including $400 billion to invest in clean energy technology for the next 10 years.

But investors say Biden's chief impact in the area of cleantech startups could come from policies that shift incentives rather than direct spending. Such carrot-and-stick measures, which reward low-carbon solutions and punish carbon emitters with fees, would both curb greenhouse gases and foster innovation, venture capitalists say.

At the top of investors' policy wish list would be a carbon pricing system, which could spur investment in low-carbon technologies, especially those that aren't yet competitive with emissions-heavy alternatives.

"[Putting a price on carbon] is the most effective, impactful policy possible for growing not only the cleantech economy, but the overall economy," said Dave Miller, managing director at Clean Energy Ventures.

Carbon pricing often takes the form of a tax or system for trading carbon credits, which are permits that allow companies to emit set caps of carbon dioxide or other greenhouse gases. California and several other states already run so-called cap-and-trade programs designed to reduce greenhouse gas emissions.

Patricia Wexler, managing director of Starlight Ventures, said that carbon pricing legislation would lead to more new startup formation.

It could also make investment in capital-intensive technologies like direct air-carbon capture more appealing to early-stage investors, Miller said.
During Trump years, US led global VC cleantech investment ($B)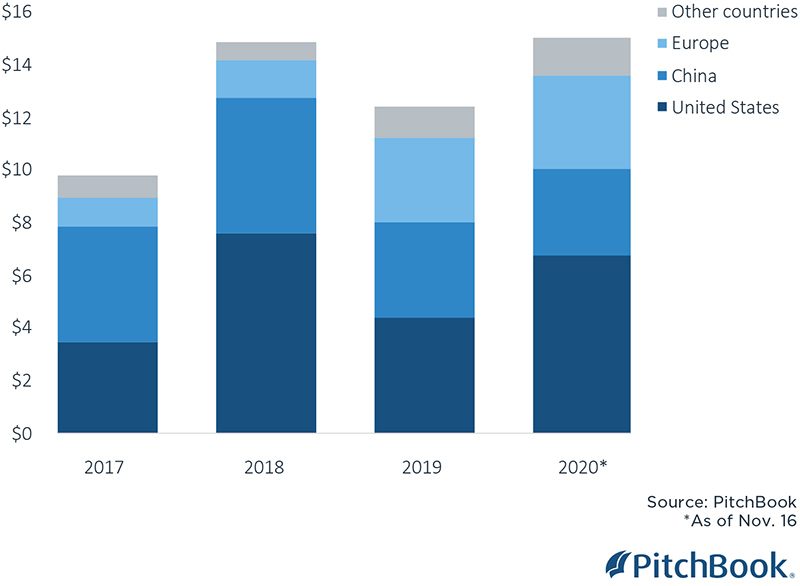 Carbon capture systems, which isolate carbon dioxide from the atmosphere and store it underground, received a tax break from the White House and support from Republican lawmakers during President Trump's tenure. Venture-backed companies in that category include Carbon Engineering, which is backed by Starlight, and Climeworks, a Swiss startup.

Historically, carbon trading markets have received support from conservative lawmakers, so legislation including that idea could theoretically advance even if Republicans hold onto control of the Senate.

Even without a domestic carbon market, Biden's decision to rejoin the Paris climate agreement would give the US access to international carbon markets established under the accord.

Biden's team has said that it will push for legislation that forces carbon producers to bear the cost of emissions but stopped short of calling for a carbon tax or similar model.

Miller said that a fee-and-dividend model for carbon pricing, in which money charged for carbon dioxide emissions is paid back to citizens, could be used to support a stimulus plan as the US emerges from a coronavirus-induced recession. That model has received support from Janet Yellen, the former Federal Reserve chairwoman and Biden's pick for Treasury secretary, and was part of former Democratic presidential candidate Andrew Yang's platform.

Beyond putting a price on carbon, other market-based solutions favored by investors include public-private partnerships, said Lee Otis, a cleantech angel investor with E8.

Another avenue is subsidies that help new technologies achieve price competitiveness.

"What you want is for the government to create good incentives without picking winners and losers—allowing capitalism to work," Wexler said.

But investors don't make investments based on government spending plans, especially hypothetical ones. And venture capitalists' bets on cleantech deals actually increased over the past four years even as the Trump administration backed the coal, oil and gas industries while relaxing environmental regulations.

VC investment in US cleantech startups averaged $5.6 billion annually during Trump's presidency, according to PitchBook data. That's double Europe's average investment in the sector during the same period, and more than China's, the data shows.

In 2020, several of the largest deals have been SPAC mergers with VC-backed companies making electric vehicles and related cleantech technology, including Nikola, Canoo and QuantumScape. Moreover, in June, Amazon launched a $2 billion Climate Pledge Fund to invest in clean energy startups.

A change in presidential administrations does make some difference at the margins, said Wexler, who put off deciding on a cleantech startup deal until the winner of November's election was clear. The outcome, she said, could affect how likely it would be that the startup could achieve price competitiveness.

Cleantech investors will have a sympathetic ear in Biden's inner circle. Ron Klain, who was named Biden's chief of staff, was most recently general counsel at Revolution, which has made cleantech bets including sustainable packaging startup TemperPack and AppHarvest, an indoor farming company that recently went public through a SPAC merger.

If the Senate remains under Republican control, investors expect the Biden administration to focus legislative priorities on environmental initiatives that have already drawn strong bipartisan backing.

Some examples include programs and policies aimed at cutting energy consumption in housing, transportation and industrial applications. Biden has called for a large-scale program to retrofit buildings and support for electric vehicles and related infrastructure.

Grid modernization is necessary for large-scale electric vehicle adoption and is an area where bipartisan collaboration is possible. Part of that process would involve investing in energy storage, distribution and transmission.

Without congressional support, the new administration could use grants to support cleantech research and early-stage companies that feed into the venture capital pipeline.

"Movement will be slower than the Green New Deal people would aspire to," Wexler said. "But I think there will be more money allocated to some of these non-dilutive financings that make some of our investment decisions easier."

Featured image via acilo/Getty Images