It looks likely that two Swedish companies will go public at unicorn valuations in 2018.
The first,
Spotify
, listed directly on the NYSE in April, with a market cap just shy of $30 billion at opening trade. And earlier this week, payments startup
iZettle
announced plans to file for an IPO on the NASDAQ Stockholm and raise 2 billion Swedish kronor (about $231 million), which will reportedly give the company a valuation of some $1.1 billion.
Unicorns emerging from Europe always provide positive headlines for the startup and VC communities, as well as politicians seeking to boost their own tech credentials and position their respective countries as vibrant parts of the European ecosystem.
However, a look at the numbers reveals a dramatic drop in public exits over the past five years. Last year saw 58 VC-backed IPOs for European companies, per PitchBook data. More than five months into 2018, that number stands at just nine—on track for a six-year low and a dramatic fall from the 82 listings that occurred in 2014.
VC-backed IPOs of European companies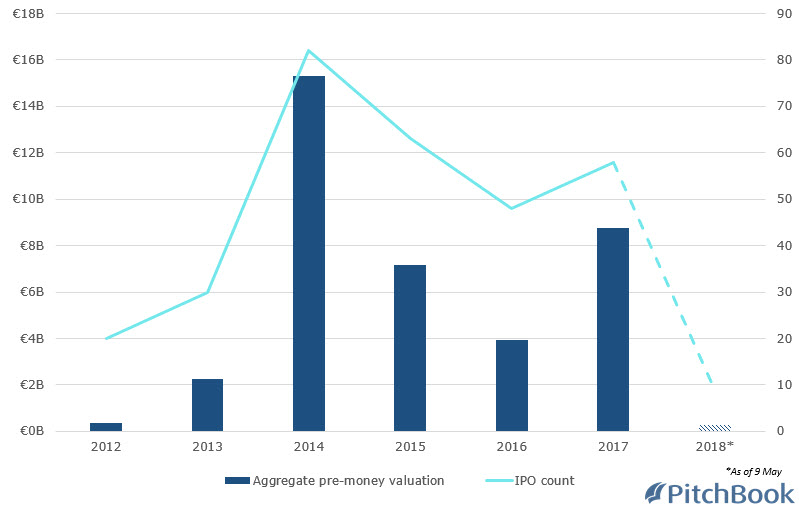 This marked drop is another sign of a tightening in public market investment in Europe, highlighted by a number of recent flops across the continent's exit landscape. That trend extends to PE-backed companies as well as their VC-backed peers.
BC Partners
portfolio company
Springer Nature
ditched a planned float due to market conditions earlier this week, while an industry source described the Swiss IPO conducted in early May by
Apollo Global Management
-backed
CEVA Logistics
as a 'disaster' in a recent Reuters report.
Meanwhile, the performance of Europe's VC-backed listings—particularly on non-London exchanges—has left a lot to be desired. Danish software startup
Agillic
, for example, is down 10% since the close of its first day of trading in Copenhagen in March, while
Fluicell
—a pharmaceutical company listed on iZettle's targeted Stockholm exchange—is down nearly 20% since floating last month. Even Spotify, one of the European startup scene's crown jewels, is currently drifting nearly 11% off its opening price.
If post-listing performance continues to drag, it is hard to see how IPO numbers climb back up. Public market investors no longer want to be treated like the greater fool, which means the buck stops now with VCs—and holding periods look destined to rise yet further.
Find out more on Europe's VC exit space in our 1Q 2018 European Venture Report