Investor Spotlight: Greylock celebrates its 53rd year with a pair of IPO wins
April 12, 2018
Founded in 1965, Greylock Partners is known as one of the oldest venture capital firms around—and it has a portfolio full of blockbuster investments to show for its long tenure in the tech world.
Greylock's most recent success was the IPO from its portfolio company
Zuora
, a business software provider that went public earlier this week at a valuation of roughly $1.4 billion. The Zuora IPO comes hot on the heels of the public offering from
Dropbox
, which Greylock first backed seven years ago. The 2011 investment in the cloud-storage company totaled $250 million, the
ninth-largest VC round
in the US that year, per the PitchBook Platform. When Dropbox went public in March at a valuation of about $9.2 billion, early investors saw big paydays.
Dropbox and Zuora aren't the only Greylock portfolio companies to have had big exits. The firm invested in LinkedIn back in 2004, not long after it was founded. That bet turned out to be huge for Greylock in more than one way. LinkedIn went public in 2011 at a valuation of $4.5 billion, before being acquired by Microsoft in 2016 for a reported $26.2 billion. And Reid Hoffman, one of the co-founders of LinkedIn, joined Greylock in 2009 and has since become one of its marquee investors. Other successful bets for Greylock include
Facebook
,
Palo Alto Networks
and
Workday
, all of which are now worth more than $10 billion on the public markets.
We've used data from the PitchBook Platform to delve deeper into Greylock's key exits and portfolio companies, along with its investment strategy, fund details and more.
Key facts
Founded:
1965
Founders:
Bill Elfers, Dan Gregory and Charlie Waite
Founding location:
Boston
How the firm got its name:
Greylock was named after the street where Bill Elfers lived in Wellesley Hills, MA
Current office locations:
Menlo Park, San Francisco and Wellesley, MA (The firm moved its headquarters from the Boston area to Silicon Valley in 2009)
Partners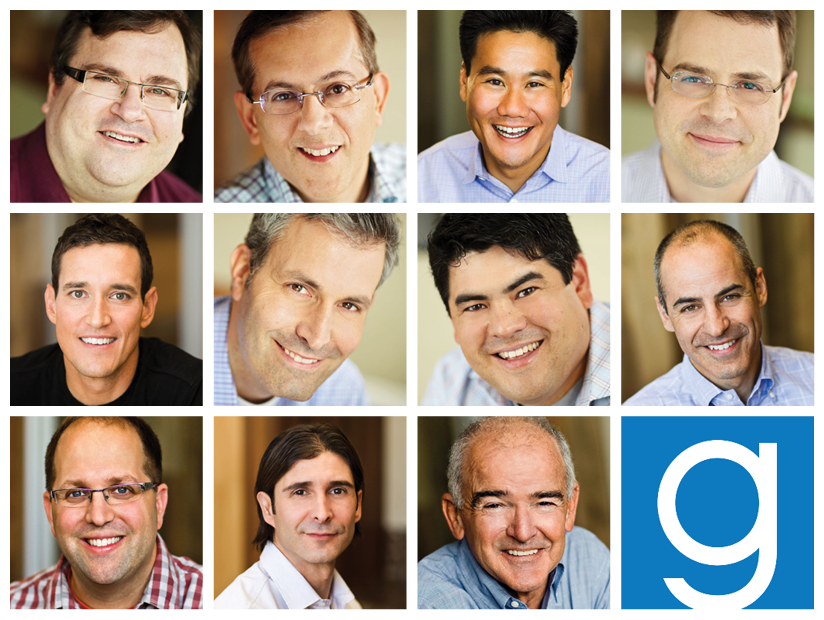 Reid Hoffman
has been at Greylock since 2009. Aside from his work with the VC firm, he's perhaps best known as the co-founder of LinkedIn, which launched in 2003. He was CEO of the networking site for four years and remained on its board through 2016, when it was sold to Microsoft. (LinkedIn previously went public in 2011.) Hoffman represents Greylock on several boards, including those of Airbnb and Convoy.
Asheem Chandna
joined Greylock in 2003 after leaving Check Point Software, where he was VP of business development and product management. During his tenure as an investor, Chandna has backed more than two dozen tech companies, including several security startups such as Palo Alto Networks and Rubrik.
Since joining the firm in 2013,
Jerry Chen
has developed a particular interest in enterprise SaaS applications and AI & cloud infrastructure. He sits on the boards of Docker, Cato Networks and Blend, among other companies. Before joining Greylock, Chen was an executive at VMware, where he helped build the company's application infrastructure products.
John Lilly
led Greylock's investment in Dropbox, but that's far from the only successful exit he's seen in his tenure with the firm. Lilly also led the investments in Instagram (acquired by Facebook), Tumblr (acquired by Yahoo) and Quip (acquired by Salesforce). He was previously the CEO of Mozilla, and before that he co-founded enterprise security company Reactivity.
Before joining Greylock in 2017,
Josh McFarland
was VP of product at Twitter. He landed that role when Twitter paid about $500 million for TellApart, a marketing platform that McFarland founded out of Greylock in 2009. He's also an investor in Coinbase.
James Slavet
focuses on companies that provide consumer services, including online marketplaces and ecommerce startups. His current portfolio includes real estate brokerage Redfin and crowdfunding website GoFundMe. Slavet was previously an executive at Yahoo, and he's also worked for Wired and Drugstore.com.
Since joining the firm in 2000,
David Sze
has invested in many big-name companies, including LinkedIn, Facebook, Pandora and Medium. Before he became an investor, Sze was an executive at Excite, one of the early search engines.
Along with his work at Greylock,
Joseph Ansanelli
is also the co-founder and CEO of customer service software company Gladly, which was incubated at Greylock. He sits on the boards of Gladly, Sumo Logic and Trifacta. Ansanelli has also co-founded two other companies: data loss protection business Vontu and digital customer service platform Connectify.
In addition to his investment work,
Josh Elman
is VP of product at Robinhood, the provider of a stock-trading app. In the past, he's worked on product at Twitter, Facebook and LinkedIn. He represents Greylock on the boards of Medium, Houseparty, Discord and Mammoth Media.
Simon Rothman
leads Greylock's marketplace investments. He's been an advisor to companies centered on marketplaces and networks, including Lyft, TaskRabbit and Poshmark. Before becoming an investor, Rothman was an early employee at eBay and went on to launch the company's automobile market.
Dave Strohm
joined Greylock in 1980 and opened its first West Coast office three years later. During his time as a partner, he's invested in dozens of companies, including Edge Dynamics, DoubleClick and Kiva Software. He currently sits on the board of directors for Bounty Jobs, richrelevance, Oportun and MATRIXX Software.
Investment strategy, industry & geography
Greylock Partners invests at every stage, from seed to early stage to growth. The firm is currently investing out of its 15th flagship fund, which closed on $1.1 billion in 2016.
It's putting all that capital to work: Greylock ranks 20th among the
most active venture capital investors
in the US since the beginning of 2008, per PitchBook data, behind a handful of VC powerhouses like Sequoia, Accel and Kleiner Perkins Caufield & Byers. Greylock has made 459 investments in the last decade, including 44 in the past 12 months. In total, the firm has made around 900 investments since it was founded more than 50 years ago.
Greylock backs consumer and enterprise software companies in a variety of industries, including SaaS, commerce, marketplaces and social. That preference is reflected in its investments by deal type, which shows that the majority of its capital goes to companies in the information technology sector. Here's a more detailed look at Greylock's deals by industry throughout the firm's history:
Of those roughly 900 deals, nearly half of all of Greylock's deals have been Series A, B or C transactions, and about 13% have been in the seed stage. Late-stage deals are also a significant part of Greylock's strategy, with investments in that category making up 29% of its portfolio. The firm has also made a handful of investments at other stages, including angel and growth.
Greylock has investments across the world, but historically, the vast majority of its portfolio companies—93%—have been in the United States, followed by 3% in Asia & the Middle East, 3% in Europe and less than 1% in Canada. Here's a look at the firm's deals by US state, including both current and former investments:
California heavily dominates the portfolio, with about 60% of the firm's investments, followed by Massachusetts (17%) and New York (5%).
A selection of notable portfolio companies
Greylock's investments are diverse, with investments in well-known consumer-facing startups as well as companies that stay behind the scenes. Here's a look at some of the companies Greylock currently backs: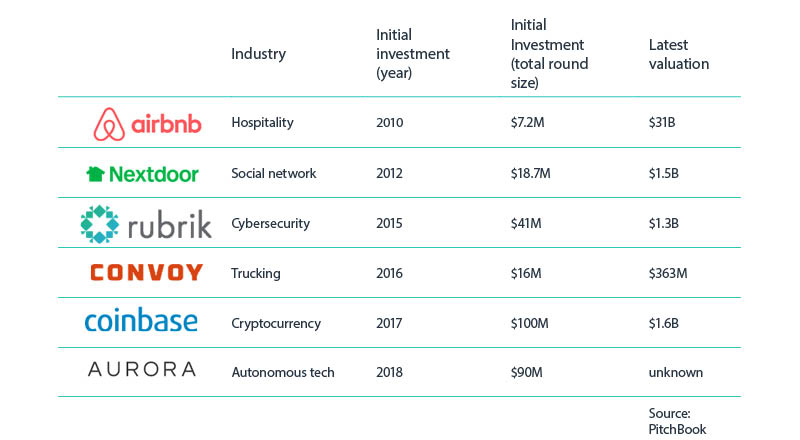 A selection of notable exits
From Facebook to Dropbox, a sampling of Greylock's recent exits reads like a who's who of successful tech companies. Below is a summary of some of the firm's portfolio companies that went on to be acquired or go public: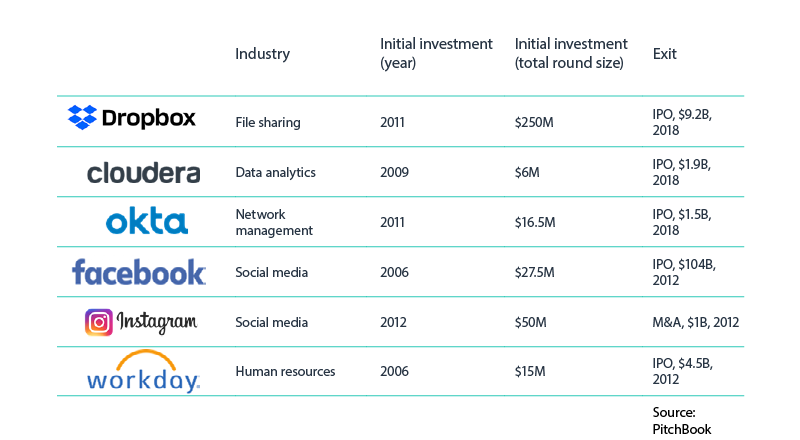 Flagship funds since the turn of the century
Greylock has raised numerous funds since it was founded in the mid-1960s. Below is a look at the firm's namesake venture capital vehicles since 2000:
Its two most recent vehicles, each of which closed on $1.1 billion, are the largest—but the preceding four were quite significant in their own right, with none closing below the $400 million mark.
Check out more of our Investor Spotlights.