Layoffs
Investors bet on HR automation as potential boon amid mass layoffs
May 19, 2020
View comments

(3)
In the midst of extensive layoffs and an economic downturn, venture capitalists are keeping tabs on which industries can thrive.
Some investors are bullish on the possible demand for artificial intelligence in human resource applications. Employers will need tools to help conduct thousands of virtual interviews and handle a potentially significant wave of applicants when the uncertainty of the pandemic finally settles to reveal a new work reality.
"There's always been a war for talent, but now there's a massive shift in labor," said Anton Simunovic, chief investment officer at
Alumni Ventures Group
. "We're seeing an uptick in investor activity toward AI solutions that help companies look for employees who can add value immediately."
As of April 29, 25% of businesses reported having laid off employees as a result of the coronavirus outbreak, according to a survey of 60 VC-backed companies conducted by compensation data provider J.Thelander Consulting. That figure has jumped since the end of March, when 10% of the 214 companies surveyed reported layoffs.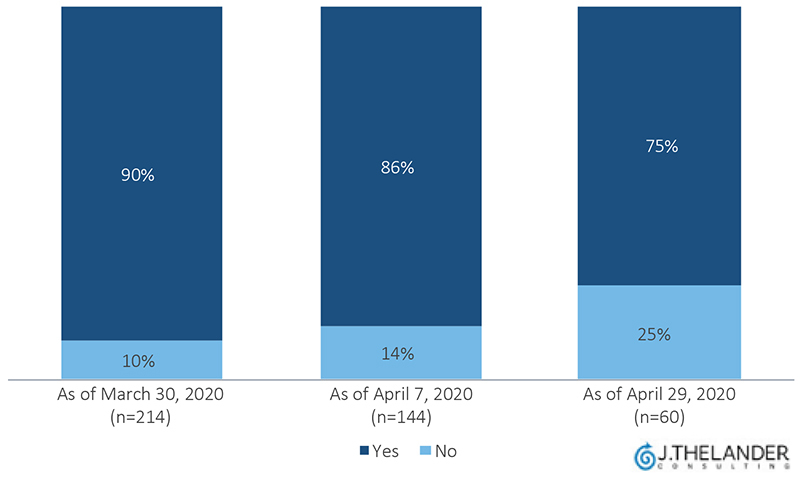 "With tens of millions unemployed in the US alone, there is going to be a great rehiring as we get through the recovery," said Matt Gatto, managing director at
Insight Partners
. "Recruiters will need tools to effectively find, qualify and hire the best talent before their competitors."
While it is too early to gauge how the crisis will impact the HR automation industry in the long-run, companies in the space will likely face a distinct set of challenges ahead.
HR automation companies need to be able to demonstrate that they can identify more qualified candidates compared to competitors, lower costs and help companies reach their diversity targets faster, Simunovic said.
"HR automation is a 'show me' industry, and startups in the space need to prove that they can convince clients to overcome the inertia of traditional HR processes to hire quality talent," he explained.
Paradox
is one such startup that has designed a platform to help HR teams. Its AI-based assistant helps to schedule interviews, collect feedback, streamline onboarding processes and host virtual events.
The Scottsdale, Ariz.-based company recently raised $40 million in Series B funding led by
Brighton Park Capital
.
"It's a weird time to celebrate [the funding] because so many companies are struggling and people are losing jobs, but at the same time, it's a validation for the opportunity in our business," said Josh Zywien, chief marketing officer at Paradox.
In March, Paradox client CVS Health announced plans to hire 50,000 workers for full-time, part-time and temporary jobs in response to crisis-fueled demand.
The pandemic has also eased the stigma around work from home policies in recent months. And San Francisco-based HR automation startup
Oyster
is hoping the remote work model is here to stay.
Launched in 2019, Oyster helps companies automate recruitment processes of remote employees, manage payroll compliance and provide local benefits to cross-border employees. In April, the company collected $4.2 million in seed financing led by
Connect Ventures
, with other investors including
Sorenson Ventures
and
Kima Ventures
.
Oyster co-founder Jack Mardack said that investors are considering the plethora of international job opportunities that could be available for the millions of unemployed workers in the US.
Several VC-backed companies have already looked at freezing hiring until at least the second quarter of 2021, leaving many HR automation startups with a short-term dip in vendor business—for now.
But when hiring does begin to pick up again, companies in a range of industries may seek new solutions to help with the influx of applicants.
"Regardless of whether the recovery is going to be V-shaped or U-shaped or a Nike swoosh, a lot of people are going to go back to work at some point," said Adam Godson, chief product officer of Paradox. "Whenever that happens, a platform that specializes in communication and hiring at scale can take a lot of the chaos out of that."
Featured image via Dimitri Otis/Getty Images
Join the more than 1.5 million industry professionals who get our daily newsletter!