Plant-based food maker
Just Inc.
is raising $200 million in growth funding, according to Bloomberg.
CLSA
, the international affiliate of Beijing-based
Citic Securities
, is reportedly participating in the round, as Just Inc. is said to be gauging preliminary interest from Chinese investors.
The news of the fundraise comes despite a history colored by a string of scandals, and it marks Just Inc.'s first raise since 2017, when it was said to be targeting a $150 million Series D. The San Francisco-based company, then known as Hampton Creek, reportedly struggled to raise the funds two years ago, following months of food safety concerns and an alleged buyback scheme.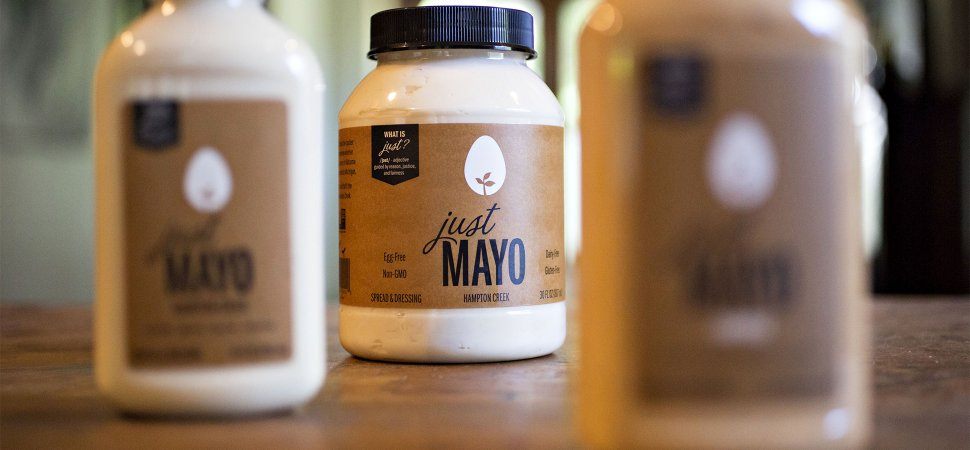 The US Food and Drug Administration issued a formal warning in August 2015 demanding Hampton Creek alter its labels over inaccurate health and nutrition claims. This letter came after numerous anonymous employees accused the company of ignoring the science around its products, misrepresenting the scientific research it cited, retroactively changing employee agreements and even that CEO Josh Tetrick's dog was used to test products for shelf life,
per Business Insider
. In a blog post, Tetrick denied deliberately changing worker contracts or exaggerating research findings, and said his dog wasn't allowed in the facility. The FDA complaint was resolved in December 2015, when the company agreed to make changes to labeling while keeping the "Just Mayo" branding intact.
More controversial was a product buyback scheme reportedly concocted in 2014. Hampton Creek allegedly paid workers to visit grocery stores, buy the company's products in bulk and generate awareness by asking store management about the brand. The efforts would reportedly lead to artificially higher sales numbers and ultimately better chances for securing venture funding. According to a
2016 Bloomberg investigation
, Tetrick said the buyback plan did exist, but for the purpose of quality control—not to inflate sales figures. Bloomberg reporters argued the company emails and employee accounts of the matter contradicted these claims, but with the joint Justice Department and SEC investigation
reportedly closed
, the matter remains inconclusive.
Hampton Creek appears to have ultimately raised its sought-after Series D, reaching a valuation of $1.25 billion in 2017. The company rebranded as "Just Inc." in June of that year, presumably in an attempt to distance itself from its checkered past.
However, the business didn't manage to stay out of the headlines. In July 2017, the company's entire board of directors stepped down citing deep disagreements with Tetrick, according to Bloomberg, which had also reported in May that multiple executives had been fired. In response to the July report, the company claimed it was a peaceful transition toward "advisors" to focus on the company's mission, not a hostile mass resignation.
A month later, Just Inc.'s top sales outlet,
Target
, announced it had severed relations with the food company indefinitely as a result of "serious food safety allegations" reported to the FDA. While the FDA later closed the investigation, according to a blog post on Just Inc.'s website, the specific findings were not made public. As a result, the company claimed that Target severed ties due to Just Inc. discussing the FDA's conclusion publicly, which is a violation of supplier communication policies. Target maintained, however, that undisclosed food safety concerns were the primary driver of the divorce.
Just Inc. largely flew under the radar for most of 2018. However, the company is battling an
ongoing lawsuit
with Jaden Smith, son of actor and former rapper Will Smith, over rights to the "Just" branding. Smith owns a similarly named company,
Just Goods
, and had a 2014 trademark agreement with the plant-based food maker that Smith claims was violated.
Moving forward
So far, the rebranding hasn't offered the clean slate Just Inc. hoped for. Furthermore, $200 million is a particularly large amount of funding for a business with such a checkered past.
While the company may have struggled to find US-based investors in 2017, Just Inc.'s choice of Hong Kong-based CLSA leading this round may signal a shift toward fresh investors from abroad—such as entities based in China. This could help the company move its image away from the public problems that are said to have contributed to its previous difficulties raising money.
It's not clear if the company's stated goal of $200 million will be fully realized, however. Further, litigation regarding trademark and naming rights with Jaden Smith's company may also weigh on investors, as the lawsuit becomes increasingly complex and potentially risks the durability of the rebranding.
Whatever the outcome, with the FDA, SEC and DOJ having resolved their respective investigations of Just Inc. and new funding potentially on the horizon, this is likely to be a pivotal point in time for the food company.