Biotech
Keros cuts through market headwinds with biotech's latest IPO
April 8, 2020
On Wednesday,
Keros Therapeutics
became the latest biotech startup to pull off a public debut, roughly a month after raising fresh financing from venture capitalists.
Keros upsized its offering by selling 20% more shares than originally planned at $16 apiece, raising $96 million in its debut on the Nasdaq. The company's stock opened the day at $20.85, a gain of 30.3%. Shares closed Wednesday at $20.08, giving Keros a first-day market cap of about $385 million.
A spokesperson for Keros Therapeutics declined to comment on the public debut, citing quiet-period restrictions.
Based in Massachusetts and founded in 2016, the clinical-stage biopharma company develops therapies for patients with blood and musculoskeletal disorders. Keros has raised more than $75 million in total VC funding from backers including
Pontifax Venture Capital
(32.6% pre-IPO stake),
Arkin Bio Ventures
(14.4%) and
Foresite Capital
(9.9%). In March, the company brought in a $56 million Series C from investors including
OrbiMed
,
Cowen Healthcare Investments
and
Venrock
. The round valued the business at $206 million, according to PitchBook data.
Wall Street investors have seen a flurry of VC-backed biotech companies braving the public markets in 2020. However, most of those IPOs occurred before the coronavirus outbreak caused the stock market to tank on March 9, resulting in widespread economic uncertainty.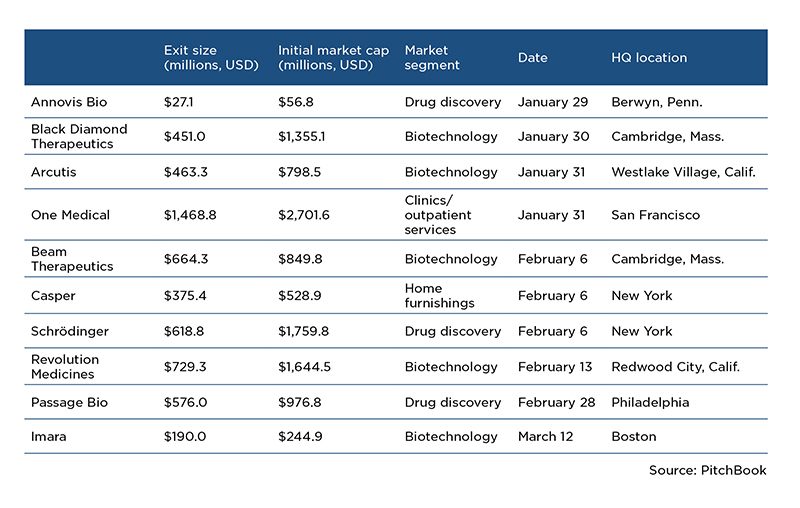 In the first quarter of 2020, biotech and drug discovery companies accounted for 80% of IPOs in the US. The only non-biotech IPOs of Q1 were mattress startup
Casper
and
One Medical
, the provider of a primary care platform.
To put things into perspective, 14 US VC-backed companies went public in Q1 2019, and eight of them—or 57%—were biotech or pharmaceutical startups.
Biotechs are cursed with high burn rates from soaring drug research costs and high capital expenditures, according to a PitchBook analyst note about the
influence of the coronavirus on the US VC market
.
PitchBook analysts say that many biotech companies are in a tight cash flow position, which could potentially cause them to consider a sale of their businesses. And in an effort to extend cash runways, some biotech startups have begun to reassess their drug development and clinical trial budgets.
Featured image via serezniy/iSTock/Getty Images Plus
Join the more than 1.5 million industry professionals who get our daily newsletter!