VC Fundraising
Mega-funds thrive despite hard times for small and first-time VCs
April 14, 2020
Venture capital's biggest firms are heading into a recession with a slew of newly raised mega-funds, while smaller firms face a slump in fundraising.
Lightspeed
on Tuesday announced three funds totaling $4.2 billion, following in the footsteps of
NEA
,
Flagship Pioneering
and
General Catalyst
, which all raised new mega-funds since March.
Mega-funds of $1 billion or more claimed nearly half of all capital raised by US VCs in the first quarter, compared with less than a third of the total in normal years, according to the latest
PitchBook-NVCA Venture Monitor
.
Mega-funds dominate in 2020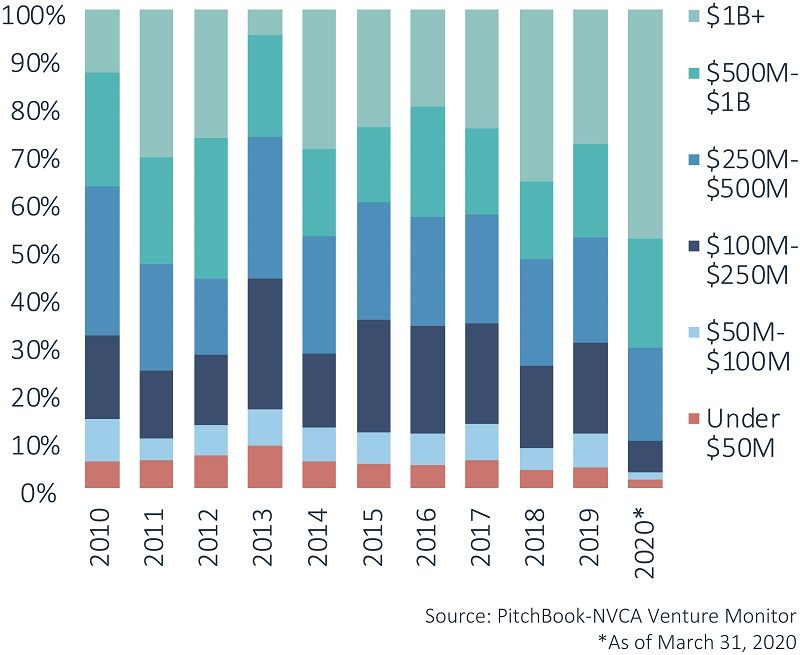 Meanwhile, smaller and first-time managers are struggling. US firms that are raising funds for the first time have only closed nine vehicles so far in 2020, the slowest pace in three years. And investment vehicles under $100 million represented only 3% of the capital raised in the first quarter, compared with 11% last year.
"If you have no track record as your own manager, that becomes more difficult in the current environment," said Cameron Stanfill, a venture analyst at PitchBook.
The success of large firms flies in the face of what the International Monetary Fund predicts will be the worst downturn since the Great Depression. But these investors have reliable track records and are trusted by limited partners, who are willing to commit to funds at a time when company valuations are falling to more attractive levels, Stanfill said.
The ability for large firms to raise new capital is welcome news for portfolio companies, many of which are laying off staff or vying for small business loans. Lightspeed's new $1.83 billion Select Fund IV, its largest ever, will invest in existing portfolio companies. The firm also raised a $1.5 billion vehicle for global breakout companies and an $890 million early-stage fund.
Even if smaller firms continue to struggle, the amount of capital raised this year could still be impressive. The fundraising success of large US firms led to $21 billion in capital raised in the first quarter alone, already a third of the record-setting $61.8 billion raised in 2018.
But general partners at VC firms may face increasing headwinds in the fundraising market. As asset values decline across the board, many LPs are expected to shy away from VC and other alternative investments as they rebalance their asset-allocation models. If a recession proves long-lasting, managers of all sizes would likely struggle to raise new funds.
Featured image via PM Images/Getty Images Plus