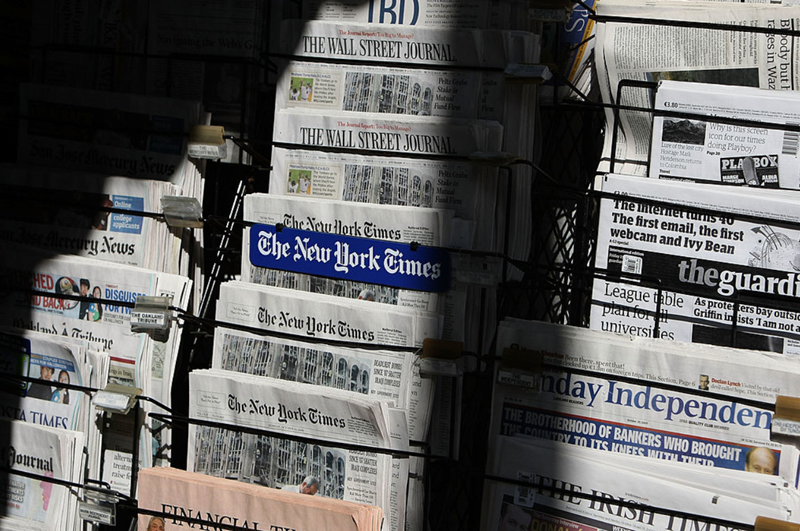 A thirst for information about the coronavirus and spreading social unrest means demand for news has been booming. But the catastrophic effects of the virus on the US economy have hammered the newspaper industry, leading to dramatic declines in advertising revenue as well as layoffs, furloughs and other economic distress.
More than 30 newspapers have already closed across the US since the pandemic began. Advertising revenue could decline 45% by the fourth quarter of 2021, according to FTI Consulting, a management consulting firm. Relief funding from the federal government is one potential salve for those financial wounds, but so far, news outlets have struggled to gain access to such funds. In many ways, the industry's future seems bleak.
On Capitol Hill, though, there remain glimmers of hope.
In May, a bipartisan group of senators introduced a bill that would make funds from the Paycheck Protection Program available to hundreds of newspapers and other outlets that are currently ineligible. On a separate track, the House of Representatives is considering legislation that would direct Facebook and Google to collectively bargain with news outlets about sharing advertising revenue generated by news content, a move that would follow similar efforts recently undertaken by countries on three continents.
Such a bill would mark a new era for tech giants that currently don't offer licensing fees to newspapers for using snippets of content to draw readers in. It would allow news outlets to tap into the advertising duopoly of
Facebook
and
Google
, the two tech giants whose embrace of the ad space helped drive some newspapers to the brink of extinction.
But those fighting for the news industry's survival are quick to caution that such a change is very far from a sure thing.
"We have no leverage, not even The New York Times," said Danielle Coffey, general counsel for the News Media Alliance, an industry lobbying group. "We have to figure out a way to get (Google and Facebook) to come to the table. Not just out of guilt or benevolence, but to actually change the business model."
Echoes of a crisis past
The 2008 global financial crisis was disastrous for newspapers. Revenue declined. Advertising dollars dried up. And thousands upon thousands of jobs were lost. From 2008 to 2019, employment at US newspapers dropped 23%, according to Pew Research Center.
The industry also underwent a significant stretch of consolidation, led by large conglomerates with connections to hedge funds and private equity such as Digital First Media and New Media Investment Group. This reshaping of the industry has been controversial, with many newspaper employees excoriating their new owners for slashing costs, selling off real estate and other financial maneuvers. In 2018, The Denver Post published a front-page editorial calling on Alden Global Capital to sell the paper. The headline: "As vultures circle, The Denver Post must be saved."
The coronavirus pandemic has only exacerbated these struggles. A recent New York Times investigation revealed more than 36,000 news-industry workers have been laid off, furloughed or had their pay cut since the pandemic began. And pressure from private owners could cause more carnage in the near future.
One example is
Gannett
, a 114-year-old chain that owns USA Today and many major regional newspapers. Last November, New Media Investment completed a $1.4 billion deal to acquire the company in a move that involved three major financial names: New Media's operations are managed by
Fortress Investment Group
, which is in turn owned by
SoftBank
. And
Apollo Global Management
provided a $1.8 billion loan at an 11.5% interest rate to fund the takeover, an especially high figure given interest rates were around all-time lows.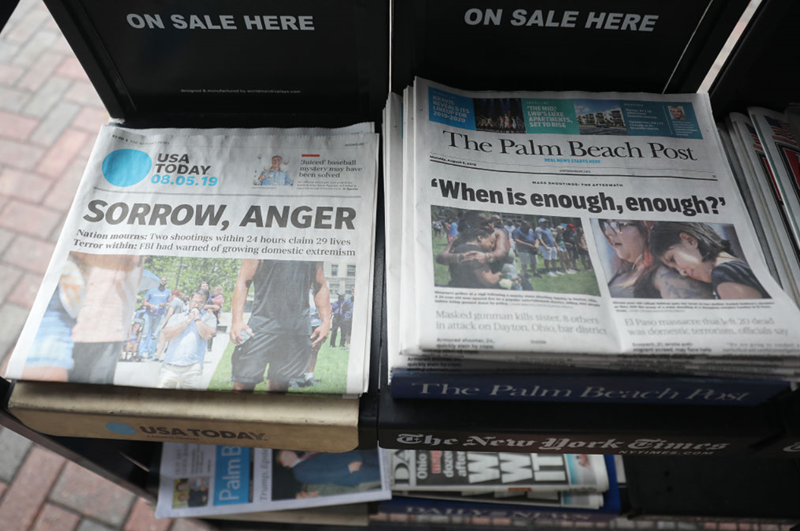 Gannett projected between $275 million and $300 million in savings from the deal, and since revenue was not growing organically, that likely meant layoffs and cutbacks. NewsGuild-CWA, the largest newspaper union in the US, argued the deal would enrich the investors while journalism suffered. By the end of February, 29 employees had already been laid off, according to Poynter, a journalism school and research group.
Gannett executives demanded another $100 million in savings after the emergence of the coronavirus, and another round of layoffs followed in late April, marking the latest signs of stress on an industry that was already close to its breaking point.
Lawmakers offer best hopes for help
The US government has doled out hundreds of billions of dollars in coronavirus relief to struggling businesses, and more could be on the way. But so far, many newspapers have struggled to access the Paycheck Protection Program and other sources of funding, in some cases specifically because they are part of larger media conglomerates.
Locally owned papers such as The Seattle Times, Tampa Bay Times and Chicago Sun-Times have all tapped into the PPP, but they have been the exception. The Alliance for Audited Media estimates that at least 80% of newspapers were locked out from the initial lending program because of a rule that limited loans to companies with fewer than 500 employees. Nearly every individual newspaper in the US falls below that threshold, but the PPP combines the employee counts at all of an investor's portfolio companies when determining eligibility.
That rule, though, could change. In mid-May, three Democratic senators and two Republic senators introduced new legislation that would increase the PPP eligibility cutoff for local newspapers, broadcasters and television stations to 1,000 employees, citing the many ways journalists have helped communities learn about how the coronavirus and its impact.
"The current public health crisis has made the already vital role of local news even more critical," Sen. Richard Blumenthal (D-Conn.) wrote in a recent letter.
Other legislative efforts are focused on a finding a longer-term solution for the newspaper industry's woes.
Last year, Reps. David Cicilline (D-R.I.) and Doug Collins (R-Ga.) introduced a bill that would allow news organizations to collectively bargain with Facebook, Google and other large platform providers over sharing advertising revenue. Facebook and Google are where millions of people find and read the news. But historically, neither company has offered much financial compensation to the outlets that produce the news their platforms compile.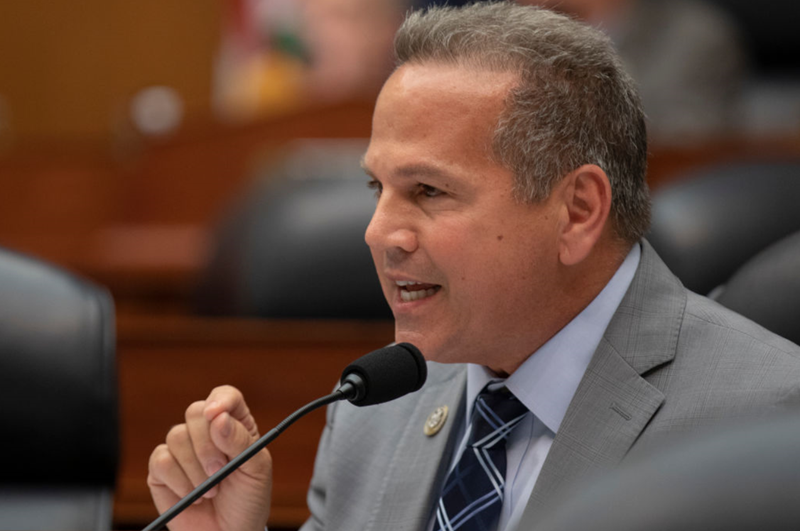 A release announcing the proposed legislation noted that Facebook and Google brought in $60 billion in total advertising revenue in 2018, while revenue for news publishers has declined by $31 billion since 2006. A recent study from the News Media Alliance indicates that publishers make as little as 30 cents on the dollar for Google ads appearing on a newspaper's website. Neither Facebook nor Google replied to requests for comment for this story.
The bill continued to gain bipartisan support into this year, winning co-sponsorship in January from Senate Majority Leader Mitch McConnell (R-Ky.). At the time, Cicilline said he hoped both chambers of Congress would vote on the bill sometime this year. It's unclear if the coronavirus outbreak will change that timeline.
Around the world, pressure is mounting on Facebook and Google to change their financial relationship with the news industry. In April, regulators in France and Australia ordered the two companies to begin sharing advertising revenue with media outlets whose content helped drive ad sales. In May, a group of Canadian newspaper executives asked their government to follow suit.
Those steps came after Facebook announced in late March plans to invest $100 million in the news industry through a program called the Facebook Journalism Project. Facebook has also taken other measures. Last year, the company struck a deal to begin making direct payments to certain news outlets whose content populates Facebook News.
Coffey, of the News Media Alliance, and others in the industry believe that conditions may be right for a major change.
"The US government has maybe been more reluctant, because (Google and Facebook) are homegrown and a poster child for innovation. But I think the shine has definitely worn off," Coffey said. "We have legislation that has bipartisan support."
If she is right, it could provide a lifeline to newspapers at a time when it has never been so sorely needed.
Join the more than 1.5 million industry professionals who get our daily newsletter!