PE Fundraising
The average PE fund size is skyrocketing in 2019
April 23, 2019
In the first three months of 2019, US private equity firms raised a typical amount of new capital across an unusually small number of funds, according to
the latest edition
of PitchBook's US PE Breakdown.
Which means, of course, that the average size of those funds is going up. Way up.
The average buyout fund in 2019 has raised nearly $1.7 billion, with the average sitting just shy of $1.6 billion for private equity funds of all kinds, representing upticks of around 70% compared to the whole of 2018. It's a stark departure from most of recent history. As you can see here, only once in the past decade have average PE fund sizes climbed as high as $1 billion, let alone several hundreds of millions higher: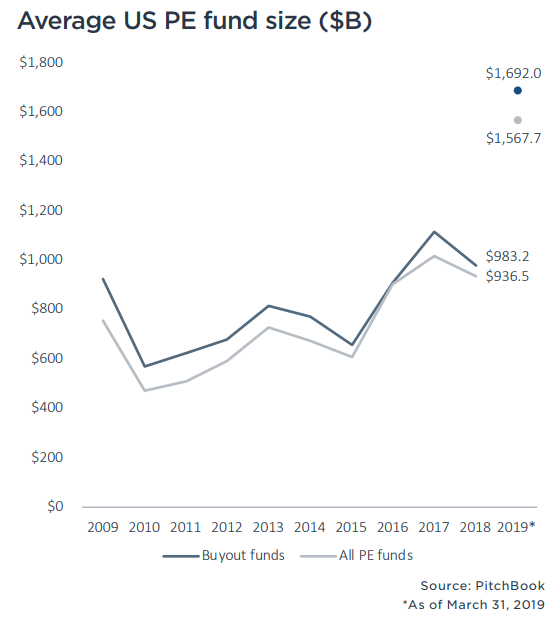 Firms raised a total of $45.5 billion across 29 vehicles in the US during 1Q 2019, compared to $180.7 billion across 194 funds for all of 2018. That means the industry is on pace to raise $182 billion for the full year—which is of course right in line with last year's fund value. But 2019 is also on pace to raise fewer than 120 overall vehicles, which would be a clear decade-low.
As you might expect, this year's jump in fund size is being driven in no small part by mega-funds. The largest one in 1Q came from
Thoma Bravo
, which brought in $12.6 billion for its 13th flagship fund.
Genstar Capital
also raised its biggest fund in firm history during the quarter, a $7 billion effort.
TSG Consumer Partners
,
Siris Capital
and
Levine Leichtman Capital Partners
were among the other firms that helped drive that average fund size up.
It's a trend that's showing no signs of abating. Several PE firms could close funds
on $10 billion or more
in the coming months, led by
Blackstone
, which recently conducted a reported $22 billion first close for its latest flagship vehicle. It's likely that the growing number of mega-funds is at least one factor in the decline in overall fund quantity; after all, there's only so much cash to go around.
Featured image via pijama61/DigitalVision Vectors/Getty Images
Want more fundraising data? Check out our 1Q 2019 US PE Breakdown.