TechCrunch Disrupt
The changing face of beauty brands in an Instagram-obsessed world
September 7, 2018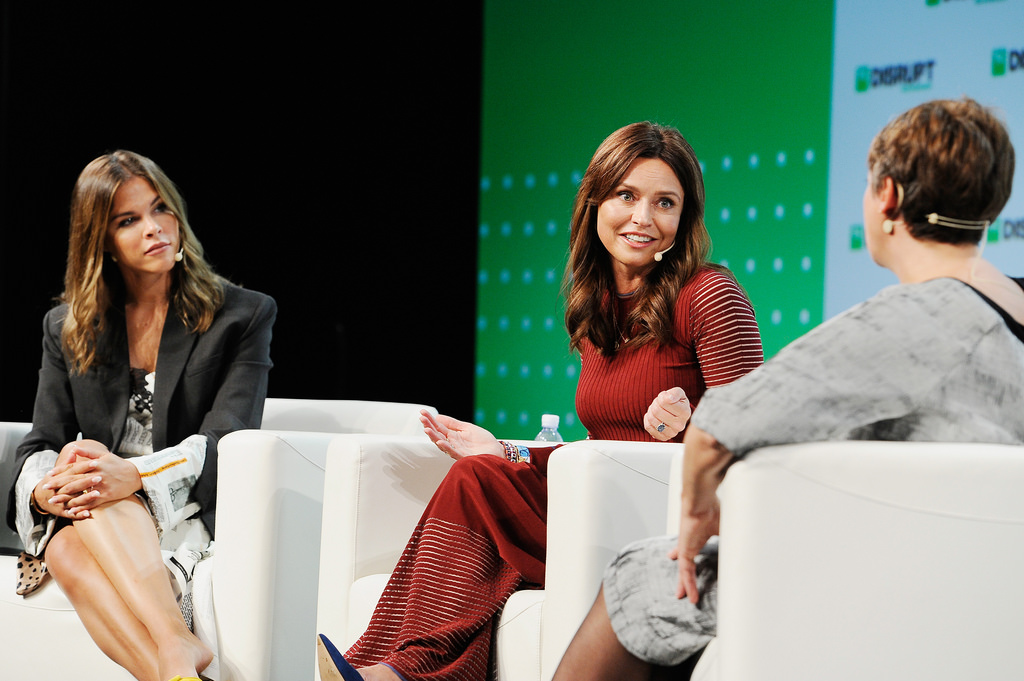 This post is part of our ongoing coverage of TechCrunch Disrupt
SAN FRANCISCO—The beauty industry is booming—especially when it comes to venture capital funding. US-based makeup and beauty companies have already brought in
more VC funding in 2018
than in any other year in the last decade. And there are still nearly four months to go before the year is out.
One of the beauty startups that's secured funding this year is
Glossier
, the direct-to-consumer makeup company that raised $52 million in February. Emily Weiss, Glossier's founder and CEO, was on stage at Disrupt to discuss her vision for the company and why it's so important to think first about consumer needs when building a successful brand.
Forerunner Ventures
founding partner Kirsten Green, who's an investor in Glossier, joined Weiss to talk about the challenges and opportunities that come with backing ecommerce businesses.
'What are the unmet needs of the people?'
Green and Weiss agree that the ecommerce industry—and particularly beauty brands—have evolved over the years to adapt to changing consumer needs and preferences. Glossier, like many modern ecommerce companies, ships its products directly to users. The company is also selective about what it sells—instead of creating dozens of options, it offers just one type of mascara and one type of blush, for instance.
"What captured my imagination about the opportunity to work with Emily, from the very beginning, had to do with her incredible insight about the consumer," Green said. "It's critical because that's the magic. That's what the opportunity today is. … The biggest shift, among many other shifts, is the consumer's path to purchase. How they're discovering things, how they're shopping—that's all evolved."
Along with Glossier's direct-to-consumer business model, Weiss emphasized that her company markets its products differently than traditional beauty businesses, which have historically thought of department stores and other retailers as their customers. For Weiss, it's critical to think of the consumers themselves as Glossier's customers and pay attention to how they're buying products. And increasingly, decisions on which lipstick to buy are informed by platforms like
Instagram
—Glossier launched its products on the photo-sharing app before it had its own website—rather than makeup counters in department stores. According to Weiss, more than 70% of millennials buy beauty and fashion products through Instagram. Much of the publicity for Glossier is word-of-mouth, too, with people recommending products to friends, family members and sometimes strangers on the street.
"Fundamentally, any product we've created at our company … has been built from the bottom up," Weiss said. "It's been built with absolutely nothing between us and the final end user. Our mission from the beginning has been to break down the walls so we can build better product. … We've never thought, 'Where's the revenue?' We've always thought, 'What are the unmet needs of the people?'"
So far, that philosophy is working. Glossier's revenue
grew 3x from 2016 to 2017
, according to a report from earlier this year, and Weiss said onstage that the company's financials have been improving each year. Its valuation reached $390 million earlier this year. And some of Glossier's products, like its eyebrow pomade Boy Brow and its Balm Dotcom salve, have become cult classics in the makeup community.
Connecting with consumers
On a broader level, the success of Glossier is representative of trends in the ecommerce industry as a whole. The way consumers are buying products has fundamentally changed, with people looking for specialized items that will be delivered to their homes rather than going to big department stores and browsing through whatever catches their eye.
Green is known as one of the most successful ecommerce investors in the US, with a portfolio that reads like a who's who of direct-to-consumer brands. Her firm counts
Dollar Shave Club
,
Jet
and
Bonobos
among its exits, and its active portfolio includes
Warby Parker
,
Away
and
Outdoor Voices
, among many other companies. She says that while everyone shops differently, companies that connect directly with their customers are particularly successful.
"Our hope is to partner with founders looking to build companies that reach large swaths of customers in deep connected ways. … Kind of from the beginning, we allowed ourselves, or challenged ourselves, to think about how much this company will show up on social media or on their own website or in the media," Green said. "One of the challenges today is to meet the consumer in so many different places. But there's opportunity."
Right now, ecommerce makes up just about 10% of global commerce, according to Weiss. So while it feels like most businesses have an online presence, there's room for brands to shift and evolve into the future of shopping on the internet. "I think it's exciting that we're really at the dawn of ecommerce," Weiss said. "What we're focused on is building an emotional commerce experience."
Related read: Lightspeed backs Lady Gaga's makeup startup amid spike in beauty funding