Food & Beverage
Britain's PE-backed restaurants reopening to a stark new reality
June 26, 2020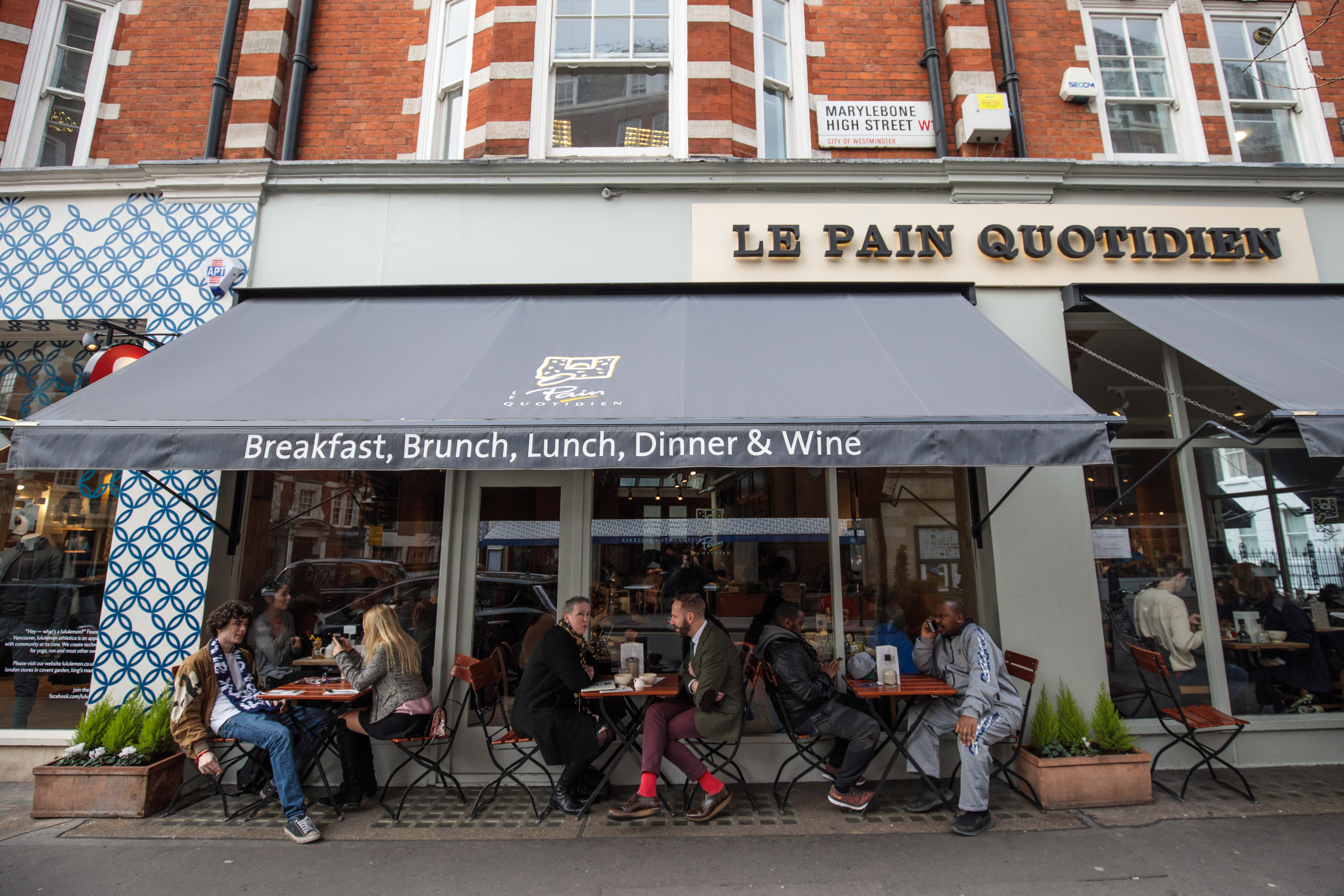 After months of having their meals at home, consumers in the UK will soon be allowed to dine once again inside restaurants.
But threats posed by food-delivery competition and a dearth of people venturing out have cast gloom on a growing number of restaurant chains and their private equity investors.
"This is the death knell for a lot of restaurants and pubs," said Will Hawkley,
KPMG
's global head of travel and leisure, who advises clients in the sector. "They won't reopen."
In the UK market alone, investors have seen plenty of signs of retrenchment in recent weeks. In one of the latest cases, the British arm of
Le Pain Quotidien
—a cafe chain backed by Belgian firm
Cobepa
—reportedly closed more than 10 sites as part of a financial rescue plan and sold its remaining locations.
KKR
-backed
Casual Dining Group
, meanwhile, has been seeking buyers since May, as has
Three Hills Capital Partners
' upmarket burger chain
Byron
.
The business outlook could soon become clearer for companies across the UK. On July 4, indoor restaurants and cafes are set to reopen. But many restaurants will still struggle to break even working under government rules that require social distancing in eating and drinking establishments, Hawkley said.
Private equity's investments in the restaurant and bar industry have dipped in recent years but the asset class is still well exposed to the sector. Since the start of 2015, European restaurants and bars have brought in nearly $18 billion across 225 private equity deals, according to PitchBook data.
Private equity's restaurant deals in Europe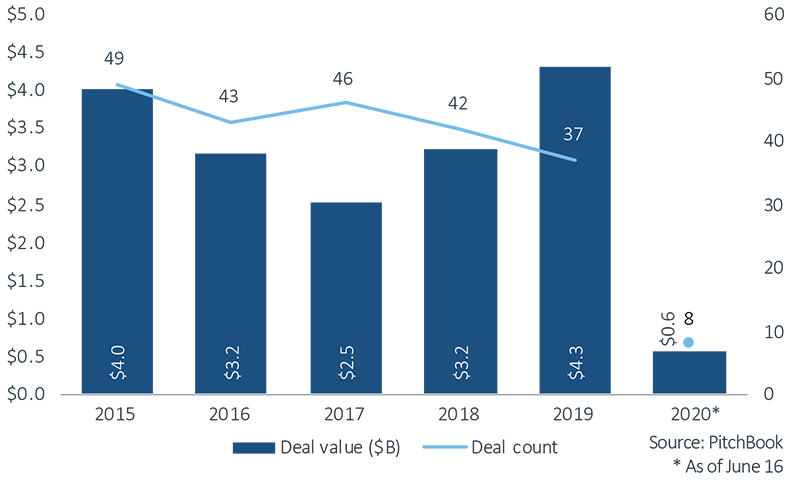 Not all PE-backed eateries face permanent closure, but many have had to pivot nonetheless. In 2011, UK-based
Risk Capital Partners
bought
Gail's Artisan Bakery
, a cafe and retail bakery business that is comparable to Le Pain Quotidien. The company has 57 dine-in locations, only 11 of which remained open during the lockdown.
"We pretty quickly switched to a takeaway-only offer, which had some real benefits to our efficiencies in terms of labor cost, but we also substantially reduced the range which added efficiencies to wastage," said Micheal Simmonds, a partner at Risk Capital who sits on Gail's board.
Gail's made other changes too. It introduced a branded line of staples like milk, eggs and flour that were in short supply elsewhere. But Simmonds said Gail's was already geared toward takeaway—around 60% sit-in, 40% takeaway before lockdown—making it better insulated when outlets began closing. This is not the case for many others.
"The challenge for private equity firms is that a lot of these [investments] are real estate plays or location plays," said Hussein Kanji, a partner at
Hoxton Ventures
, an early backer of
Deliveroo
. "And as the world shifts over to delivery, you've got an expensive asset on your balance sheet that you have to keep paying for, then it becomes a little bit of a liability."
Hoxton has invested in startups that specialize in cloud kitchens, sometimes called ghost kitchens, that don't have this liability because the food is prepared at a location purpose-built for delivery orders, rather than at a restaurant. Cloud kitchens provide existing restaurants outsourced food preparation, or they can serve as a restaurant-as-a-service to build a delivery-focused business that has lower costs.
In 2019, cloud kitchens attracted $1.9 billion across 16 global VC deals, with investment in this category increasing by at least 2.4x a year since 2016, PitchBook analysts
reported in March
.
Dubai-based
Kitopi
, which provides clients with both kitchens and delivery services, raised a $60 million Series B in February co-led by
Lumia Capital
and
Knollwood Investment Advisory
. Founded in 2018, the company serves over 100 restaurants across 30 kitchens in five countries. Incumbents like Deliveroo have been on to the trend for some time, building their own cloud kitchens that centralize food preparation.
It remains, however, a long-term strategy. Food delivery services themselves haven't benefited during the lockdown as much as one might expect. With many restaurants closed completely, delivery platforms have fewer offerings. Moreover, demand has softened at a time when consumer incomes have fallen and persistent fears about the virus still loom over the industry.
To be sure, not everyone is convinced that delivery startups will replace consumers' desire to eat out. Risk Capital's Simmonds said that although Gail's delivery business picked up during the lockdown, it has already peaked. The company also tested platforms like Deliveroo but Simmonds is reluctant to grow that part of the business.
"It is such a low-margin business that [sales] may be like-for-like positive but actually your bottom line is being squeezed," Simmonds said. "All these massive online monopolies don't leave enough for the operator. Eventually, the operator will just switch it off. It needs to be a more symbiotic relationship."
Even before the pandemic, consumers were drifting toward food delivery over restaurants. A KPMG survey last September showed one-quarter of UK consumers were ordering more often than a year earlier. The pandemic has only accelerated that trend.
Correction: This article was updated on June 26 to remove an error stating that TPG Capital-backed restaurant chain Prezzo underwent restructuring during the nationwide lockdown. The business underwent restructuring in 2018.
Join the more than 1.5 million industry professionals who get our daily newsletter!