WeWork is chasing Uber in race to become most valuable VC-backed company in the US
June 13, 2018
WeWork
is eyeing a new funding round
that could value the co-working space provider at up to $40 billion, per reports.
That would make it the second most valuable VC-backed company in the US and the third most valuable in the world.
Rajeev Misra, the leader of the
SoftBank
Vision Fund, which is a major investor in WeWork, said at a conference this week that the company is looking to raise financing at a $35 billion valuation—and then went on to predict a valuation of $100 billion sometime in the next few years, per a Business Insider report.
In the aftermath of the conference, The Wall Street Journal reported that SoftBank is considering a fresh multibillion-dollar investment in WeWork that would value the company at up to $40 billion.
WeWork declined PitchBook's request for comment.
For the sake of comparison,
Uber
, the most valuable venture-backed company in the US, is worth an estimated $62 billion as of a funding round last month. Next is
Airbnb
, which clocks in at a $31 billion valuation, then comes
SpaceX
at nearly $25 billion. A $35 billion to $40 billion valuation would place WeWork in the number two slot, and the $100 billion number would push it into unprecedented territory for a private company in the US.
Critics of New York-based WeWork have said it's already overvalued—the main argument being that it's a run-of-the-mill real estate company masquerading as a tech startup. WeWork takes on long-term leases, parcels out the space, and then rents it to businesses and individuals as co-working spaces, sometimes on a short-term basis. The company's annual revenue was a reported $1 billion as of the end of 2017, and a Wall Street Journal article from last year points out that real estate companies that lease out office space on a bigger scale have smaller market values than WeWork.
Another thing to consider about the potentially humongous valuation is the source—both of the funding and of the comment. Misra heads up SoftBank's $100 billion Vision Fund, which is by far the biggest tech investment vehicle in the world. The fund routinely makes investments worth hundreds of millions of dollars or more, including a multibillion-dollar investment in WeWork last year. There have been discussions in the VC world that SoftBank itself is contributing to inflated valuations with its massive fundings.
Inflated or not, WeWork has seen its valuation soar since it was founded in 2010. Here's a look at the co-working giant's equity funding timeline. Click on the image to enlarge: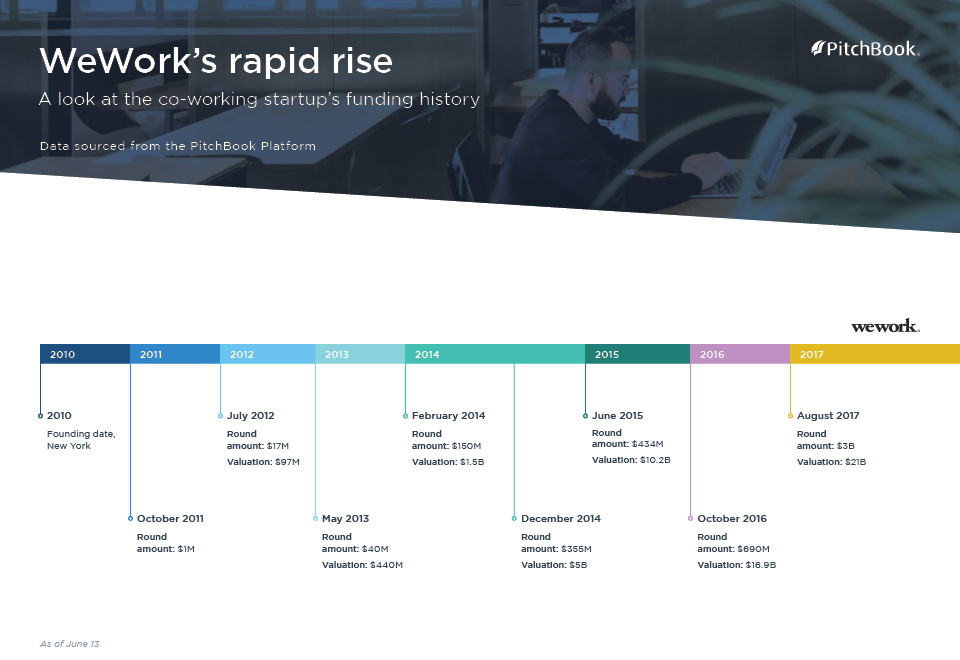 In August 2017, SoftBank also invested $1.4 billion into WeWork entities in several countries in Asia.

WeWork sold $702 million worth of bonds in April 2018.
Here's more of our WeWork coverage.
Join the more than 1.5 million industry professionals who get our daily newsletter!