Why Dropbox could be valued at up to $19B when it goes public
By Dana Olsen
March 9, 2018
Dropbox
became the first big-name tech company to move toward an IPO this year when it dropped its S-1 on February 23. One of the big questions is whether the file-sharing company can hang onto its $10 billion valuation, which it reached with its last major private financing round in 2014.
With that in mind, we've analyzed the financials for comparable public companies to estimate Dropbox's initial market value.
Box
and
Atlassian
—both of which went public in 2015—have relatively similar business models to Dropbox. The financials of those companies, from both their private and public tenures, provide helpful comparisons as Dropbox prepares to become a publicly traded company.
Dropbox is the developer of a platform geared toward businesses, or at least toward people engaged in professional pursuits. Its product began as a tool to securely store documents and other files in the cloud, and while the company counts plenty of individuals among its users, its revenue stream comes mainly from its 11 million paying customers. Since it was founded in 2007, Dropbox has expanded its offerings on the workplace collaboration front. Box is a fellow Bay Area-based business that provides cloud storage, though it has geared itself more toward enterprise companies since it was launched. And Australia's Atlassian is a maker of workplace productivity software such as Confluence and Trello.
We've used PitchBook data, along with Dropbox's S-1 filing, to compare key numbers for the three companies: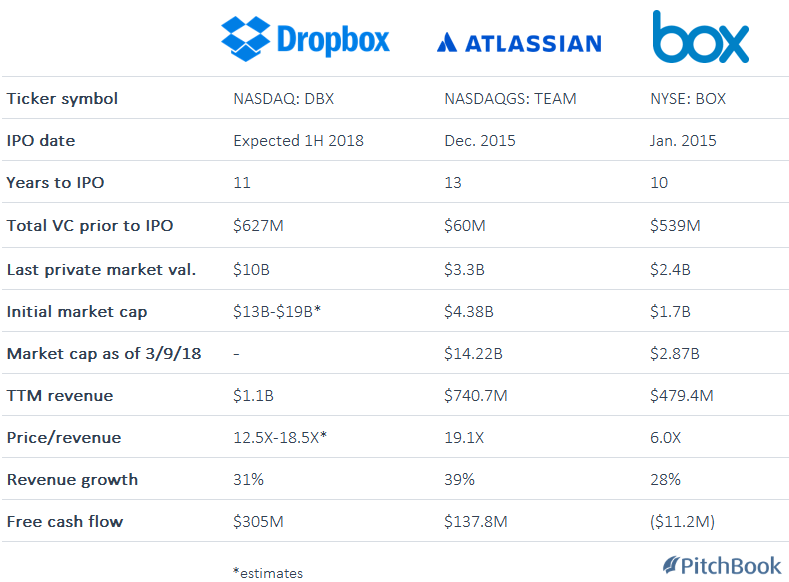 As you can see from the chart above, Dropbox is set to hit the public markets in a favorable financial position. Dropbox has more than double the revenue of Box, and that number is growing faster, too. And while Dropbox's revenue isn't increasing quite as quickly as that of Atlassian, it does have significantly higher revenue than the Sydney-based company. Another point in Dropbox's favor is its free cash flow. The company has $305 million in available cash. That's a big tick up from the comparable data point for Atlassian. And Box has yet to post positive numbers.
But the big question remains. What will Dropbox be worth when it goes public? To estimate an initial public market valuation for the company, PitchBook analysts used the comparable company analysis above. Due to Dropbox's large size, strong cash flow and attractive growth rate, we chose to use numbers that fall between the median and upper bounds of the comparable companies' price revenue multiples (12.5X to 18.5X, as noted in the chart). If Dropbox is valued in that range by public market investors, the IPO would assign a value between $13 billion and $19 billion, a significant step up from the company's final private valuation.
Dropbox is expected to set terms the week of March 12, so we're likely just days away from finding out if we're right about its initial public valuation.
For more on Dropbox's road to the public markets, here's a post about its IPO filing. And check out more of our IPO coverage.